Malwa Leads Voter Turnout in Punjab Polls: What Does it Mean?
Voting in the single-phase 2017 Punjab Assembly polls ended at 5 pm with 70% voter turnout on Saturday.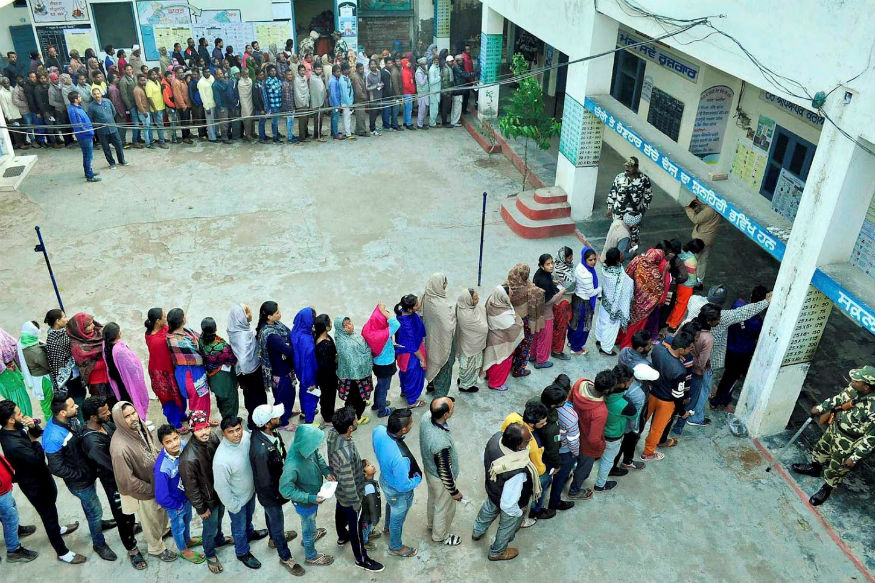 Voters standing in queues to cast their votes during the Punjab Assembly Election at a polling station in Patiala on Feb 4, 2017. (PTI Photo)
New Delhi: Voting in the single-phase 2017 Punjab Assembly polls ended at 5 pm with 70% voter turnout on Saturday.
This was much lower than the turnout in 2012 when 78% of the state's voters had turned up to vote. Of the three regions in Punjab – Majha, Malwa and Doaba – Malwa recorded the highest voter turnout at 72.4% while the border districts in Majha recorded the lowest turnout at 66%.
Punjab's fertile Doaba region, nestled between the Sutlej and Beas Rivers, recorded a voter turnout of 68.2%. For the first time, Punjab saw a triangular contest between the Shiromani Akali Dal-BJP combine, the Congress and debutant Aam Aadmi Party (AAP).
The voter turnout, which sent out mixed signals as to which way Punjab will lean, has puzzled political pundits. Ashutosh Kumar from the Department of Political Science in Panjab University (PU), said, "The AAP campaign in Punjab was most spirited in Malwa. Party leaders went all out in the campaign, especially in the last few days of campaigning. Bhagwant Mann, AAP's Sangrur MP, drew huge crowds all over the region. Arvind Kejriwal himself has held several rallies and road shows here. It is no secret that AAP is hoping to come to power in the state on the back of its performance in Malwa. If the turnout in Malwa has been big, it is good news for AAP."
This, however, does not guarantee an AAP win on March 11, when the votes will be counted. For AAP to win, Kumar said, they will have to do well outside of their stronghold in Malwa. "Majha and Doaba recorded very low turnout this year. A high turnout suggests change and a lower one suggests people want to go with a status-quo party that will continue business as usual.
The Congress is seen as an old elephant that will not radically alter the way things are done. Captain Amarinder Singh has been banking on his experience as chief minister to win the voters' trust. It was believed that they were doing well in Majha and it looks like they will retain most of their support. Doaba is a little tricky to guess because while infighting will hurt the Congress in the region, a low turnout suggests they will not do so badly here as well."
Of Punjab's 22 districts, the highest voter turnout was recorded in Fazilka district at 82%. Jalalabad, where Deputy Chief Minister Sukhbir Singh Badal is locked in an intense political battle with AAP MP Bhagwant Mann and Congress's Ravneet Singh Bittu, is also in Fazilka district. Muktsar, which houses CM Parkash Singh Badal's seat of Lambi, also saw a relatively high turnout at 79%.
Patiala, the hometown of Congress CM candidate Amarinder Singh, saw a turnout of 78%.
The lowest turnout in Punjab was recorded at 60% in Amritsar Urban, which is considered a stronghold of crickter-turned-politician Navjot Singh Sidhu. In Majha, the highest voter turnout was in Gurdaspur district at 71% and in Doaba, SBS Nagar (Nawanshahr) recorded the highest turnout at 72%. The lowest turnout in Malwa was in Bathinda at 67%.
| Edited by: Ashutosh Tripathi
Read full article
Countdown To
Elections Results
To Assembly Elections 2018 Results