GET Stock

Quotes


Mamata Banerjee Has a Delhi Dream, BJP Says Justify the Means
Sources close to West Bengal Chief Minister Mamata Banerjee say she is nurturing the PM dream and gearing up for the 2019 Lok Sabha elections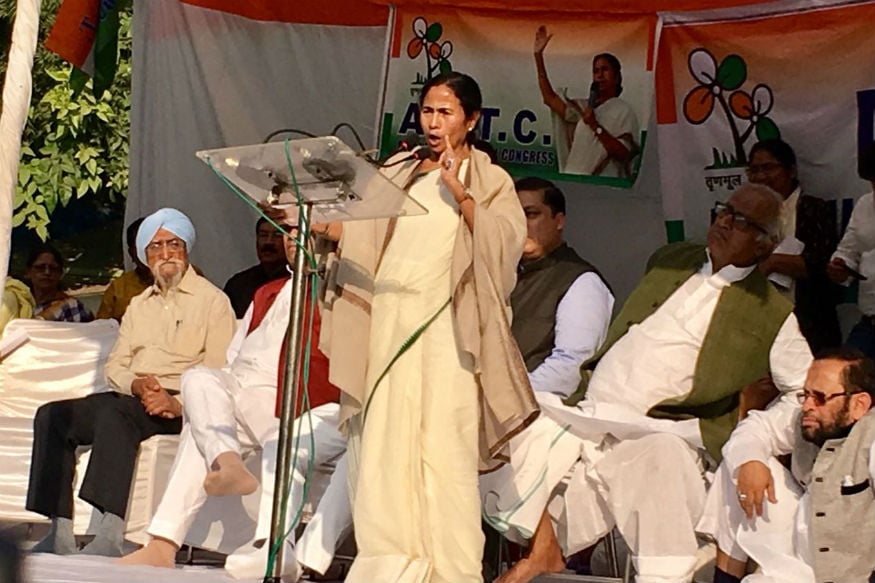 West Bengal Chief Minster Mamata Banerjee addresses a protest rally against demonetization at Jantar Mantar in New Delhi on November 23. (Photo: Rakesh Negi)
New Delhi: Narendra Modi claimed he sacrificed family for the nation. The Nehru-Gandhis have made that claim once too often, although their critics allege it is the other way around. Now, Didi is not quite ready to sacrifice Kolkata for New Delhi, but she has made a beginning by giving up her next big love: Rosogollas.
ALSO READ: Mamata Hits Out at Govt For Latest Modification on Demonetisation
Mamata Banerjee, we are told, has traded in her favourite Bengali sweet for the Hindi heartland samosas as she gets ready to dream big and emerge as the national alternative to Modi. When offered samosas and rosogollas recently after a public function, the fiery lady from Bhabanipur voted for the spicy potato-and-batter snack, with an uncharacteristic quip: "I have to change my taste now."
"Didi has all the makings of a PM. Language and region is no barrier to her," says TMC MP Kakoli Dastidar, giving a glimpse into her leader's mind.
Union minister Babul Supriyo, a BJP MP from the state, says such ambitions were fine if she chose her "means" more judiciously.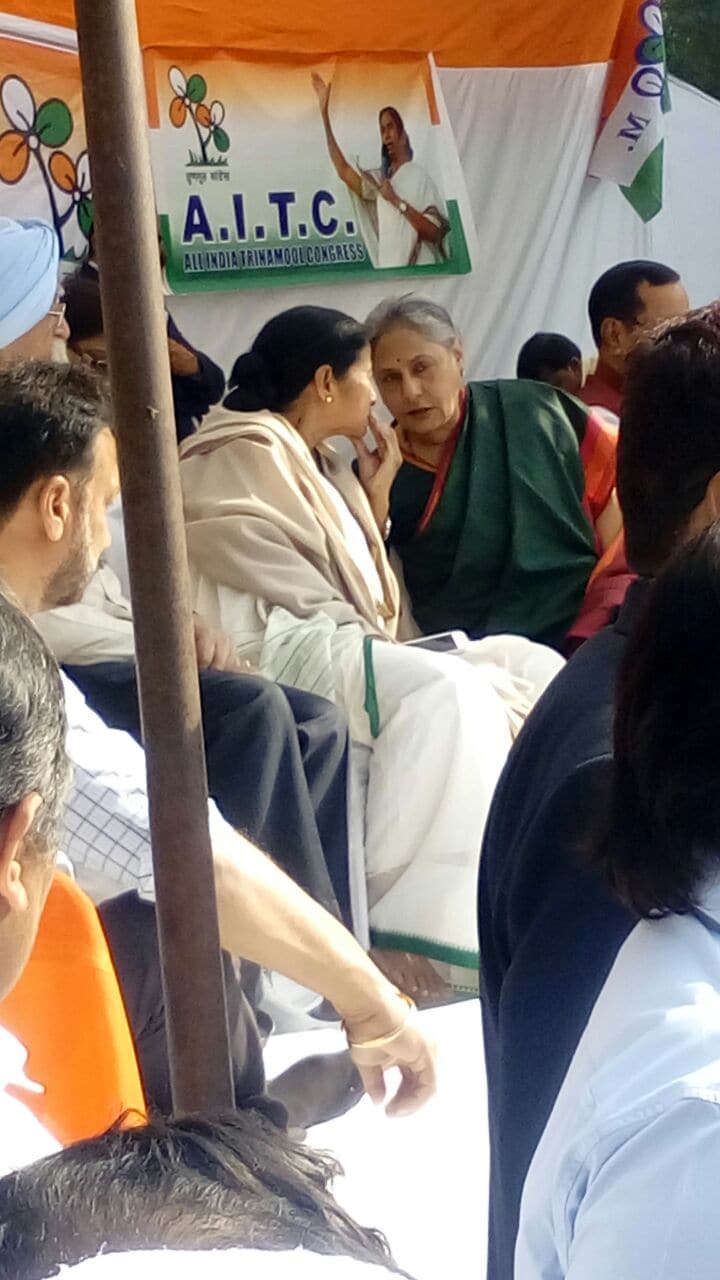 West Bengal Chief Minister Mamata Banerjee with actor and MP Jaya Bachchan at a Trinamool Congress-led protest at Jantar Mantar on Friday.
(Photo: Narender Singh)
"Leaders are known by the movements they head and therefore being at the helm of a party tainted with the Sarada, Rose Valley and various other financial scams that involve the poor man's money, her stands against demonetisation will raise many questions, including those on vested interests," Supriyo says.
In fact, political observers have been reading more into her vehement criticism of the demonetization drive. While almost everyone in the Opposition spectrum made the right noises, Mamata walked the talk by landing up in New Delhi a day before the Winter Session began. She has been here pretty much ever since.
And the visuals are too interesting to ignore. At Mamata's protest rally on Wednesday in Jantar Mantar, the presence of a large number of Sikhs — curious for a Bengal-Tripura party with zero presence in the Hindi heartland or Punjab — didn't go unnoticed.
ALSO READ: Nitish Kumar Supports Demonetisation, Dismisses Fissures in Coalition
And then, there is the return of Dinesh Trivedi. Yes, the same Trivedi who had to quit his post as Railway Minister in UPA-II after being humiliated by his own party chief, Mamata, for hiking passenger fares in the rail budget.
The return of the Gujarati businessman-turned-politician into the good books of Mamata is not another example of 'time-heals-all-wounds'. Trivedi speaks good Hindi and Mamata wants to use him as she tries to reach out to the Hindi-speaking public.
Didi, who has taken the anti-demonetisation protests out of Bengal, will now head for Lucknow and Patna next week from New Delhi.
The calibrated strategy is now apparent. While addressing the media she chooses to speak in Hindi first and responds in Bangla only when questioned in Bangla. She also asks for feedback from those around her on how her Hindi-speaking skills are. Her Twitter feed is now partly in Hindi.
So why now? What has changed on the ground for Didi to believe she can take the leap from Kolkata to New Delhi? The answer could well lie somewhere in between: in Patna.
Those close to Mamata say her assessment is that Bihar Chief Minister Nitish Kumar — for long the claimant to the post of critic-in-chief of Narendra Modi — is losing his sting. She believes his pan-India image has taken a beating after his recent utterances favouring Modi on topics ranging from Deendayal Upadhyay to demonetization. Mamata wants to cash in on this.
Though Supriyo points out it would seem ironical if the Chief Minister of a state with one of the biggest entry points for counterfeit currency attacks the note ban.
As far as she is concerned the preparations for the next Lok Sabha elections have begun. And of course, any New Delhi dream would remain just that without active support from the Hindi heartland. Mamata, say TMC sources, is acutely aware of her regional limitations.
Conquering the Hindi heartland however will not be easy. Apart from the language barrier Mamata is yet to grasp the nuances of complex Hindi heartland politics. She got a taste of it when she was duped by Mulayam Singh Yadav during the last presidential polls when she made the mistake of opposing Pranab Mukherjee as presidential candidate at the bidding of the Samajwadi Party supremo.
"It will take her a long time to get out of Bengal and it's better she remains there for some time," says a senior JD(U) leader.
History shows that rarely has a regional leader made it big in the national space and when they have succeeded – like Deve Gowda – it was always with the support of other parties.
But those who have worked with her – and those who have had the misfortune of crossing her path – know that Didi will go all out once she sets her sights on a goal.
News18 learns that in personal conversations with confidantes, Mamata describes her national plans as Singur II – a reference to the landmark agitation against the erstwhile CPI(M) government in Bengal to forcibly acquire land for an industrial project. The Singur agitation launched Mamata as the Queen of Bengal politics and started the slide of the Left in its citadel from which they are yet to recover.
Her media team has started hiring Hindi speakers for tweets and posters. She is ready to do whatever it takes, says an aide. New Delhi better watch out.
Also Watch
| Edited by: Nitya Thirumalai
Read full article