GET Stock

Quotes


NRC and 2019 on Mind, Mamata Banerjee Meets Sonia and Rahul Gandhi, Says Not Vying for PM's Post
In Delhi to meet opposition party leaders, Mamata Banerjee said that she is not vying for the post of prime minister and the candidate for the top post would be chosen collectively by all opposition parties.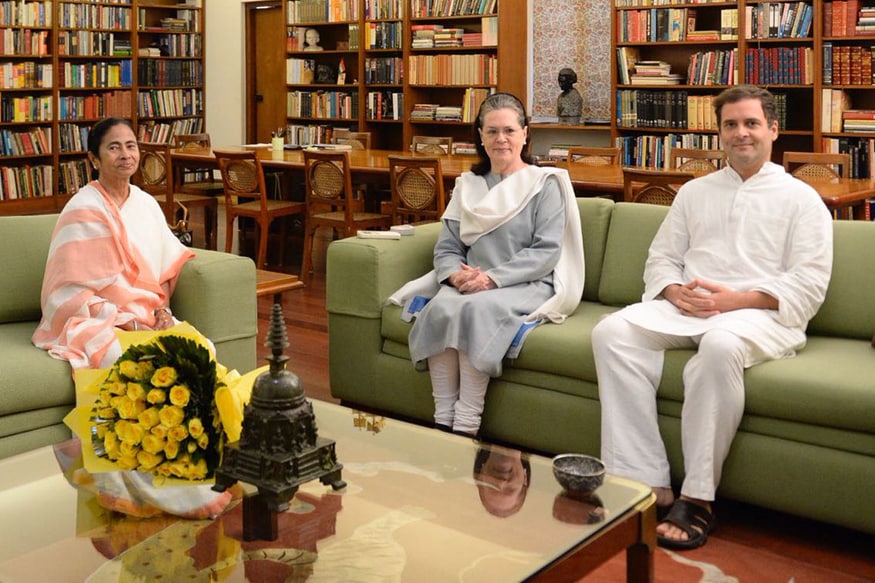 Mamata Banerjee at Sonia Gandhi's residence on Wednesday. (Image: via Twitter)
New Delhi:
Trinamool Congress chief Mamata Banerjee on Wednesday reached out to several Opposition leaders, including Congress bosses Sonia Gandhi and Rahul Gandhi at the Gandhi residence. While criticizing BJP over the Assam NRC debate, Banerjee said that the ruling party is worried about its chances in 2019 as the entire opposition will come together to defeat them.
Coming out of Sonia Gandhi's residence, Banerjee told reporters, "Our relationship goes back several years. We discussed politics, NRC and how will we fight the 2019 elections together."
Speaking on BJP attacking her over her 'civil war' comment on NRC, Banerjee shot back at the party saying, "I am not BJP's servant to reply to any of their statements. I didn't say this (civil war remark), my concern is about the 40 lakh people whose names are not in the list (NRC). BJP is politically tensed because they know they won't come to power in 2019."
In Delhi to meet opposition party leaders, Banerjee said that she is not vying for the post of prime minister and the candidate for the top post would be chosen collectively by all opposition parties.
Banerjee, who has been trying to consolidate opposition unity, spent the second day of her Delhi visit meeting leaders of various parties including the Congress, TDP, YSR (Congress), DMK, RJD, SP and JD(S) and invited them to her rally on January 19 in Kolkata.
The TMC chief also met veteran BJP leader LK Advani at his chamber stating that her relations with him go back many years. Sanjay Raut of Shiv Sena, an NDA constituent, also came to meet Banerjee at the TMC office and she invited Shiv Sena chief Uddhav Thackeray to the January 19 rally.
The TMC chief said that the first priority is to bring all opposition parties together to take on the BJP in the coming Lok Sabha elections.
"I am not for any post. I am interested in seeing that all parties should work together. All political parties will sit together and decide," she told reporters wile replying to queries on the issue.
The TMC office in Parliament was abuzz after Banerjee arrived there on Wednesday and opposition leaders made a beeline to meet her.
She spoke to Congress leader Ghulam Nabi Azad and Ahmed Patel. Banerjee also met Advani at his chamber. "I went to meet him and enquired about his health," she told reporters.
Suspended BJP MP Kirti Azad hailed her as a great leader and said that her efforts to consolidate all opposition parties are "commendable".
The TMC chief later went to the Central Hall of the Parliament to meet other opposition leaders and invited them to the rally.
Banerjee also appealed to all the opposition parties to send a joint delegation to the Election Commission against EVM tampering and holding polls on ballots. "All opposition parties should go to EC on this matter," Banerjee told Congress and other opposition leaders.
Interestingly, Banerjee extended an invitation for the rally to the Shiv Sena chief through Raut who said the party would take a decision on it. Though a constituent of the NDA, the Sena has been openly critical of the Modi government.
Banerjee also met JD(S) leader Deve Gowda and invited him to the rally.
She has also appealed to the leaders to send an all opposition party delegation to Assam stating that though TMC delegation would be visiting Assam on Thursday, other parties should also create pressure on the government.
Banerjee is also slated to meet Congress President Rahul Gandhi and Sonia Gandhi and invite them to her rally.
| Edited by: Sanchari Chatterjee
Read full article
Countdown To
Elections Results
To Assembly Elections 2018 Results