Municipal Corporations

9/10

TRS

8

INC

0

BJP

1

AIMIM

0

OTH

0
MUNICIPALITIES

114/120

TRS

96

INC

9

BJP

3

AIMIM

2

OTH

4
Refresh Data
Mamata to Start 'BJP Quit India' Movement, BJP to Retaliate With 'Quit Appeasement' Andolan
Mamata Banerjee is starting the movement in a bid to stop BJP from practicing 'communal politics'.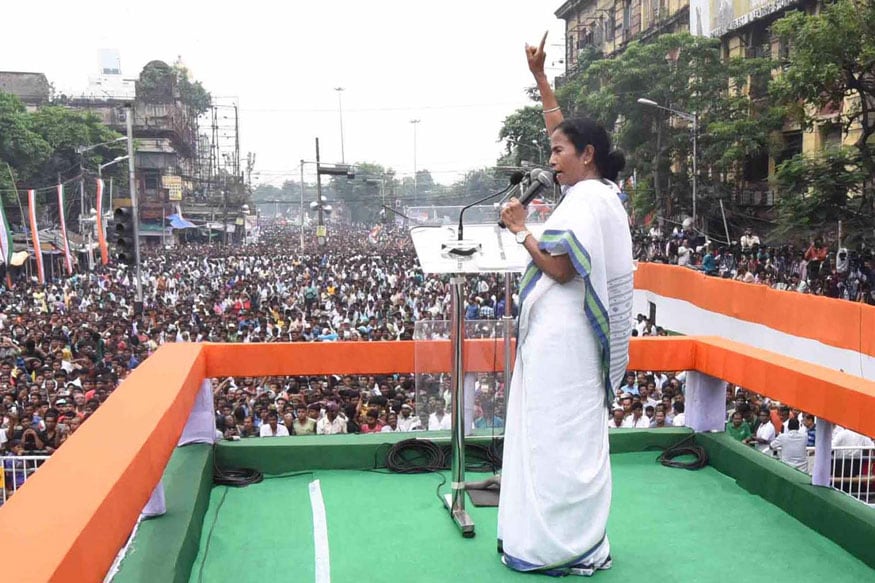 File photo of West Bengal Chief Minister Mamata Banerjee addressing a rally in Kolkata.
Kolkata: Intensifying her political fight against the Bharatiya Janata Party, Trinamool Congress (TMC) Chairperson Mamata Banerjee is all set to launch her month-long 'BJP Bharat Chhoro Andolan' (BJP Quit India Movement) from the College Ground in Midnapore on Wednesday.
Ironically, Banerjee is starting the movement in a bid to stop BJP from practicing 'communal politics' and it comes on the same day as Prime Minister Narendra Modi's bid to 'create a new India' in celebration of the Quit India Movement started by Mahatma Gandhi against the British.
"This will be an all-Bengal movement and will start at 1pm on Wednesday. All the districts, down to the block-level, would be covered," a statement issued by the TMC reads. The agitation is expected to continue till September 5.
TMC workers have been asked to conduct a door-to-door campaign, along with rallies. The event will host a series of grand public rallies, one in each in the 294 Assembly constituencies.
BJP state secretary, Sayantan Basu, said, "She (Mamata) brings good luck for us. Whenever she says something against BJP, we have managed to form a government in one state or the other. Last time she urged Nitishji for a grand alliance, we did it with Nitishji and came to power in Bihar. BJP is not taking this TMC movement very seriously."
He added, "More and more people are joining the BJP in Bengal and now we have launched the TMC Appeasement Chhoro Movement in Bengal."
On July 21, Mamata Banerjee had announced the movement to oust the BJP out of India for its divisive politics to destroy the secular fabric of the country.
Get the best of News18 delivered to your inbox - subscribe to News18 Daybreak. Follow News18.com on Twitter, Instagram, Facebook, Telegram, TikTok and on YouTube, and stay in the know with what's happening in the world around you – in real time.
| Edited by: Sanchari Chatterjee
Read full article