Mangalore Chalo: BJP Revives Hindu Card Ahead of Karnataka Elections
The BJP is trying to set this as the agenda for elections 2018 – that the majority community is victim to the politics of minority appeasement of the Congress.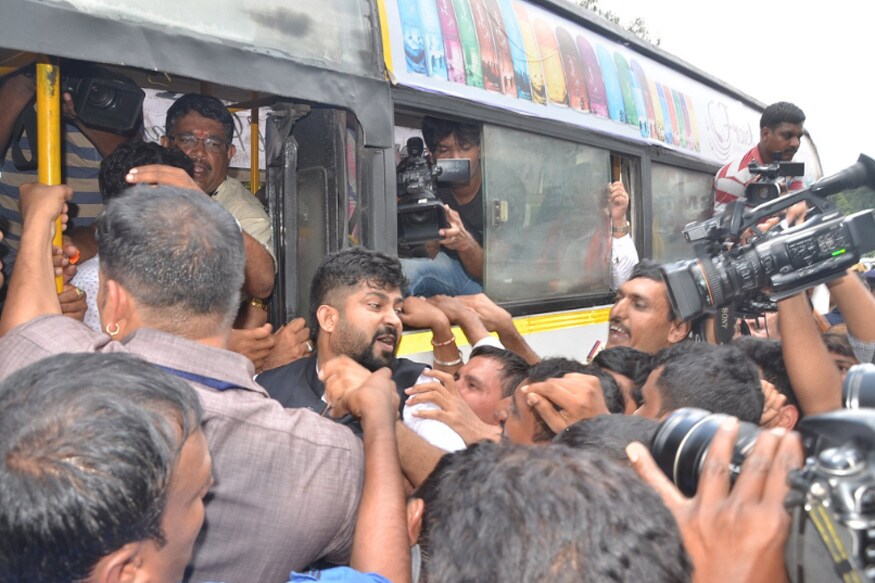 Karnataka Police arrest BJP leaders and BJP Yuva Morcha members during 'Mangalore Chalo' bike rally.
Bengaluru: There are many ways in which one can go to Mangalore, a BJP MLA reminds us, when we question him on the aborted attempt of the party's 'Mangalore Chalo' bike rally from different districts across Karnataka.
'Via a police van' seems to be one of the ways, as was evidenced by the BJP leaders' demonstrations in Bengaluru and elsewhere - where hundreds of workers came riding bikes to court arrest, en masse.
The Mangalore Chalo campaign, which was supposed to be a bike rally of over 10,000 to 20,000 BJP Yuva Morcha workers from different parts of the State starting Tuesday, is to converge in Mangalore on September 7. And despite the fact that police refused permission for the rally and detained workers everywhere, BJP leaders said they will go ahead with their public rally on Thursday in Mangalore, where MPs, MLAs and the State BJP president B S Yeddyurappa will participate.
So while the bikers themselves went nowhere (except into police custody), it was clear when leaders like former Home Minister R Ashok sat on the road, waiting to be lifted into a police van, or Shobha Karandlaje was dramatically lifted by four policewomen to be escorted out.
If it was held to show it's a no-holds-barred campaign, the BJP was certainly successful. As a BJP core committee member points out -- "I don't know why they want to stop a peaceful, democratic rally. If they had not stopped it, it would have been one rally. Now it is many rallies, and we are creating more noise. Good for us."
"I think the BJP would have felt unhappy if the government had allowed the rally. They wanted precisely this response – imagine being allowed to carry out their demonstrations without a hitch!" says Chandan Gowda, Professor at the Azim Premji University.
To that extent, the Congress seems to have played into the BJP's gameplan. But it was left with little choice, pushed to a corner by the rhetoric of the BJP leaders' oft-repeated "We will do this rally, no matter what."
The Congress was left with the option of allowing the rally without any obstacles – in which case it would have been seen as buckling under pressure of the Opposition parties – or stopping the rally and confronting the rallyists.
"I don't have a problem with demonstrations, but a bike rally disrupts normalcy to a large extent. So we stopped it," said Chief Minister Siddaramaiah.
And the issues the BJP has raked up are important for it -- the Hindu card has been tried and tested in this communally-sensitive region...and it has paid rich dividends to the BJP in the past.
Among the BJP's demands is that all murders of its workers – about 20 of them in the last three years – be handed over to the National Investigation Agency (NIA) for a thorough investigation of these 'political killings.' The other demand is to sack Minister Ramanath Rai from the Cabinet – Rai hails from Mangalore and the BJP alleges he is behind the politically-motivated killings.
The BJP, then, is trying to set this as the agenda for elections 2018 – that the majority community is victim to the politics of minority appeasement of the Congress.
Officially, when BJP national president Amit Shah had visited Karnataka last month for a pre-poll-preparedness review, the party had said it had identified non-performance of the Congress government, corruption and farmers' distress as the three poll issues.
Shah has also told the State unit he will come back for another review next month – and wanted more action from the workers and leaders before his next visit.
"They are currently issue-less. Even if the government hasn't shown any brilliant performance in its first three years, it hasn't had any major scandal either. So when the State leaders are questioned – where are your protests, your gheraos, your demonstrations – they need an answer," Prof Gowda says, about the need to rake up majority community issues again.
Political analyst Prof Sandeep Shastri agrees – the Congress seems to have had an upper hand in issues such as separate religion status for Lingayats or Hindi imposition or a Kannada flag. The BJP wants to catch up, by having its own agenda now, and a cat-and-mouse game is on, he feels.
"It is clearly sabre-rattling by both sides. BJP sees an opportunity now to whip up communal frenzy and reach out to their electoral audience. Nothing can be more provocative than this. Induction of Ananth Kumar Hegde from the coastal region is also a part of this – why else would he be chosen, over the four or five other names doing the rounds," Shastri says.
True to form in an election year, within an hour of the BJP leaders courting arrest and their protests ending, the Congress tried yet again to set the agenda.
"Instead of Mangalore Chalo, my advice to them is, do Delhi Chalo. We will also join them, to ask the Central government to waive farmers' loans," said a sarcastic Siddaramaiah.
Trying to change the narrative back to farmers' distress – and how Karnataka's farmers have got little relief from the Central government – the Congress' kisan cell did an impromptu dharna in front of Yeddyurappa's house.
"None of the BJP MPs have spoken out about farmers' problems in the Lok SAbha, nor helped get any relief," said the kisan cell president Sachin Miga, who led the protest.
Get the best of News18 delivered to your inbox - subscribe to News18 Daybreak. Follow News18.com on Twitter, Instagram, Facebook, Telegram, TikTok and on YouTube, and stay in the know with what's happening in the world around you – in real time.
| Edited by: Bijaya Das
Read full article