Mani Shankar Aiyar Follows Long List of Loyalists Who Fell Out of Favour With Gandhis
With Rahul Gandhi virtually taking charge of the Congress ahead of his formal elevation as party chief, Mani Shankar Aiyar, like many among the old guard, has been isolated.
File photo of Mani Shankar Aiyar.
New Delhi: Mani Shankar Aiyar has finally fallen out of favour with the Gandhi family after the "neech" remark against PM Narendra Modi. He has been accused of "colluding" with the BJP ahead of Gujarat elections.
The former diplomat and Doon school alumnus has been a long-time loyalist of the Congress's first family. He was a close friend of Rajiv Gandhi, who drafted him into politics, and was part of the then PM's 'kitchen cabinet'. Aiyar was a Union minister during UPA-1, but lost the 2009 Lok Sabha elections, following which he was elected to the Rajya Sabha.
With Rahul Gandhi virtually taking charge of the Congress ahead of his formal elevation as party chief, Aiyar, like many among the old guard, has been isolated.
Here's a look at others who fell out with the party without a shot at reconciliation:
Arun Nehru — Powerful Home Minister and Rajiv Gandhi's cousin
Arun Nehru was part of Rajiv Gandhi's cabinet, but was later dropped by the then PM. Nehru later joined hands with VP Singh and contest from Amethi on a BJP ticket. An emotional outburst by Priyanka Gandhi during election campaign had relegated Nehru to the fourth position.
Arun Singh — Close aide of Rajiv Gandhi
Arun Singh was also a minister in the Rajiv Gandhi government. He resigned later and has since been a recluse, spending his time near the picturesque Binsar sanctuary in Uttarakhand.
The Bachchan Brothers — Friends of the Gandhis
The duo was considered to be very close to the Gandhi family. The relationship, going back to when their father and poet Harivansh Rai Bachchan and wife Teji enjoyed a personal rapport with Indira Gandhi. Amitabh even contested the 1984 elections on a Congress ticket, defeating Hemvanti Nandan Bahuguna. The brothers fell out of favour with the family after the Bofors arms deal scandal.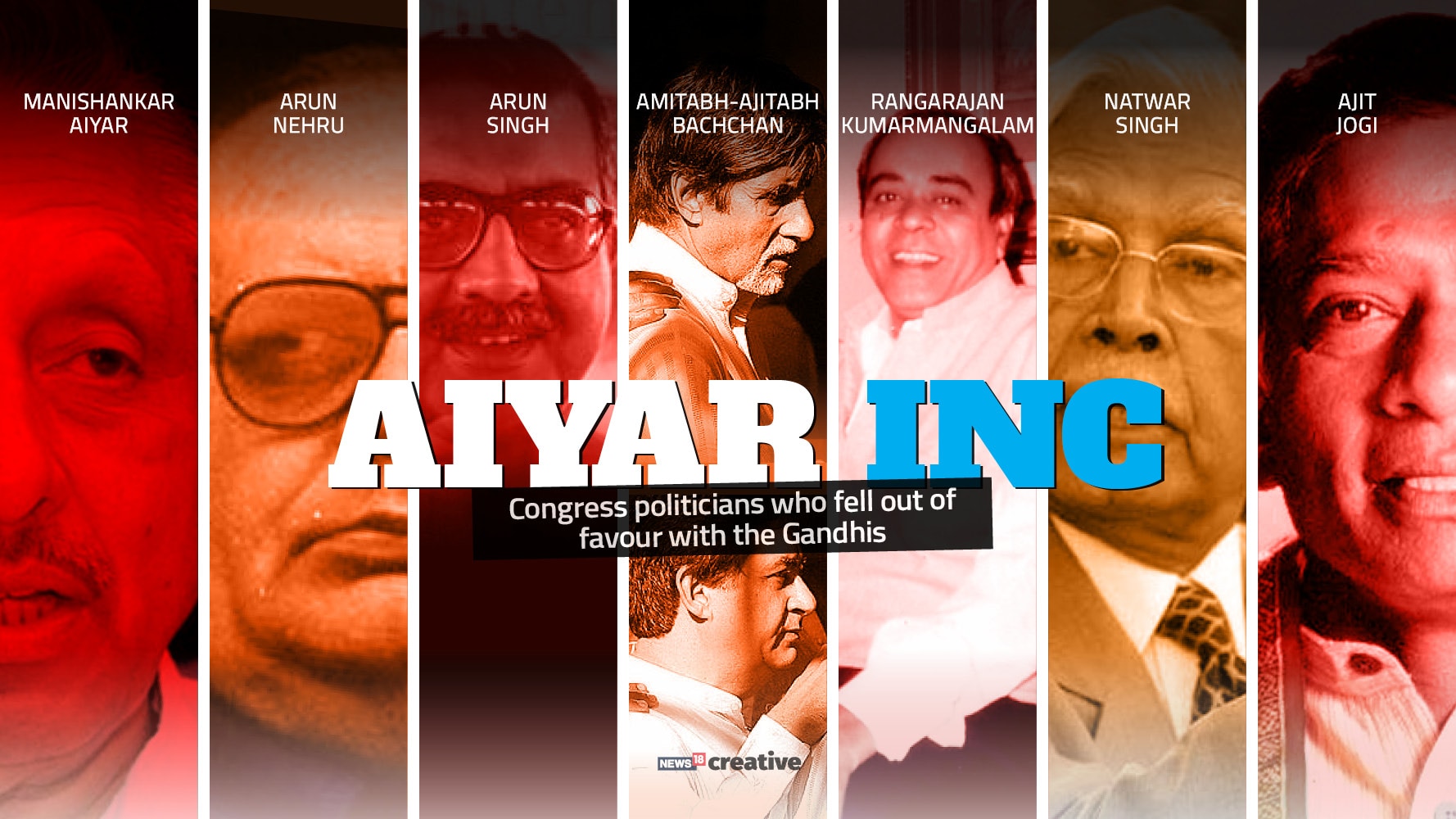 Rangarajan Kumarmangalam — Congman who jumped ship
Rangarajan hailed from a Tamil Nadu family with close ties to the Gandhis. Ranga, as he was known, was a founder member of the NSUI. His father Mohan Kumarmangalam was a CPI ideologue who later joined the Indira Gandhi cabinet. Rangarajan worked closely with Rajiv Gandhi. In 1997, however, he joined the BJP and became the saffron party's posterboy in Tamil Nadu. He died in Delhi while in office serving as a minister in the Vajpayee government.
Natwar Singh — The former diplomat
Natwar Singh was close to both Indira and Rajiv. Foreign Minister in UPA I, he fell out of favour with the party and the Gandhi after his name appeared in the Volker report as "non-contractual beneficiaries" of Iraqi oil sales in 2001.
Ajit Jogi — Babu-turned-Neta
Jogi was serving as a Collector in Madhya Pradesh's Indore when Rajiv Gandhi asked him to resign and join active politics. He was made the first chief minister of Chhattisgarh when the state was carved out of MP in 2000. Jogi, however, has fallen out with Congress's first family in the last five years. He has launched a new political outfit and will challenge the Congress for the opposition space in the state.
| Edited by: Nitya Thirumalai
Read full article
Countdown To
Elections Results
To Assembly Elections 2018 Results