Me and My Deputy Can Manage Very Well, Kumaraswamy Fumes at Expansion Questions
A week since Kumaraswamy took oath along with Congress leader G Parameshwara as the Deputy CM, the coalition is yet to decide what the rest of the Cabinet will look like.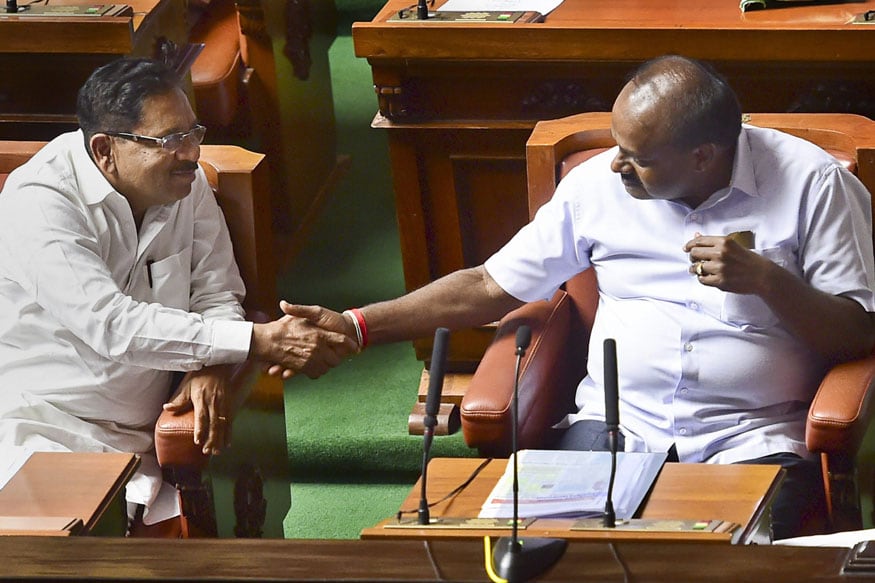 CM Kumaraswamy and his deputy G Parameshwara greet each other after they won the trust vote at Vidhana Soudha in Bengaluru. (PTI Photo/Shailendra Bhojak)
Bengaluru: "There was a time in 1980, when only three ministers ran the government in Karnataka for three months." Karnataka Chief Minister HD Kumaraswamy said on Wednesday, defending the long-delayed Cabinet expansion in Karnataka that saw the JD(S)-Congress coalition come to power last week.
An agitated Kumaraswamy said he has all the powers to implement decisions and asked reporters not to question him any further.
A week since he took oath along with Congress leader G Parameshwara as the Deputy CM, the coalition is yet to decide what the rest of the Cabinet will look like.
Kumaraswamy's latest statement, too, does not evoke much hope of the ongoing impasse coming to an end anytime soon.
The Congress-JD(S) coalition is unable to make up its mind about who gets what portfolio. Although they have decided that Congress will have the bigger share of 22 of the 34 Cabinet berths while JD(S) will have 12, talks have reached a dead-end with both parties insisting on the high-profile finance portfolio.
Many rounds of talks over Sunday and Monday yielded no results while a meeting with Congress chief Rahul Gandhi, too, remained inconclusive.
The Congress, which has the larger chunk of 78 seats in the Karnataka Assembly as compared to 37 MLAs of the JD(S), insists that the finance portfolio should be given to them.
Congress has been saying that this has been the formula for all coalition governments -- be it in Karnataka earlier or Maharashtra and Jammu and Kashmir.
The JD(S), however, wants it for themselves, as the finance portfolio would give them greater control over budgetary allocations to different sectors. It has already promised a loan waiver to all farmers in its manifesto which could tally up to a whopping Rs 53,000 crore.
Other key ministries like Home, Public Works Department, Water Resources, Energy and Bangalore City have also been tough talking points as both parties are willing to give and take on these fronts as long as the Finance is settled, say sources in Congress.
While Rahul Gandhi being away from the country has been cited as an 'excuse' for the delay, Congress sources say this is not standing in the way of portfolio distribution as senior leaders of the state, including former Chief Minister Siddaramaiah, Mallikarjuna Kharge, strategists like DK Shivakumar and Dinesh Gundu Rao, have all been empowered to decide on the issue.
"When the CM's chair has been given to the party with lesser strength, we want the finance portfolio for us. The JD(S) is also being adamant I don't know why. Both sides want this ministry now as it is the single most important sticking point. I think once this is settled, other things will fall in place," the Congress leader said.
The other headache for Congress is its many aspirants who want a Cabinet berth. There is immense pressure from the Lingayat and Muslim communities, including a bid for a second Deputy CM from these communities. Besides, other key communities like OBCs and Scheduled Tribes are also lobbying for important positions.
Regional representation to coastal Karnataka, Mumbai-Karnataka region and the Hyderabad-Karnataka region will also have to be considered before the Cabinet is finalised.
Kumaraswamy, whose vote bank is strongest in the Old Mysore region of south Karnataka and who has won nearly 90 percent of his Assembly seats here, will inevitably have the maximum Cabinet faces from this region.
The Congress will also have to adequately include the Bengaluru city MLAs -- 13 of 26 MLAs from Bengaluru are Congressmen.
Two Independents who have extended support to the Congress-JD(S) coalition will also have to be 'accommodated' in the government.
With these factors at play, it is the Congress party that is now scratching its head on who to include and who not.
Ultimately, even when the expansion is done, the party may keep 2-3 ministerial berths out of its quota vacant.
"We need to keep some space for reactions," said a leader, indicating that disgruntled MLAs will have to be placated somehow or the other, and keeping up hopes up that they may be included in the next round of expansion.
But one thing that both parties have put past them is the fear of poaching by Bharatiya Janata Party — though the coalition is working with just a slim majority of about five seats above the half-way mark required to have majority in the Assembly.
The parties are reasonably confident that there can be no further attempts at poaching of their MLAs through promises of ministries.
"We have our Speaker in the Chair now, if MLAs actually think of quitting, it will attract disqualification under anti-defection laws so we don't think that will happen," said a party source.
Kumaraswamy, who was responding to questions about the delay in Cabinet expansion, said that he and his deputy are quite capable of running the government till outstanding issues are settled.
"Even with just two people -- myself and the Deputy CM -- sensitive decisions are being taken," he said.
But he lost temper when pressed further, "I'm the Chief Minister, the Constitutional head of the state. I have full powers in this government to implement any decision, don't question more."
Read full article
Countdown To
Elections Results
To Assembly Elections 2018 Results