GET Stock

Quotes


Meet DK Shivakumar, Influential Vokkaliga Leader at Centre of Storm
The 55 years old MLA from Kanakapura constituency might be among the richest ministers in the country with estimated assets worth Rs 250 crore.
File photo of Karnataka Energy Department DK Shivakumar. (Getty Images)
Bengaluru:
DK Shivakumar, Karnataka's power minister, was tasked by the Congress high command with 'looking after' the 44 Gujarat MLAs who were airlifted by the party to Bengaluru to prevent them from being poached by the BJP. However, with the Income Tax raids at his home and the Eagleton resort, where the MLAs are camping, Shivakumar has been thrust into the spotlight.
The 55 years old MLA from Kanakapura constituency might be among the richest ministers in the country with estimated assets worth Rs 250 crore. He reportedly had liabilities of Rs 105 crore, according to Firstpost, leaving him with net worth of Rs 145 crore.
When the party wanted to safeguard its Gujarat MLAs, it turned to the Vokkaliga leader. Shivakumar was reportedly not even in India when the airlifting happened. He was with his daughter in Singapore, from where he managed MLAs' stay, funding, and security. He was in Delhi on Tuesday, participating in an Energy Ministers' meeting. According to sources, he also met Congress' top order to discuss the 'poaching crisis'.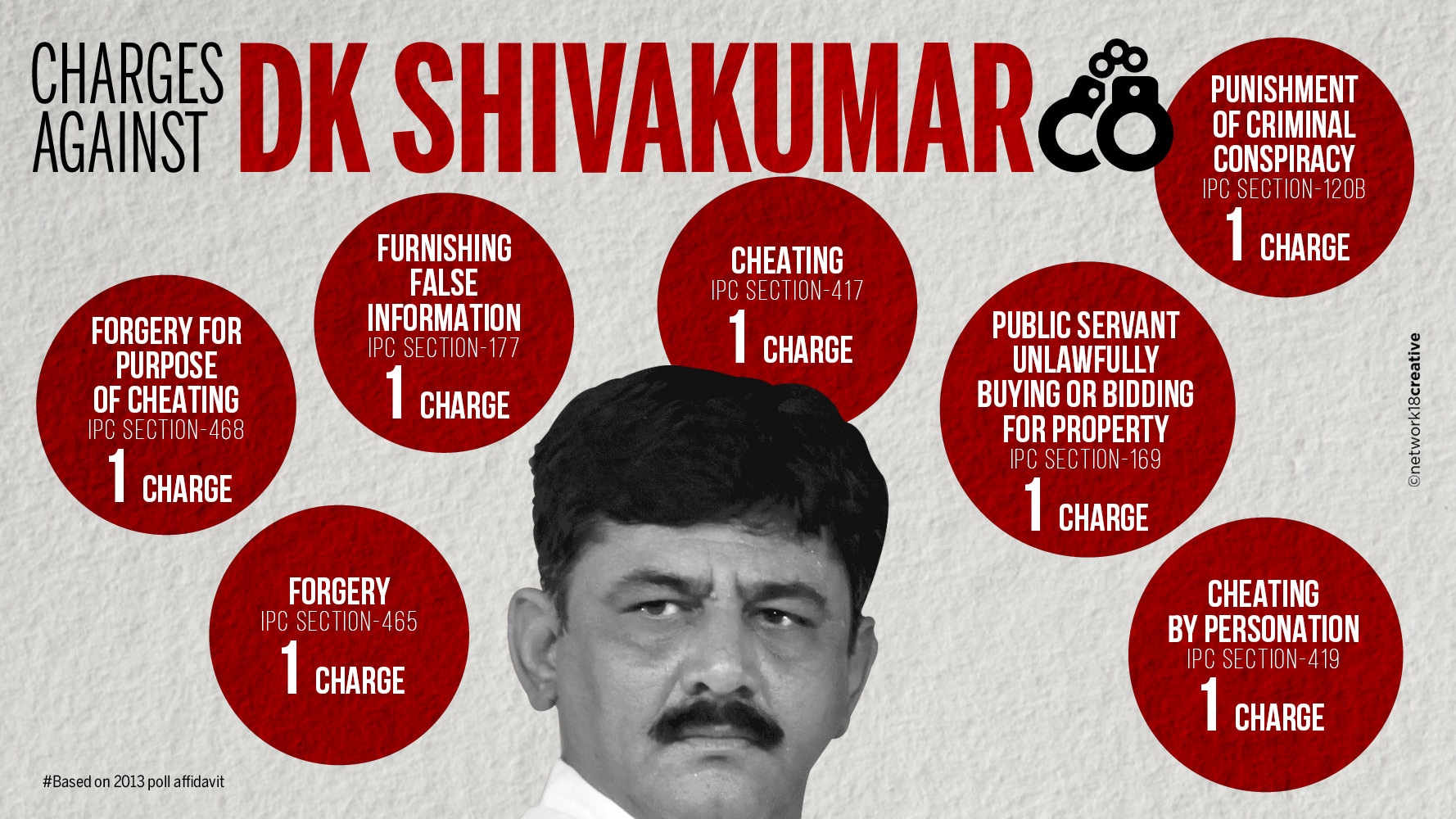 Shivakumar is a heavyweight in Karnataka politics. When this correspondent met him last week after a Cabinet meeting and asked him if he was shortlisted for the coveted 'Home' portfolio, he laughed and asked, "Do you really think they will give me that post?" KPCC President G. Parameshwara had just quit as the Home Minister and the names of many senior ministers were doing rounds as 'hopefuls'.
For many years now, DKshi, as he is known, has been a leader in waiting. He earlier fancied his chances as a possible Chief Ministerial candidate too. Two months back he was a contender for the post of State Congress President. The Congress decided to stick with its Dalit face, and Shivakumar, arguably the most influential Vokkaliga (Gowda) face in the party, lost out again.
The Vokkaliga community is dominant in southern Karnataka and the Congress banks on DKshi for getting the votes of this community. In neighboring Mandya district, too, it was Shivakumar's clout that helped actor Ramya win a Lok Sabha bye-poll. When two crucial Assembly bye-elections were held in Mysore, Shivakumar camped there and oversaw the campaign for two weeks. He also got 12 other ministers to camp in Mysore.
DKshi also has a reputation as being a reliable 'moneybag' for the party. So much so that when Rahul Gandhi visited Bengaluru two months back, he was reportedly enamoured by Shivakumar's home in upmarket Sadashivanagar. The Congress vice president is said to have exclaimed at the 'vastness' and 'beauty' of the palatial bungalow.
DKshi and his brother DK Suresh, a Lok Sabha MP from Bengaluru Rural, wield control over their fiefdom in their hometown of Kanakapura, 55-km from the state capital. The two brothers have complete control over this Vokkaliga belt, winning a Lok Sabha seat even in the face of the BJP juggernaut in 2014.
With all the clout DKshi enjoys, he is a leader the party will rise to defend. No wonder, within minutes of the I-T raids, many in the Congress were alleging political vendetta.
Also Watch

Watch Now | Space Out With Actors Vinay Pathak and Manoj Pahwa
| Edited by: Aditya Nair
Read full article