Meet Sankat Mochan Sanjay Singh, Who Will Lead AAP in Rajya Sabha
Singh has been campaign committee in-charge in three elections but has never contested one. Born in 1972 in Sultanpur, Uttar Pradesh, Singh was an activist before joining AAP.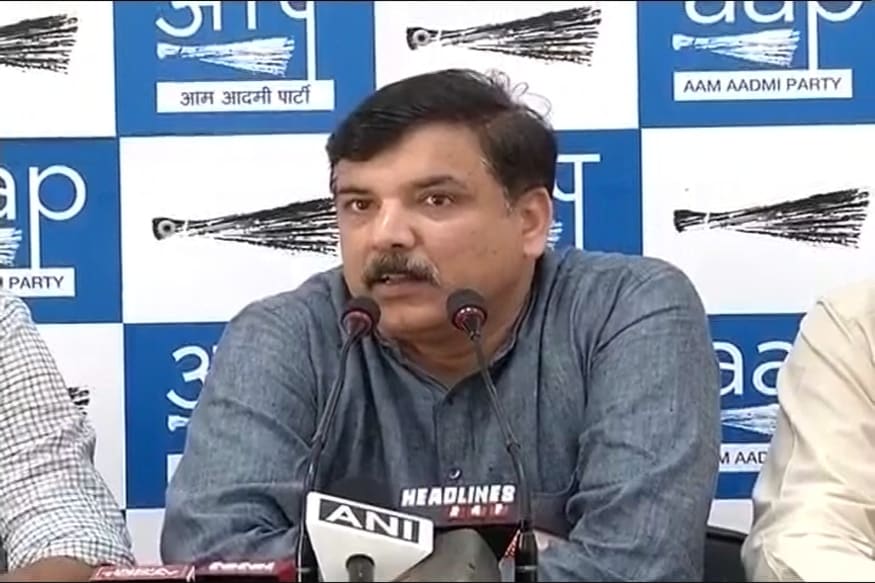 File photo of AAP leader Sanjay Singh.
New Delhi:
Known as the 'Sankat Mochan' of the Aam Aadmi Party, Sanjay Singh has emerged as a trusted lieutenant of Delhi Chief Minister Arvind Kejriwal, second to only Manish Sisodia. He has emerged as the go-to person when it comes to tricky negotiations and conflict resolution.
Singh has stayed in many houses ever since he moved to Delhi around two years ago, including AAP's former office in Connaught Place for nearly nine months. Singh has been confirmed as one of the three AAP nominees to the Upper House of Parliament. This would finally give a residential address to Singh in New Delhi.
Singh has been campaign committee in-charge in three elections but has never contested one. Born in 1972 in Sultanpur, Uttar Pradesh, Singh was an activist before joining AAP. His parents were teachers by profession and yet, Singh as a child was never keen on studies. In fact, he remembers being chided by his father for failing the class 10 exam once.
After school, Singh did a diploma in mining engineering from Odisha School of Mining Engineering in Keonjhar. The transition from Hindi medium to English medium took Singh three attempts before he earned his diploma.
Interestingly, Singh learnt Odiya faster than English and he travelled the state extensively. "Till date, my bonds with Odisha are strong," he says. The first 'andolan' he participated in was in Keonjhar, which led to students getting training in Dhanbad.
After completing his studies, Singh was not keen on a working a regular '9 to 5' job. In 1994, he started an organisation called 'Sultanpur Samaj Sewa Sangathan'. He started working amongst the poor — organizing blood donation camps, health camps and campaigning for people's rights. He used to cycle several kilometers every day, looking for new members and donations, say his friends. Money was never a problem… even Rs 10 was welcome.
He says slowly he realised that 'sewa' (service) was incomplete without 'sangharsh' (struggle). People on the footpath were at the receiving end of police action. "I worked for 16 years for hawkers' rights and that's when I met socialist leader Raghu Thakur. I got to learn a lot from his Democratic Socialist Party," he said. The other organisation he worked with was the 'Azad Sewa Samiti', which later became a part of the National Hawkers' Association.
Singh remembers a particular incident when a young boy named Gopinath Jaiswal had committed suicide outside the collector's office in Sultanpur. Singh was arrested during the ensuing protest against the administration and he started a hunger strike from jail.
Singh said he felt the thrill of victory after his 'andolan' took off. But even here, he said, there was a lesson to be learnt. "I belong to an upper caste but found great acceptance from among backward castes." This, he says, is because the people he worked with belonged to the poorest of the poor.
In 2002, Singh began working with Sandeep Pandey and, through their 2007 anti-Coca Cola agitation, came to be associated with Medha Patkar, Ashgar Ali Engineer and Ram Punyani.
In July 2006, an activist by the name of Arvind Kejriwal started a nation-wide Right to Information (RTI) campaign. It was Sandeep Pandey who had recommended Singh's name to Kejriwal. Singh got a call from Bibhav, now Kejriwal's personal secretary, and started working for the campaign from the Kaushambi office.
In 2008, he met Kejriwal again when the latter wanted to start a 'Swaraj Abhiyan'. The idea was to utilise funds from gram sabhas in consultation with the people. It was during this time that he met several leaders such as Kejriwal, Manish Sisodia and Swati Maliwal.
Then came Anna Hazare's India Against Corruption (IAC) movement in 2011. Initially, Kejriwal asked Singh to lead a five-day protest in Sultanpur, Rae Bareli and Amethi. When the Anna andolan gained momentum, becoming a nation-wide protest, Singh found a place in the National Executive. He admits he was surprised when Kejriwal told him,
"Aap manch ka sanchalan karenge
(You will lead the protest from the stage). That, Singh said, was a big achievement for him.
After Kejriwal formed the Aam Aadmi Party and was deserted by his mentor Anna Hazare, Singh remembers a car ride with Kejriwal, Sisodia and Kumar Vishwas. There was an air of despondency but Kejriwal, he said, gave them courage. "
Arvind ne majbooti se bharosa dilaya, hum apne image ke liye desh ko nahi chod sakte, aaj hamare rajneeti mein jaane ka log swarth se jodte hain, par hum rajneeti mein ghus kar rajneeti ki gandagi ko saaf karenge, desh bik raha hai aur hum khamosh nahi baith sakt
e (Arvind gave us faith. He said we cannot abandon the nation for our own personal image. He said people accuse us of coming into politics for greed but we will get into politics to clean it. The country is being sold and we cannot stay silent)."
There has been no looking back for him.
Singh traveled 3,000 kilometers in Punjab through the 'Punjab Bachao Yatra'. AAP's Punjab unit was riddled with factionalism. Singh concentrated on resolving that and along with Durgesh Pathak built a strong team from the grassroots-level to the state level.
Singh held rallies, conducted sabhas, fought crises and developed the 'political energy' in the party. Known for his sharp political messaging, he addressed over 142 rallies and jan sabhas in the run up to Punjab polls touching more than 100 of the 117 constituencies in Punjab.
Dubbed as an "outsider" by the Akalis and Congress in Punjab, Singh responded by saying he was there to help the team in Punjab as many from there had come to help in Delhi.
Raghu Thakur and Arvind Kejriwal are the two major current political influences in Singh's thinking, the others are Gandhi, Ambedkar, Jai Prakash Narayan and Lokmanya Tilak. He describes himself as a socialist.
Asked whether Kejriwal is really the autocrat he is made out to be, Singh says, "
Dhun ke aadmi hai woh, junoon mein kaam karte hain
(He works with a passion, as if in a frenzy)". On corruption charges that are levelled by opponents from time to time, Singh answers like a politician, "If the allegation of even one rupee is proven against me, I will take ' sanyas' (retirement) from politics."
| Edited by: Puja Menon
Read full article
Countdown To
Elections Results
To Assembly Elections 2018 Results