Message for Congress as Arvind Kejriwal Becomes Unlikely Linchpin of 'Federal Front' Unity
If there is a message in here for the BJP, there is also one for the Congress – you, too, are dispensable in a federal front.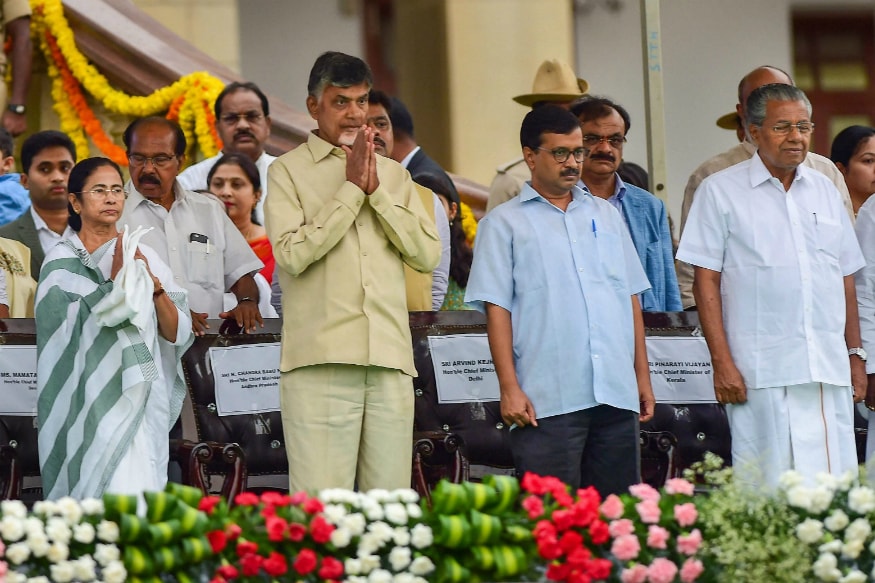 File photo of Arvind Kejriwal with Mamata Banerjee, Chandrababu Naidu and Pinarayi Vijayan. (PTI)
New Delhi:
A senior Congress leader, when asked about what would be the biggest challenge in creating a 'Grand Alliance', once said, "The biggest issue is managing egos. Will Mamata and Left come together?" But the unlikeliest of politicians have done what Congress could not. Four days ago, nobody would have guessed that Mamata Banerjee and Pinarayi Vijayan would meet at Arvind Kejriwal's house at 6, Flagstaff Road to express solidarity with the AAP chief.
If there is a message in here for the BJP, there is also one for the Congress – you, too, are dispensable in a federal front. Five chief ministers from five parties put up a show of unity on Saturday night. Together, these parties have 64 seats in the Lok Sabha. The Congress has 48.
The reason Arvind Kejriwal seems like an unlikely linchpin for opposition unity is because, until recently, he was seen as a bit of a political pariah. When then Congress president Sonia Gandhi called for a meeting of opposition leaders to decide a 'consensus candidate' for the presidential elections last year, there was one significant omission in the guest list – Arvind Kejriwal.
When RJD chief Lalu Prasad Yadav held a massive show of strength with an anti-BJP rally, Kejriwal was again, not invited. The message was always clear and Arvind Kejriwal had no place in this dream of a 'united opposition'. With the exception Mamata Banerjee, Kejriwal seemed largely friendless.
Slowly but surely, Kejriwal has been building personal equations with other leaders. In May, the combative AAP chief received a phone call from HD Kumaraswamy. The Janata Dal (Secular) state chief invited the Delhi Chief Minister to his swearing-in ceremony in Bengaluru. In February this year, he flew down to Madurai to be the only other politician at the launch of his friend Kamal Haasan's new party, Makkal Needhi Maiam (MNM).
When Kejriwal began his indefinite sit-in at the L-G's house on Monday evening, the Aam Aadmi Party was alone in its endeavor. In its demands, the AAP did not receive any support from the Congress, whose Delhi unit chief Ajay Maken has called out Kejriwal for letting "governance suffer". However, other regional players have expressed solidarity with the AAP.
Rashtriya Janata Dal (RJD) Member of Parliament Manoj Jha visited the chief minister's house on Wednesday, where he met senior AAP leaders camped out there. Jha said the RJD supported the AAP's demand for full statehood for Delhi.
"RJD supports Delhi's demand for full statehood. Delhi deserves better than a handicapped government and a truncated verdict. The L-G is just a puppet of Narendra Modi and Amit Shah. Delhi's mandate must be respected. Today, Arvind Kejriwal is the CM, tomorrow it may be someone else. But bureaucrats can't have the highest power. By doing this, you (Centre) are not victimizing Kejriwal or AAP, you are victimizing the people of Delhi," Jha told reporters at Kejriwal's official residence on Flagstaff Road.
Jayant Chaudhary, vice president of the western UP-based Rashtriya Lok Dal (RLD), tweeted his support for Kejriwal and said, "A government-appointed official can't spare five minutes in three days to meet the popularly elected Chief Minister? Without the instructions and shelter of the Centre, such a thing would not be possible. This is governance failure. This is not an insult to Arvind Kejriwal, but an insult to the mandate of the people."
Statements of support poured in from the CPI-M, CPI, JDS and SP. Mamata Banerjee, who has become kind of an all-weather friend for Kejriwal, also tweeted her support. On Saturday, Banerjee along with Naidu, Kumaraswamy and Vijayan met Kejriwal's family. They requested the L-G to allow them to meet Kejriwal, who has been lodged at the L-G's house since Monday, but were denied permission.
On Monday, Congress leaders mocked Kejriwal for undertaking his dharna. Five days later, this appears to have been a missed opportunity for the Grand Old Party. "Congress should have been there," said CPI's D Raja, summing up the turn of events.
| Edited by: Sanchari Chatterjee
Read full article
Countdown To
Elections Results
To Assembly Elections 2018 Results