Mizoram polls: Lal Thanhawla in advantageous position
Serchhip district, known as the 'heart of Mizoram' has Serchhip, Tuikum and Hrangturzo assembly seats.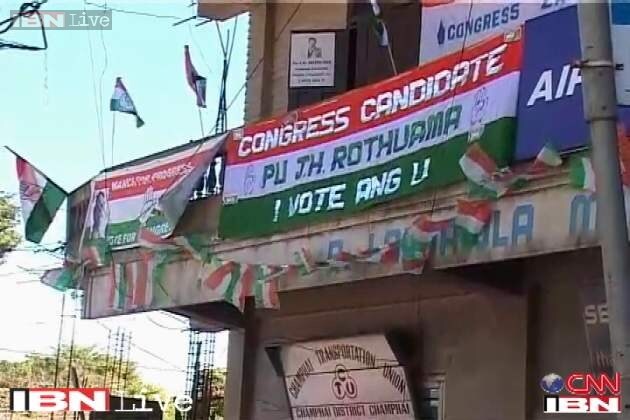 Serchhip district, known as the 'heart of Mizoram' has Serchhip, Tuikum and Hrangturzo assembly seats.
Aizawl: With Mizoram's Serchhip district reaping benefits of central and state socio-economic welfare schemes, Chief Minister Lal Thanhawla seems to be in an advantageous position both in Serchhip and Hrangturzo seats from where he is fighting the November 25 elections.
Serchhip district, known as the 'heart of Mizoram' has Serchhip, Tuikum and Hrangturzo assembly seats. The district has around 44,688 voters, which includes 22,023 male voters and 22,665 female voters.
Lal Thanhawla has won from Serchhip, his home turf, for five times since 1984, losing only once in 1998 when the Mizo National Front candidate, a retired PWD engineer-in-chief K Thangzuala, defeated him by 696 votes.
The chief minister wrested his seat back in 2003 and retained it in 2008 defeating Lalramzauva, the Zoram Nationalist Party and MPC combine nominee by a margin of 952 votes, while the MNF candidate R Lalhnuna came third.
With the district, especially the Serchhip constituency getting preference for development projects and schemes, the socio-economic condition has changed enormously in the last few years.
Of 33 departments in the district, 16 are implementing centrally sponsored schemes.
Schemes such as the Indira Awaas Yojana to MNREGA to the Rajiv Gandhi Grameen Vidhyuti Karan Yojna have changed the face of Sercchip, which was once known as backward.
"I had no means of constructing a house of my own. I received an assistance of Rs 48,500 under IAY in 2012-2013," says Pi Mardawhi, a 55-year-old widow.
A 20-feet suspension bridge over river Tuikum between Serchhip and Hriangtlang was constructed in 2011 under the MNREGA scheme.
The bridge is a lifeline for around 110 families of Hriangtlang village for collecting daily necessities and ration from Serchhip town across the river Tuikum, which floods every monsoon.
Apart from central schemes, the New Land Use Policy (NLUP) the brainchild of the Congress government in the state, also seems to be a game-changer in the district.
The programme provides a source of livelihood replacing unproductive and ecologically harmful jhumming and by preserving the forest and rich bio-diversity of the state.
"NLUP is more than just a populist programme. It has been fine-tuned to suit the people s needs toward self-dependence," says a state Congress leader.
Pi Nukungi, who rears pigs, after getting funds under the NLUP scheme has built a new sty and reconstructed and expanded the existing one earning about Rs 36,000 per month.
The opposition have alleged that it is Congress supporters who only benefit from the schemes, which has been denied by the Congress leadership.
This year in Serchhip, Lal Thanhwala will face C Lalramzauva of MNF, PB Lalsawmilana of ZNP and besides independents.
In the Harnturzo assembly segment, he will take on sitting MPC candidate, Lalthansanga, besides candidates from ZNP, Jai Maha Bharat Party and an independent.
Get the best of News18 delivered to your inbox - subscribe to News18 Daybreak. Follow News18.com on Twitter, Instagram, Facebook, Telegram, TikTok and on YouTube, and stay in the know with what's happening in the world around you – in real time.
Read full article