Mob Lynchings, Gujarat 'MLA Poaching' Likely to Raise Heat in Parliament Today
Sources told CNN-News18 that the Congress is gearing up to raise the issue of its MLAs being "poached by the BJP" ahead of Rajya Sabha elections in Gujarat. The Lok Sabha is also likely to see a debate on recent cases of cow vigilantism.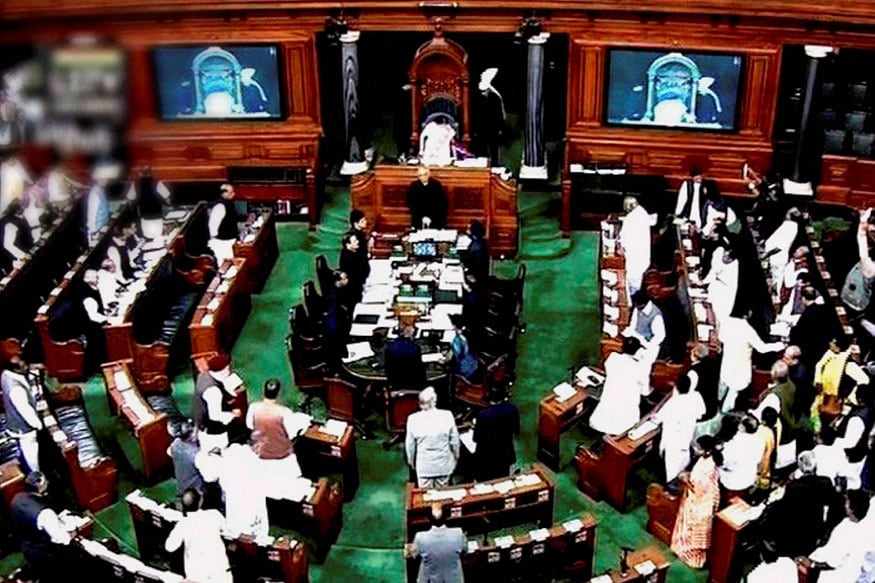 File photo of proceedings in the Lok Sabha. (Image: PTI)
New Delhi:
It's likely to be a tense start to the week in Parliament with the Congress gearing up to raise the Gujarat situation in the House.
Sources told CNN-News18 that the Congress members are likely to bring up the "poaching" of its Gujarat MLAs by the BJP ahead of the Rajya Sabha elections in the state. The party has kept 44 of its Gujarat MLAs at a resort in Bengaluru to "guard" them from being poached.
Also up for debate in the Lok Sabha is the issue of cow vigilantism and recent cases of mob violence against persons of minority communities.
The lower house of Parliament had witnessed uproarious scenes on Thursday when Congress members demanded a discussion on the recent mob lynchings. Congress leader Mallikarjun Kharge had accused the government of shying away from a debate.
Kharge had told Speaker Sumitra Mahajan that two notices were submitted for the debate. "You (Mahajan) are ready (for a debate) but government is not," Kharge had said.
"When we met you I was very happy when you said you are ready for the debate, and we should convince the government side..." Kharge said.
Speaker Mahajan had retorted immediately, saying: "Don't twist my words."
As Kharge asked for the debate, he was joined by Sudip Bandyopadhyay of the Trinamool Congress and CPI(M) member Mohammed Salim who asked why the issue was not being debated under the adjournment motion.
Parliamentary Affairs Minister Ananth Kumar has said that the opposition wanted to discuss violence that was occurring outside, but did not want to speak on the incident that took place in the House when paper bits were thrown at the Speaker.
The opposition has been trying to corner the government in Parliament on a number of issues, including the recent lynchings of Muslims and Dalits by self-styled cow vigilantes.
Teenager Junaid was stabbed to death and his brothers were attacked by a mob in a moving train and thrown off it, a day ahead of Eid.
Pehlu Khan (55) was brutally beaten up after being intercepted by self-styled 'gau rakshaks' in Alwar on April 1 while he and his two sons, Irshad and Arif, were travelling in a pick-up car, carrying cattle from Jaipur.
A man was recently lynched by cow vigilantes in Jharkhand on the suspicion of carrying beef in his vehicle.
| Edited by: Huma Tabassum
Read full article
Countdown To
Elections Results
To Assembly Elections 2018 Results