Modi Ignored Intelligence Warnings in Pulwama so He Could Play Politics With Dead Jawans: Mamata
Mamata Banerjee accused the BJP of subverting the essence of India and called the RSS-VHP a 'militant and demonic hate force'.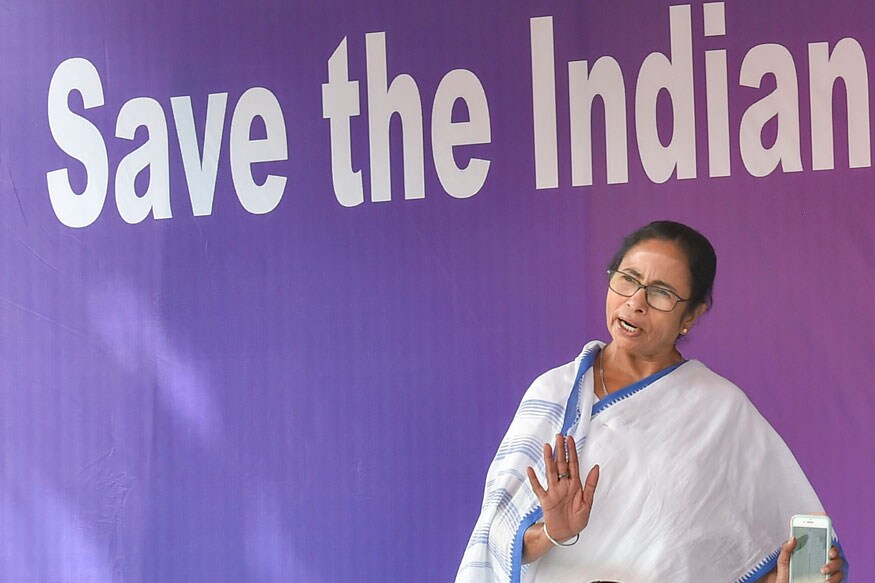 File photo of West Bengal Chief Minister Mamata Banerjee. (Image: PTI)
Kolkata: Firing a fresh salvo at Prime Minister Narendra Modi and questioning his role in the Pulwama terror attack which claimed the lives of 40 CRPF jawans on February 14, Bengal chief minister and Trinamool Congress supremo Mamata Banerjee said Modi ignored intelligence inputs on the attack so he could play politics later.
Speaking at the Trinamool Congress's extended core committee meeting at the Nazrul Manch in Kolkata on Monday, Banerjee said: "Where were you Mr Modi when the Pulwama attack took place? You knew that an attack was imminent. The government already had intelligence inputs. Yet why were the jawans not airlifted? Why were proper naaka checks not done and why weren't the roads thoroughly sanitised? Why did you push them to the brink of death? So that you could play politics ahead of the elections? There can be no politics over the blood of our jawans."
The meeting, attended by about 5,000 TMC delegates and the last intra-party meet ahead of the 2019 general elections, was aimed at lifting the morale of the party ahead of the polls. Expectedly, Banerjee used the opportunity to sharpen her criticism against ruling dispensation at the Centre, a day ahead of her trip to Delhi for finalising the Common Minimum Agenda of the opposition parties to take on the BJP.
"One can fool some people some of the time, but one cannot fool all the people all the time," Banerjee warned the Prime Minister borrowing a quote from Abraham Lincoln, albeit distorting the original quote a bit.
Accusing the BJP of subverting the essence of India by changing its social, cultural, political and education ideas and institutions, Banerjee went on to call the RSS-VHP a "militant and demonic hate force". "You would forget about Hitler and Ceausescu in their wake. These are bigger than them," she said.
Mamata also raked up the issue of tampering of EVMs and asked her party workers to remain vigilant during the polls. She even formed a committee of three party leaders – Saugata Roy, Dinesh Trivedi and Partha Chatterjee – to train district leaders against the possible manipulation of EVMs and VVPATs. "They say they'd win 22-23 seats in Bengal and they hope to achieve that by manipulating EVMs. We have information they could make such attempts in Bengal. We will keep strict vigil and thwart any such moves," Banerjee said.
"My call for 42 out of 42 seats from Bengal is not just a call. It can be achieved and only you can get that done by getting there on the field and actively participating in the process," she appealed to her supporters at the venue who reciprocated with roaring assurances of committing themselves to their leader's wishes.
Banerjee, however, sounded a caution on factionalism within the party. "All our workers must support the candidates chosen by our party. There should be no bickering over candidate selection. Leaders who have worked well will be rewarded. No one will be disrespected. And those who have issues, we will discuss and settle. But I will not tolerate any non cooperation from any worker," the Trinamool chief said.
Read full article