GET Stock

Quotes


Live: In 2014 India needs a dream team, not a dirty team, says Modi
The faceless BJP in Delhi is pinning all its hopes on Modi's charisma to help them garner more votes in the upcoming Assembly election.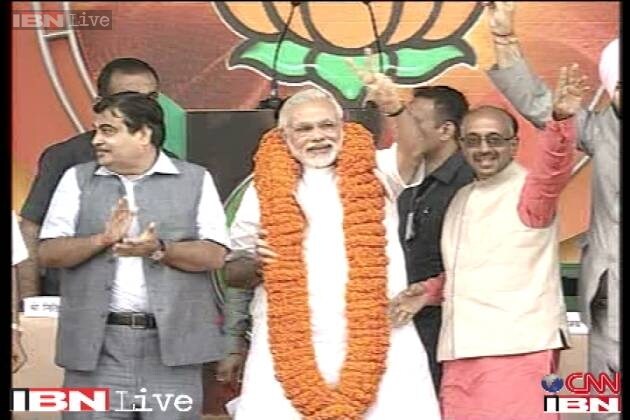 The faceless BJP in Delhi is pinning all its hopes on Modi's charisma to help them garner more votes in the upcoming Assembly election.
New Delhi: 1:45 pm: Gujarat Chief Minister Narendra Modi addresses rally in Delhi and takes a swipe at Sonia Gandhi and Rahul Gandhi. He said, "Delhi is the city of governments. There is a mother's government. A son's government. A son-in-law's government. Then there is also a coalition government. The UPA allies are running their own governments."
Hitting out at Delhi Chief Minister Sheila Dikshit, he said, she has the most comfortable of jobs. "She has nothing much to do expect cutting ribbons," he said.
The Delhi Chief Minister would always escape responsibility. She would either blame others. He said Sheila has unique responsibility to protect all girls but she asks them to go back home to evade threat of rape.
Taking a dig at the Congress on corruption, he said, "The Congress is used to corruption, instead of combating it, they have simply stopped working."
Hitting out at UPA over Commonwealth Games, he said, "CWG games were a lost opportunity. The CWG scam was like looting India's sportsmanship."
He said, "For UPA government, Gandhibhakti is worshipping wads of Rs 1000 notes."
He added, the Congress and its allies are addicted to bad governance which has led to many diseases affecting India.
He attacked Prime Minister Manmohan Singh saying he's inefficient. He said, "Manmohan begged before US President Barack Obama in the UNGA session and tried to market India's poverty."
He questioned the Prime Minister on poverty and in an indirect reference to Rahul, "Was this poverty a 'state of mind' as the 'shehzaada' puts it."
He said even Pakistan Prime Minister Nawaz Sharif insulted Manmohan Singh. "Pakistan Prime Minister Nawaz Sharif called Manmohan Singh a 'dehati aurat'(village woman). Nothing else could be more insulting than this. We won't tolerate the insult of our Prime Minister," he said.
He hit out at the Congress over the recent Rahul's 'nonsense' remark, he said it was an insult to the Prime Minister and this gave Pakistan an opportunity to insult the Prime Minister.
Modi also expressed doubts if Manmohan Singh will be able to effectively deal with Pakistan situation. "Will Manmohan Singh be able to bring back the heads of soldiers who were beheaded by Pakistan," asked Modi.
He asked people to trust BJP, look into his background, trust his work, his party workers. He said, "Neither Narendra Modi nor BJP will break your trust. We would sacrifice ourselves to accomplish your dreams."
He added, "I was never a ruler, I will never be, I will always serve you. In 2014, India needs a dream team, not a dirty team."
He said a government has only one religion, which is 'nation first' and has only one holy book, which is the Constitution.
12:35 pm: Hitting out at the Congress-led UPA over corruption and price rise, BJP leader Nitin Gadkari said people should vote for BJP in the upcoming Lok Sabha polls so that Modi can lead the country to progress.
Referring to 'Feku' posters, Gadkari said, "What kind of a political culture is this? We have been civil wherever Rahul or Sonia Gandhi have gone."
After his stint in the southern states, Gujarat Chief Minister Narendra Modi is in the national capital to address his mega rally on Sunday. It is his first rally in Delhi after he was declared the BJP's prime ministerial candidate.
Modi landed at a helipad near the rally venue, Japanese Park, Rohini.
After a show of strength in Bhopal this week, senior BJP leaders LK Advani, Sushma Swaraj, Arun Jaitley, Rajnath Singh were not present in the rally. However, former party president Nitin Gadkari, Delhi BJP chief Vijay Goel, BJP MP from Amritsar Navjot Singh Sidu shared the dais with Modi.
BJP leader Mukhtar Abbas Naqvi said, "Narendra Modi is holding many rallies against UPA's bad governance. Every rally by Narendra Modi is striking a nail in the coffin of Congress."
Almost five lakh people are expected to be attend the rally. Invitations have also been sent to foreign missions, bureaucrats and ex-service-men. Efforts were also being to made to reach out to the minorities and around 25,000 Muslims are also expected to attend the rally at Japanese Park.
The faceless BJP in Delhi is pinning all its hopes on its prime ministerial candidate Modi that his charisma will help in garnering more votes in the coming Assembly elections. But only time will tell whether Modi magic will work for a party led by infighting.
To make the event larger than the life, a 100-feet tall cut out of Modi have been readied for his rally greeting the people. The party activists were giving finishing touches to the 40x80 feet stage erected at the rally ground.
Large scale arrangements have been put in place at the rally venue. LED screens have been installed all over Delhi that will show the live broadcast of the rally.
Around 3,000 policemen and paramilitary personnel have been deployed to provide security.
Also Watch
Read full article