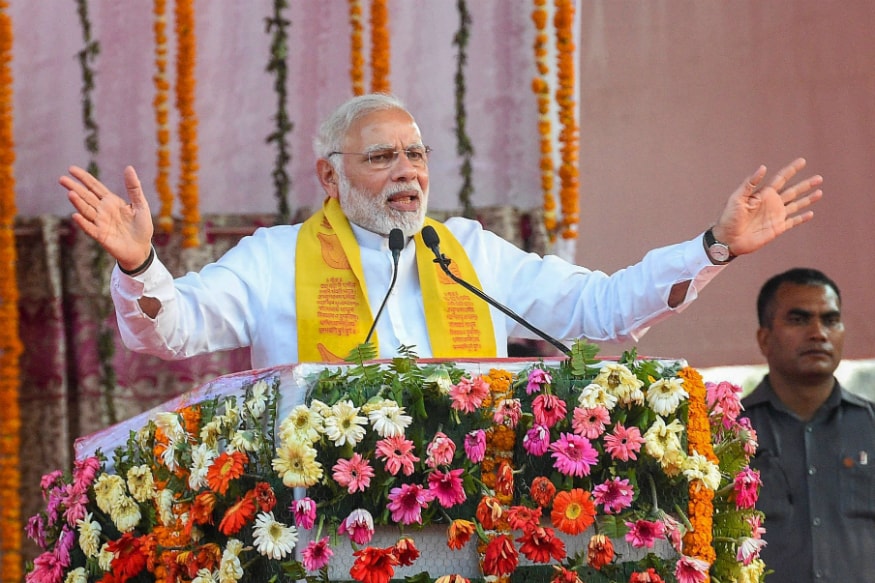 File photo of Prime Minister Narendra Modi addressing a public meeting. (PTI)

Before him, PM Narendra Modi kicked off the battle for Mizoram and addressed his first mega poll rally in the state on a day that is full of high-octane rallies from both BJP and the Congress as the assembly election campaign heats up.

Mizoram is the last north-eastern state still with the Congress and the BJP is banking on PM Modi's appeal to expand its base. In his address, the PM accused the Congress of following a policy of divide and rule and said the BJP, on the other hand, believes in sabka saath, sabka vikas.

The day will also see UPA chairperson Sonia Gandhi enter the battleground as she will address her first rally for the upcoming assembly elections in Telangana, where the Congress is trying to project her as the state's "creator" to pit her against K Chandrasekar Rao. She will address a rally in Medchal and is expected to release the party's manifesto for the upcoming elections.

Madhya Pradesh also promises a mouthwatering contest as Congress Rahul Gandhi will campaign in Budhni, which is Madhya Pradesh chief minister Shivraj Singh Chouhan's turf, while BJP president Amit Shah will hold a rally in Kamal Nath's constituency - Chhindwara.

CM Shivraj Singh Chouhan is pitted against former MPCC president Arun Yadav. Rahul Gandhi will be addressing the rally to help Yadav win the polls and re-write history by defeating an 'invincible' Chouhan in his home turf.

The MP poll battle is being observed keenly in the political circles and people, including those in the Congress, are wondering if it would prove to be a cakewalk for Chouhan or a spirited Yadav will manage to confine the CM Chouhan within his own constituency. But Chouhan, perhaps sensing the plan, left the poll campaigning on the shoulders of his wife Sadhna and son Kartikeya, and is busy touring the rest of the state.

In Madhya Pradesh, the BJP has won the constituency seven times since the state came into being, including in 1990, 2006, 2008 and 2013 through CM Shivraj. The Congress has won on five occasions, pulling of the last victory in 1998.


14 Aug, 2019 |

India in West Indies

WI
vs
IND
240/7

35.0 overs

256/4

32.3 overs

India beat West Indies by 6 wickets (D/L method)

14 - 18 Aug, 2019 |

The Ashes

ENG
vs
AUS
258/10

77.1 overs

250/10

94.3 overs

England drew with Australia

14 - 18 Aug, 2019 |

New Zealand in Sri Lanka

NZ
vs
SL
249/10

83.2 overs

267/10

93.2 overs

Sri Lanka beat New Zealand by 6 wickets

11 Aug, 2019 |

India in West Indies

IND
vs
WI
279/7

50.0 overs

210/10

42.0 overs

India beat West Indies by 59 runs (D/L method)

08 Aug, 2019 |

India in West Indies

WI
vs
IND
54/1

13.0 overs

/

overs

Match Abandoned