Mulayam Singh Yadav can get me killed anytime, claims Beni Prasad Verma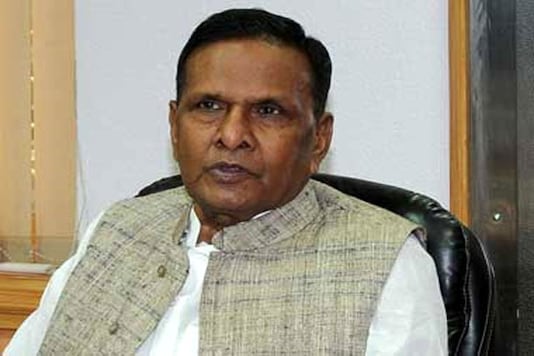 Beni Prasad demanded immediate intervention by Centre in UP to check communal violence alleging that a nexus between BJP and SP.
Last Updated: October 2, 2013, 7:38 IST
FOLLOW US ON:
Union Minister Beni Prasad Verma, who has been attacking Mulayam Singh Yadav, on Wednesday hit out at at the SP leader over communal violence in Uttar Pradesh and claimed there was threat to his life as he was the only Congress leader speaking against Mulayam.
He demanded immediate intervention by Centre in Uttar Pradesh to check communal violence alleging that a nexus between BJP and SP was fuelling it and claimed that some Congress leaders were hobnobbing with Samajwadi Party.
"UP is burning. BJP and SP have joined hands. What is the Centre doing? Mulayam Singh Yadav can get me killed anytime. No other leader from Congress is speaking against him except me," he told reporters.
Verma, a former friend and colleague of Mulayam, has been attacking Yadav for the last few months putting Congress in an embarrassing position as UPA is being supported from outside by SP.
He had earlier kicked up a row by saying that the SP chief was not even fit to sweep the Prime Minister's residence, drawing instant rebuke from the Congress.
Asking Congress to discharge its responsibility to stop violence there, Verma on Wednesday alleged that some of the Congress leaders are also "fixed" by ruling Samajwadi Party in UP but refused to name anyone.
"I will not take their names. Sonia Gandhi has also said that it is Congress, which causes the defeat of Congress," he said stressing, "central government should take tough measures else it cannot escape the blame if UP is destroyed."
The senior Congress leader and Union Steel Minister said after Muzaffarnagar riots, now it is a joint "sponsored" operation in Meerut by BJP and SP, "else how could a mob of 20,000 gather there despite prohibitory orders by the administration".
Twenty persons were injured after clashes had broken out in Meerut during a Mahapanchayat organised to protest slapping of National Security Act against BJP MLA Sangeet Som in connection with the Muzaffarnagar riots.
Verma alleged the violence was not possible without connivance of Mulayam Singh and BJP and that the people were brought in from Maharashtra and Gujarat to fuel it.
He alleged that Mulayam Singh had earlier hobnobbed with BJP senior leader LK Advani for demolition of Babri mosque and helped Narendra Modi to win election in Gujarat post-Godhara riots.
He said SP had fielded candidates in minority-dominated areas in Gujarat to cut into secular votes and helped Modi win the elections. "SP is not comfortable with Congress but has no problems if BJP comes to power in Delhi (Centre) and they remain in Lucknow. They (SP) want BJP to win Delhi," he said.
Verma said that Congress Vice President Rahul Gandhi has initiated steps for crime-free politics without being bothered about the fate of former Bihar Chief Minister and RJD chief Lalu Prasad and former Minister of State for Health and Rajya Sabha MP Rasheed Masood.
Rahul had called the controversial ordinance that seeks to protect convicted lawmakers by negating a Supreme Court order as a "complete nonsense" and said that it should be "torn up and thrown away."
Next Story