GET Stock

Quotes


Mumbai building collapse: Shiv Sena blames BMC commissioner
<p><strong>Mumbai:</strong> Shiv Sena on Sunday said Brihanmumbai Municipal Corporation (BMC) commissioner Sitaram Kunte was responsible for the building collapse in Mazgaon area in which 61 people were killed.</p>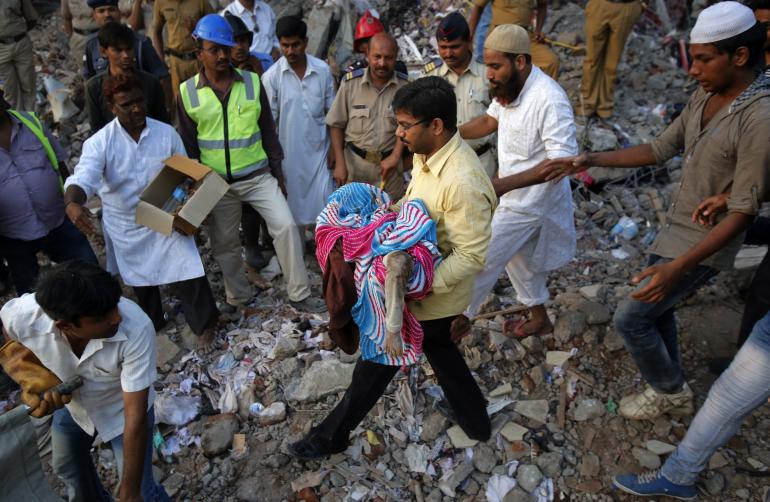 <p><strong>Mumbai:</strong> Shiv Sena on Sunday said Brihanmumbai Municipal Corporation (BMC) commissioner Sitaram Kunte was responsible for the building collapse in Mazgaon area in which 61 people were killed.</p>
Mumbai: Shiv Sena on Sunday said Brihanmumbai Municipal Corporation (BMC) commissioner Sitaram Kunte was responsible for the building collapse in Mazgaon area in which 61 people were killed.
"Kunte is the agent of Mantralaya (state secretariat). He follows the Chief Minister's directions. If the accused are to be named, then Kunte's name will be at the top," Sena spokesperson and MP Sanjay Raut said in Mumbai.
A BMC-owned building near the Babu Genu Market in Mazgaon area collapsed like a pack of cards on the early morning of September 27. Raut alleged a structural audit report had said that the building needed repairs, but the concerned officials did not act on it. "A case of culpable homicide should be registered against Kunte," he said. Sena and BJP are in power in the BMC.
Also Watch
Read full article