Muslims Have Contributed to India's Culture, Our Way of Life is Inclusive: Nitin Gadkari
Sharing the dais with former president Pranab Mukherjee at a book launch in Delhi, Union minister Nitin Gadkari also condemned the recent spate of lynchings across India.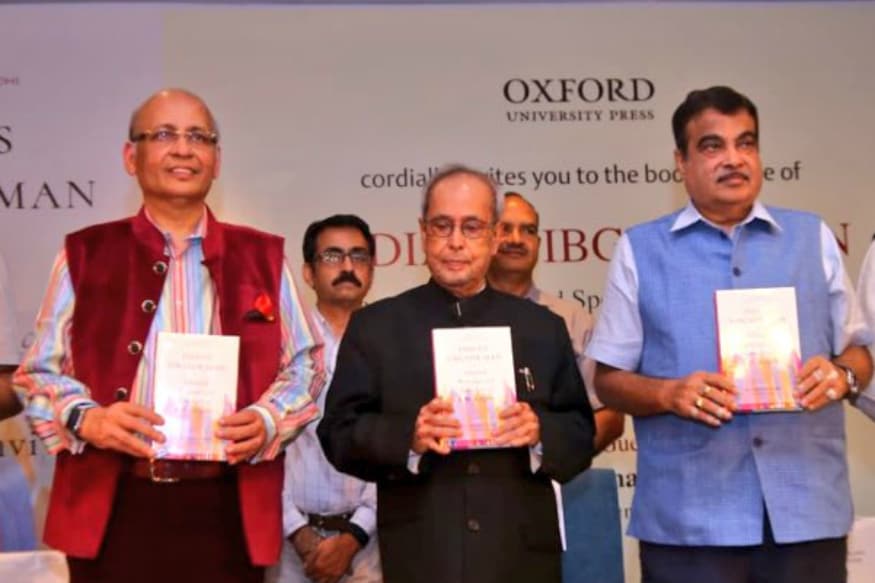 Congress spokesperson Abhishek Manu Singhvi, former president Pranab Mukherjee and Union minister Nitin Gadkari at the release of the book of writings of the late parliamentarian and jurist LM Singhvi.
New Delhi: Union minister Nitin Gadkari and former president Pranab Mukherjee shared the dais at an event to launch a collection of writings by the late diplomat, jurist and parliamentarian LM Singhvi, the father of Congress spokesperson Abhishek Manu Singhvi.
Speaking at the event, Gadkari said Muslims have contributed greatly to India's culture and also condemned the recent spate of lynchings across India.
"From music to poetry, Muslims have contributed to Indian culture. I like to listen to Ghazals by Ghulam Ali every morning. Art and architecture are not bound by religion. Taj Mahal, for example, is a symbol of pride for all Indians, regardless of who built it. Indian culture and way of life is inclusive," he said.
Gadkari said the government was not in support of "despicable" acts like lynching or hate speeches by party leaders against minorities and dismissed suggestions that it was imposing its version of Hindutava in the country. He underlined that the BJP government believed in "Hinduism which is all inclusive and respects all faiths and creed".
"These isolated incidents (lynching) should not be linked with our party. We believe in tolerance and we respect all religions. If you do research, you will see RSS also does not support lynchings," Gadkari said.
"We don't discriminate on the basis of caste, creed or religion. This is the feeling of our party and the prime minister," he added.
Gadkari was participating at a panel discussion on 'Is India losing its identity or realising it' which followed the release of the book of the writings of LM Singhvi by former president Pranab Mukherjee.
Remembering LM Singhvi, Mukherjee said, "Our paths crossed on many occasions, especially when he was India's High Commissioner to the UK. He was a jurist, an envoy, a politician, a poet and a prolific writer. He was a scholar and a traditionalist. He was truly a renaissance man."
Rajya Sabha MP and senior Congress leader Anand Sharma, who also participated in the debate, claimed there was "hatred, violence and intolerance in the country and the political atmosphere has been vitiated". He said the very idea of India is under assault and "our idea of secularism is different from them".
Congress leader Abhishek Singhvi asked how would the BJP defend party leaders making controversial remarks despite holding constitutional posts.
When his attention was drawn to the hate statements made by them against the minority community, Gadkari said his party "disassociates from such statements and does not support them".
Incidents of lynching or communal riots, he said, are not restricted to the BJP regime only but have happened under various dispensations. In this context, he also raised the anti-Sikh riots of 1984. However, Sharma said neither the Congress party or any of its leaders, including former prime miniser Rajiv Gandhi, supported the riots.
Shiromani Akali Dal (SAD) leader Naresh Gujral blamed the "fringe" elements for the sense of insecurity in the country and described them as "terrorists". The SAD is an NDA ally.
Rajya Sabha MP and Biju Janata Dal (BJD) leader Pinaki Mishra said the "lumpen elements" who are on the "rampage" in the name of Hinduism does not know an iota of Hinduism.
"They are lumpen elements," he said, noting that incidents of lynching are happening because there is no fear of the rule of law.
Read full article