GET Stock

Quotes


Narendra Modi Cabinet Reshuffle 2017: Here are the Five Key Takeaways
The promotion of Naqvi, Pradhan, Sitharaman and Goyal, who were all State Ministers with independent charge, looks like an endorsement of their performance.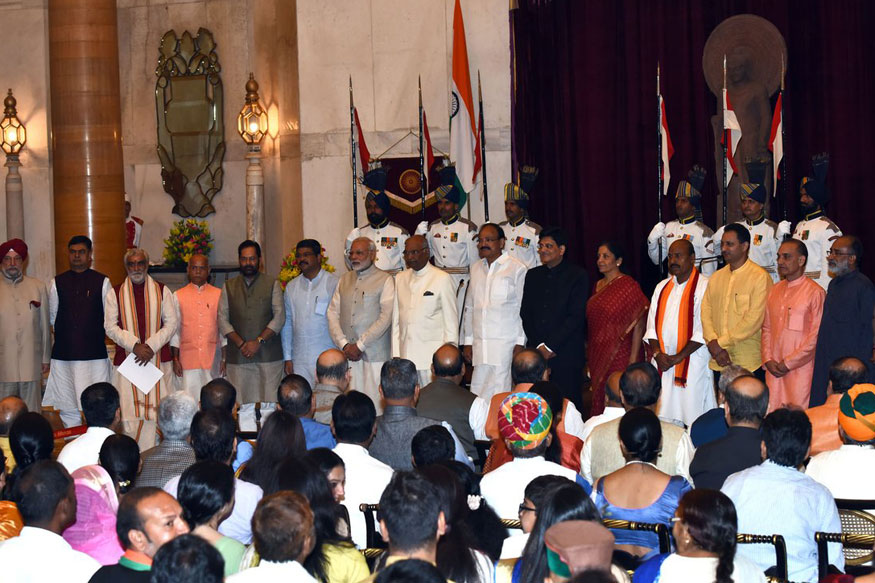 Sunday's swearing-in ceremony at the Rashtrapati Bhawan.
New Delhi:
In a major rejig of his team, Prime Minister Narendra Modi inducted four junior ministers — Mukhtar Abbas Naqvi, Dharmendra Pradhan, Nirmala Sitharaman and Piyush Goyal into the Cabinet and nine fresh faces as Ministers of State on Sunday.
Here are five key takeaways from the latest Cabinet reshuffle:
• In the Modi government, efficacy and probity pays. Performers rewarded, no mercy for laggards.
• In Modi's presidential style of governance, there is dependence on bureaucracy to deliver. Four former bureaucrats in the government reinforces the idea.
• Modi tries to correct caste and regional imbalances. Kalraj Mishra is replaced with East UP Brahmin, Shiv Prakash Shukla. Representation for poll bound Karnataka, Rajasthan, Madhya Pradesh.
• Former bureaucrat Alphons will be the first minister from Kerala. By picking a rank outsider, Modi sends a stern message to a divided state unit embroiled in graft allegations. It is also being seen as an outreach to the Church in Kerala.
• The cabinet reshuffle also indicates fewer choices and limited elbow room with the BJP to man important departments and ministries.
Also Watch
Read full article