New J&K Governor Satya Pal Malik Will Have His Hands Full With Article 35A Row, Rising Encounters
Malik will replace NN Vohra whose term as J&K's governor ended on June 28 but was extended till Amarnath Yatra's conclusion.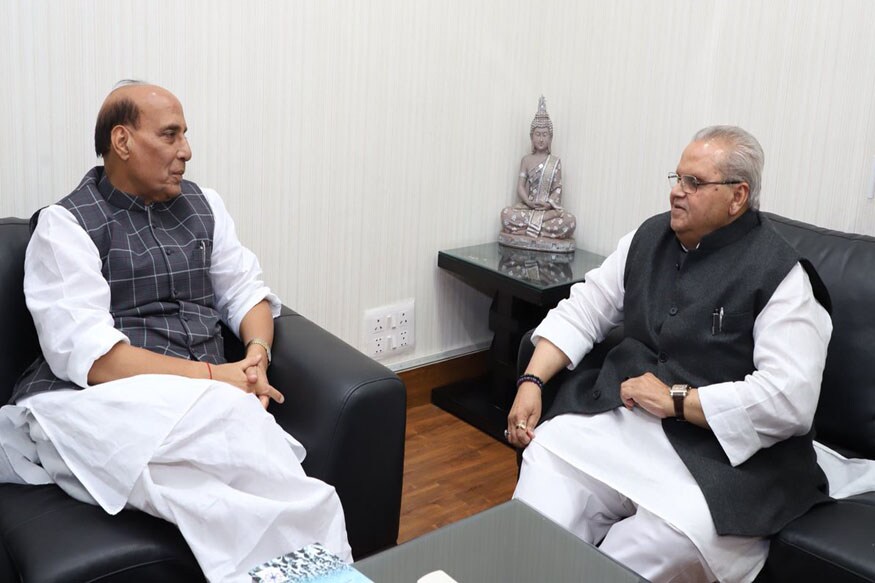 File photo of Satya Pal Malik with union home minister Rajnath Singh.
New Delhi: Five days before the end of Amarnath Yatra, President Ram Nath Kovind has okayed the appointment of the new Governor of Jammu and Kashmir – Satya Pal Malik.
The former vice-president of BJP, who was appointed as the governor of Bihar last year, after then governor Kovind became the President, will now take on his new assignment. This is the first time since Karan Singh in 1952 that a politician has been appointed Governor in J&K as the post has always gone to IAS, IPS or military officers or diplomats.
Malik will replace NN Vohra whose term as J&K's governor ended on June 28 but was extended till Amarnath Yatra's conclusion. Vohra was appointed as J&K governor by the UPA-II and the NDA under Narendra Modi had decided to continue with him after coming to power in 2014.
Born on 24 July 1946, Malik has had a long exposure to politics, cutting his teeth in Uttar Pradesh politics from 1947 to 1977, during which he was a member of UP assembly.
He also emerged on the national stage, after becoming an MP, and served as the Union Minister of State, Parliamentary Affairs and Tourism. Malik has also been member of several Parliamentary Committees.
He was also associated in the past with Congress, Samajwadi Party, Lok Dal and the Bharatiya Kranti Dal.
Malik has B.Sc and LLB from Meerut University and holds a Diploma in Parliamentary Affairs from Institute of Constitutional and Parliamentary Studies run by Parliament of India.
Malik will assume the chair of J&K governor at a very interesting time when controversy over Article 35A is at its peak, panchayat elections are due, terrorism and encounters in the state are on the rise, and the state assembly, after BJP pulled out of its coalition with PDP, is in suspended animation.
Sources say that both Vohra and NDA had developed differences of opinion over several issues, the biggest of which was the debate on article 35A which allows the state government to define who is a permanent resident of the state and provide them with special privileges.
Vohra had reportedly written a letter to home minister Rajnath Singh, saying that issue of Article 35-A should not be dealt with till a popular government has been formed. Vohra had also reportedly developed a lot of differences with the then Chief Minister Mehbooba Mufti.
With the state being under governor's rule since June 20, Malik will be in effect running the show single-handedly with recently appointed advisors BB Vyas, the former Chief Secretary of the state, and Vijay Kumar, the man known to have hunted notorious sandle-wood smuggler Veerappan, who till recently was serving as the senior special advisor to the Ministry of Home Affairs.
Get the best of News18 delivered to your inbox - subscribe to News18 Daybreak. Follow News18.com on Twitter, Instagram, Facebook, Telegram, TikTok and on YouTube, and stay in the know with what's happening in the world around you – in real time.
| Edited by: Aakarshuk Sarna
Read full article