'Only Want Justice for My Daughter': Nirbhaya's Mother Refutes Rumours of Cong Offer for Delhi Polls
When asked if there was any truth to reports that the Congress was fielding her against CM Arvind Kejriwal from the New Delhi seat, Asha Devi said she has never met or spoken to anyone in the grand old party.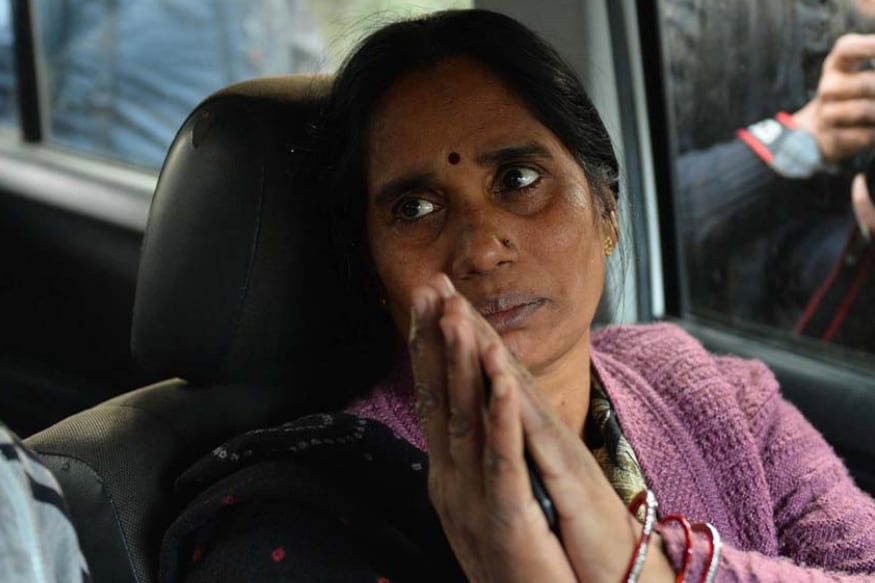 File photo of Asha Devi, mother of the 23-year-old paramedic who was brutally raped and assaulted in Delhi in December 2012.
New Delhi/Bengaluru: Asha Devi, the mother of 2012 Delhi gangrape victim, has denied rumours of the Congress offering her a ticket for the upcoming Delhi Assembly elections.
When asked if there was any truth to reports that the Congress fielding her against incumbent Chief Minister and Aam Aadmi Party (AAP)'s national convenor Arvind Kejriwal from the New Delhi seat, Devi said, "I have no interest in politics. I have not met or spoken to anyone in the Congress. I only want justice for my daughter and execution of her perpetrators."
Delhi Congress Chief Subhash Chopra also refuted the reports, but said she was welcome to join the grand old party. He said, "I saw a media that Asha Devi will contest against Kejriwal. Nothing of that sort is happening, but she is welcome to join us."
However, Congress leader and former MP Kirti Azad added to the rumours by welcoming her to his party.
"ऐ मां तुझे सलाम" आशा देवी जी आपका स्वागत है https://t.co/XovQXVsLp9

— Kirti Azad (@KirtiAzaad) January 17, 2020
This was after Kejriwal said his government had no role in the delaying of the hanging of the death-row convicts and Asha Devi was being misguided.
She had earlier said those people who held protests on streets in 2012, were now playing with her daughter's death for political gains.
The hanging of the convicts that was supposed to take place on January 22 will now happen on February 1. The execution got delayed after one of the four convicts, Mukesh Singh, moved a mercy plea before President Ram Nath Kovind. The petition was rejected on Friday on the recommendations of the the Union Home Ministry.
It will finally happen: NCW
Meanwhile, National Commission for Women (NCW) Chairperson rekha Sharma called for Nirbhaya's parents to be patient, saying "finally it will happen".
"They have shown a lot of patience for seven years. It is not about one family, this case, the whole nation is waiting," Sharma told News18 on the sidelines of an event in Bengaluru. "Another month or so I think, (it will take), because they are going for the petition one by one. Finally, this will happen and I would like to tell the parents finally, it will happen. Yes, patience is running out, but you have to have patient.
Sharma said delays have affected the delivery of justice, adding this case was meant to be a deterrent.
"Announcing the sentence is one thing and not implementing is another," she said. "If it was implemented long back, we would have seen the result (in deterring other crimes) by now. But we have to wait now, how it will be after the implementation."
On Wednesday, the standing counsel for the Kejriwal government told the Delhi High Court the scheduled hanging would have to be delayed as Mukesh had moved the mercy plea.
Accusing BJP leader Prakash Javadekar of politicising the matter, Kejriwal told reporters that whatever responsibilities the Delhi government had, it had finished them within a few hours.
"We sent the mercy petition within hours, so the Delhi government has no role in delaying the hanging of the convicts," he said.
The BJP on Thursday blamed AAP government's "negligence" for the "delay" in the hanging of convicts, saying it took more than two-and-a-half years for the Kejriwal dispensation to give notice to convicts after Supreme Court rejected their appeal against the death sentence in 2017.
Kejriwal said the BJP leader is doing politics over the matter and this is not good. "Why would our government try to delay, we want them hanged at the earliest. I think she is being misguided. The Delhi government barely has any role in the whole process," he said.
(With inputs from Deepa Balakrishnan in Bengaluru)
Get the best of News18 delivered to your inbox - subscribe to News18 Daybreak. Follow News18.com on Twitter, Instagram, Facebook, Telegram, TikTok and on YouTube, and stay in the know with what's happening in the world around you – in real time.
Read full article