Nitish Kumar Asks Tejashwi Yadav to Come Clean, Lalu Prasad Says Nothing Doing
JD(U) MLA Ramai Ram claimed on Tuesday that Nitish wants Tejashwi to resign within four days i.e 96 hours, but his deadline did not find mention in official briefing after party's meeting.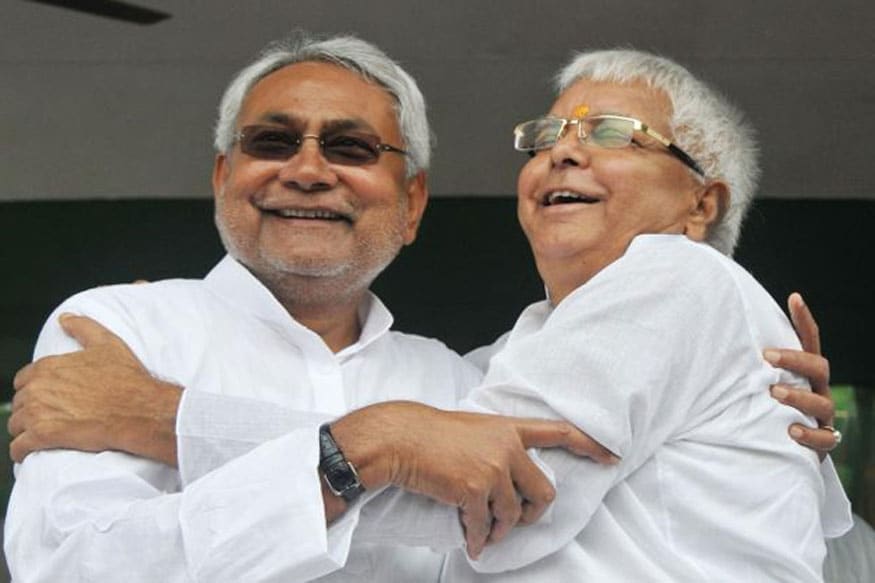 JD (U) supremo Nitish Kumar and RJD's Lalu Prasad Yadav share a light moment. (PTI photo)
Patna: Rashtriya Janata Dal (RJD) Supremo Lalu Prasad Yadav and his son Tejashwi Yadav have categorically rejected Nitish Kumar's advice to come clean on corruption charges, throwing serious doubts over the future of the alliance.
Central Bureau of Investigation (CBI) raids and an FIR against Lalu Prasad, his wife Rabri Devi, and son Tejashwi compelled image-conscious Janata Dal (United) president Nitish Kumar to call a meeting of his party leaders. The Bihar chief minister vowed not to compromise his principles for the sake of saving the government.
JD(U) MLA Ramai Ram claimed on Tuesday that Nitish wants Tejashwi, who is the deputy chief minister of the state, to resign within four days i.e 96 hours, but his deadline did not find mention in official briefing after party's meeting.
"I was just 14-15 years old. How could I have indulged in such activities? It is a political conspiracy against me by the BJP and its leaders Amit Shah and Narendra Modi," Tejashwi told reporters after a Cabinet meeting.
Lalu Prasad, in an interview to a TV channel, ruled out that Tejashwi was going to resign from Nitish Kumar's cabinet. "There is no question of him resigning. People of Bihar have given Tejashwi a responsibility and he is doing his duty well," Lalu told the TV channel.
The RJD patriarch has described the CBI raids as part of a conspiracy hatched by Prime Minister Narendra Modi and BJP president Amit Shah to "finish off him and his party - RJD".
Tejashwi has been named as an accused in the land-for-hotel case, which is related to transfer of three acres of prime land in Patna to the family by two businessmen, allegedly in return for licences to run two IRCTC hotels in Ranchi and Puri when the RJD chief was railway minister.
Nitish's party told Tejashwi to come clean and make a point-wise clarification on allegations levelled against him and his family. JD(U) spokesman Ajay Alok went a step ahead, saying it was imperative for Tejashwi to come clean for him to continue as a minister in Nitish's cabinet.
CBI raids may prove to be the tipping point in the already strained relationship between RJD and JD(U). Before the raids, Lalu tried to quell the storm within the Mahagathbandhan, which also accommodates Congress as the third party. Lalu said there was no trouble in the grand alliance and continuing in power was his priority.
His efforts and thoughts were centred on establishing his younger son as his heir apparent. But things have changed after CBI directly named Tejashwi as an accused.
Veteran journalist and JD(U) Rajya Sabha MP Hariwansh, in an opinion piece published in a local daily, praised Nitish Kumar's stance, saying he is a combination of Gandhi, Jai Prakash and Lohia. He also mentioned his days with the NDA, and when contacted, said that re-engagement with BJP is not ruled out but depends on the leadership.
Sensing the inevitable, Lalu Camp, it seems, has upped the ante and become defiant to the demands of JD(U). Bolstered by the support from Congress and other regional satraps, Lalu has decided to hit the street instead of bowing down to Nitish.
Tejashwi himself indicated this after the cabinet meeting on Wednesday. Ruling out the possibility of resigning from the cabinet, Tejashwi chose to play a victim by accusing PM Modi and BJP President Amit Shah of targeting him because he belongs to OBC: the card and social engineering his father Lalu is a master of.
The body language and defiance of Tejashwi, whom Lalu is grooming as his successor, has directly challenged Nitish Kumar as he again lobbed the ball in the latter's court.
After deciding not to side with a tainted face, Nitish Kumar would be bound to take action. After the raids, both were together in the cabinet meeting on Wednesday but did not interact. Discomfort was evident even after the meeting. Nitish left the venue in a hurry but agitated Tejashwi preferred to talk to media, recounting his successful stint as minister, and ruled out putting in papers.
Nitish has limited time to decide as Lalu's August 27 rally is fast approaching. Nitish, after making his stance over corruption loud and clear, will not share the dais with Lalu Prasad. He is left with three options. First, he might sack Tejashwi from the cabinet which in turn will compel RJD to withdraw support or nominate someone else in Tejashwi's place, but Lalu camp has already ruled out this scenario.
The second option comes into play in case of withdrawal of support. Nitish, then, could take support from BJP which is more than ready to embrace Nitish.
The third option for Nitish, which is the least expected, is to tender resignation and recommend the dissolution of the Assembly.
| Edited by: Mirza Arif Beg
Read full article
Countdown To
Elections Results
To Assembly Elections 2018 Results