Nitish Kumar Has Mastered Art of Breakups, Says Kushwaha as Both RLSP MLAs Set to Join JD(U)
The peeved union minister on Sunday said he would apprise BJP chief Amit Shah of the "humiliation" he had suffered at the hands of Nitish Kumar.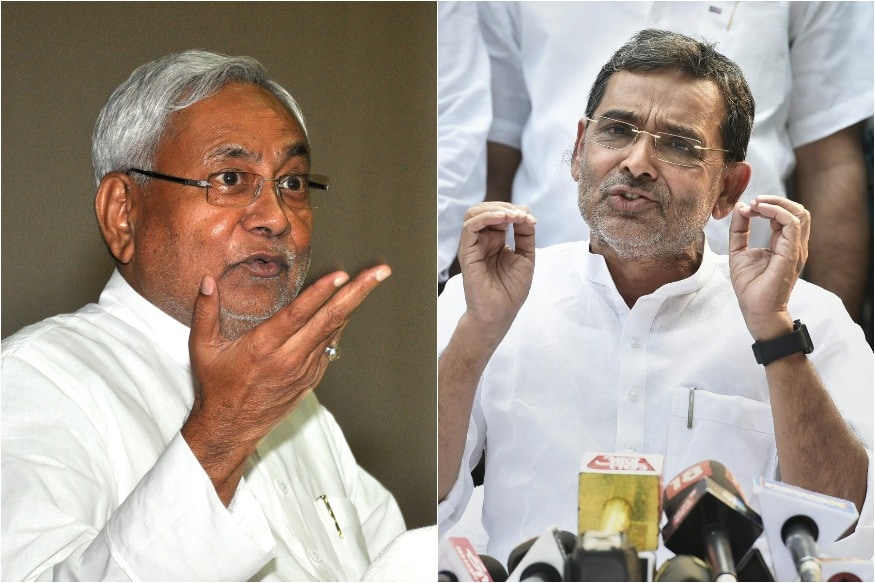 File photo of NItish Kumar and Upendra Kushwaha
Patna:
Union minister and NDA ally Upendra Kushwaha launched a blistering attack on Bihar chief minister Nitish Kumar on Sunday amid reports that both of RLSP's MLAs in Bihar are set to join the JD(U).
Saying that Nitish had "mastered" the art of causing a break-up, Kushwaha, in a tweet, said damaging a party and "seducing their members with greed and temptation is a crime as big as taking dowry".
"Gather yourself Nitish Kumar. Nobody will believe that your party acted without your consent," he wrote on Twitter, adding that RLSP will continue to fight for rights of the poor, the oppressed and the underprivileged despite the efforts of JD(U).
According to reports in local media, Lalan Paswan and Sudhanshu Shekhar of the RLSP will soon be inducted into the JDU. The two legislators reportedly decided to make the switch after they got in touch with Nitish's number 2 man Prashant Kishor.
Kushwaha's tweets come a day after his supporters took out an "aakrosh march" in Patna to protest a statement by the Bihar chief minister.
It was made at a television programme about a week ago when the JD(U) chief had refused to comment on reports that the RLSP might end up getting fewer seats than it had fought and won in the 2014 Lok Sabha polls.
Kushwaha took exception to Kumar's response that commenting on the issue would "lower the standard of the discourse". The Union minister has alleged that the remark is tantamount to him being called "lowly".
The peeved union minister on Sunday said he would apprise BJP chief Amit Shah of the "humiliation" he had suffered at the hands of Nitish.
Kushwaha said he would also request Shah to clear the "confusion" over seat-sharing for the 2019 general elections among the National Democratic Alliance (NDA) constituents in the state at the earliest.
He also said he had met Ram Vilas Paswan, the president of NDA constituent Lok Janshakti Party (LJP), earlier in the day and the latter concurred with his view that seat-sharing talks should be held at the earliest, involving all the coalition partners.
The RSLP has reportedly been peeved after the BJP and the JD(U) decided to contest an equal number of seats in the 2019 Lok Sabha election in Bihar. The state sends 40 members to Parliament and after the BJP-JD(U) deal, there is speculation that this would mean fewer seats for other allies like the RLSP and the LJP.
The opposition Grand Alliance - comprising the Rashtriya Janata Dal (RJD), the Congress and the Hindustani Awam Morcha - too has been trying to woo Kushwaha into its fold.
| Edited by: Aakarshuk Sarna
Read full article
Countdown To
Elections Results
To Assembly Elections 2018 Results