Nitish Kumar Makes it to Rupani's Swearing-in Ceremony in Gujarat, a State He Last Visited in 2003
Is Bihar Chief Minister Nitish Kumar's presence in the swearing-in ceremony of Vijay Rupani in Gandhinagar a precursor to him playing a wider role in the National Democratic Alliance (NDA) in the times to come?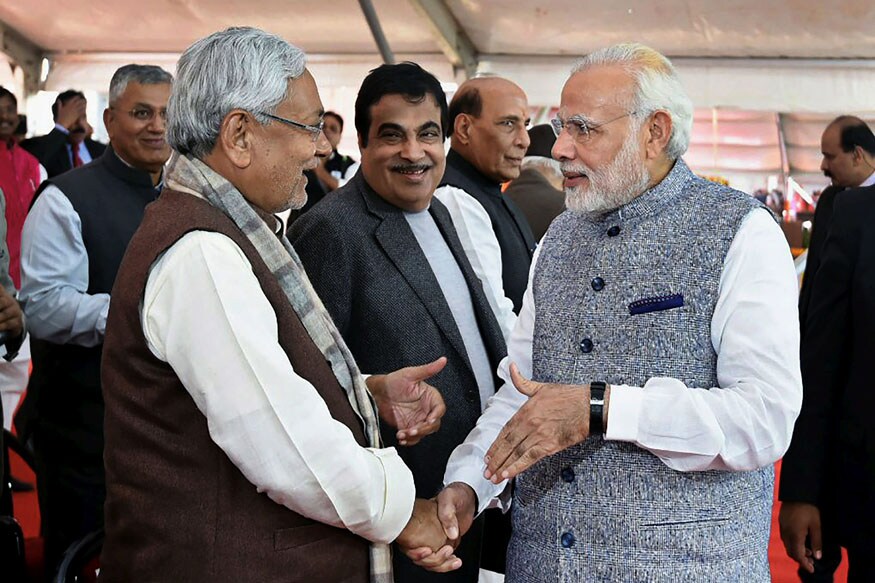 Prime Minister Narendra Modi greets Bihar chief minister Nitish Kumar at swearing-in ceremony of the council of ministers of the Gujarat government at Gandhinagar on Dec 26, 2017. (PTI Photo)
Patna: Is Bihar Chief Minister Nitish Kumar's presence in the swearing-in ceremony of Vijay Rupani in Gandhinagar a precursor to him playing a wider role in the National Democratic Alliance (NDA) in the times to come?
The fact that it took 14 years for the Bihar CM to visit Gujarat again underlines the importance of his visit.
Time has come a full circle for Nitish. In 2003, a year after riots, he visited Gujarat for inaugurating a rail project and praised Narendra Modi, who was the chief minister at the time. But things changed five years later when Nitish was readying for Assembly elections in Bihar.
In an effort to woo minority votes, Nitish did not allow Modi to campaign in Bihar. Equations of these two regional satraps deteriorated when Nitish cancelled a dinner for Modi in Patna in 2010 when the BJP advertised a photo of him with Modi in newspapers.
Despite being at unease, Nitish continued his alliance with BJP and the combination registered a massive victory in 2010 Assembly elections. However, Narendra Modi's elevation as BJP's prime ministerial candidate did now go down well with Nitish and he announced the end of 17 years of bonhomie with the BJP in 2013.
But the Bihar Chief Minsiter could not stop the Modi wave in 2014 Lok Sabha elections. His own party was reduced to two seats in the Lower House of the parliament. Stunned by the defeat, Nitish decided to join hands with old foe Lalu Prasad Yadav's Rashtriya Janata Dal (RJD), which ensured a thumping victory for Mahagathbandhan in 2015 Assembly elections.
However, this alliance of compulsions, as JDU leaders admit, lasted only 18 months when Nitish did a U-turn on July 27 this year and decided to return to the NDA fold and dumped RJD, which was facing corruption charges.
The signals though were apparent much before that when Nitish openly supported Modi government's surgical strike against Pakistan and demonetisation move. In turn, Prime Minister Modi heaped praise on Nitish when he came to participate in the birth anniversary of Guru Govind Singh in Patna last year.
Post BJP's Gujarat victory, where it faced stiff resistance from Congress, the party realises the importance of Nitish Kumar. JD(U) general secretary, Sanjay Jha, close aide of Nitish who accompanied him to the swearing-in of Rupani, said, "Till very recently Opposition rued that Nitish lost a chance to project himself as a national leader. But who can deny the fact that he still is an undisputed leader and commands respect across the country."
"Nitish ji will definitely try to strengthen NDA to win 2019 general elections. If it requires campaigning outside Bihar, he would be okay with that," Jha said, adding that both the top brass of BJP and Nitish have better understanding of the political situation and there should be no confusion about that.
The next big challenge for BJP is to retain its government in Rajasthan, Madya Pradesh and Chhattisgarh, which go to polls in 2018, and make a comeback in Karnataka.
Social analyst Shaibal Gupta believes that Nitish could come handy for the BJP if he campaigns in these states.
"BJP actually needs a leader like Nitish. He is a popular face even in Gujarat where Patidars or Patels seem to have voted for Congress in a large number. Same applies to Rajasthan and MP where he can help consolidate OBC vote bank," Gupta said.
Not only Kurmi factor, the caste he belongs to, but his clean image and inclusive approach is being cited as a boon for the NDA. A top leader of JD(U) said that his leader's presence in the swearing-in ceremony of Rupani also marked a show of strength for the NDA and Nitish was specially requested to attend the function.
Get the best of News18 delivered to your inbox - subscribe to News18 Daybreak. Follow News18.com on Twitter, Instagram, Facebook, TikTok and on YouTube, and stay in the know with what's happening in the world around you – in real time.
| Edited by: Ashutosh Tripathi
Read full article