Nitish Kumar Resigns: Rise and Fall of Bihar Mahagathbandhan
A timeline of the Lalu-Nitish relationship in the Bihar mahagathbandhan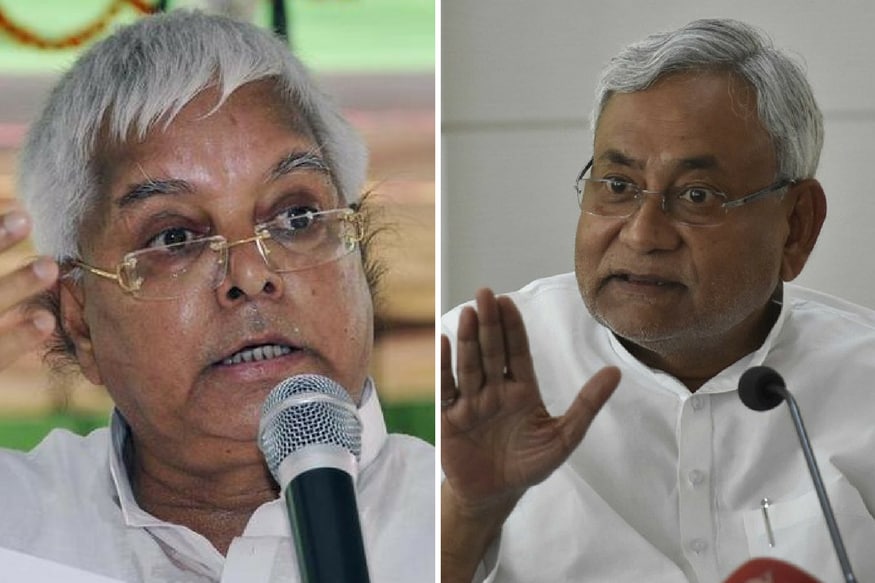 File photos of RJD leader Lalu Prasad Yadav (left) and Bihar CM Nitish Kumar.
On a day Lalu Prasad affirmed that his son Tejashwi, who is also state's Deputy chief minister, will not resign and all is well in the Bihar Mahagathbandhan, Chief Minister Nitish Kumar caught everyone by surprise when he resigned as Bihar's Chief Minister.
Here is timeline of the Lalu-Nitish relationship in the Bihar mahagathbandhan:
26 July 2017 - RJD chief Lalu Prasad said that his son Tejashwi "will not resign" and added that Chief Minister Nitish Kumar "has not asked him to resign" either.
18 July 2017 – Nitish holds private meeting with Tejashwi Yadav after Cabinet meeting.
15 July 2017 – Tejashwi Yadav skips an official World Youth Skills Day function of the government chaired by Nitish. RJD says Tejashwi was unwell. Earlier, his nameplate on the dias was covered with a cloth, but was later removed.
14 July 2017 – Reports emerge suggesting that Congress president Sonia Gandhi called both Nitish Kumar and Lalu Prasad to help them solve differences. Lalu Prasad says he is "not aware of such calls being made". He added that he will not let anyone break the Mahagatbandhan.
10 July 2017 – RJD holds meeting, rules out Tejashwi Yadav's resignation.
8 July 2017 – Lalu's daughter Misa Bharti's residence and properties in New Delhi raided. The case was registered on the allegations of awarding the tender for development, maintenance and operation of hotels at Ranchi and Puri to a private company dealing with hotels in the year 2006.
7 July 2017 – Lalu raided by the CBI in 12 locations, across 5 cities, related to the alleged land for hotel scam. His son and Deputy Chief Minister Tejashwi Yadav named as an accused by the CBI. Wife Rabri Devi and business associates also named in the FIR.
21 June 2017 – Nitish pledges support to Ram Nath Kovind, NDA's candidate for Presidency.
27 May 2017 – Nitish attends lunch hosted by PM Modi, in honour of visiting Mauritius Prime Minister Pravind Jugnauth. Nitish also holds a private meeting with Modi.
26 May 2017 – A day earlier, Nitish skips lunch hosted by Congress President Sonia Gandhi to discuss joint Opposition candidate for presidency. Sends representative from JDU.
5 January 2017 – PM Narendra Modi shares stage with Nitish Kumar. Modi praised Nitish for 'nasha-mukti abhiyan' and said it would inspire others.
9 November 2016 – Contrary to Opposition views, Nitish calls demonetisation a "direct" move to wipe out black money. His alliance partner Lalu called the Centre's move a "fraud".
29 September 2016 – Nitish one of the first to come out in praise of Centre's surgical strike move.
11 September 2016 – Nitish hits back at Shahabuddin's statement saying that people of Bihar know whom they have pledged their support to.
10 September 2016 – Mafia don and politician Shahabuddin, within minutes of being released from jail, praised his party boss Lalu Prasad and termed Nitish as a "chief minister of circumstances".
21 January 2016 – RJD national vice president Raghuvansh Prasad Singh blamed Nitish Kumar for law and order lapses in the state by saying that Home portfolio is with CM.
8 November 2015 – Mahagatbandhan wins massive mandate, forms the government. They win a massive 178 out of 243 Assembly seats.
5 June 2015 – Nitish Kumar announced as the CM candidate of Mahagatbandhan.
27 July 2014 – Mahagatbandhan announced by Nitish & Lalu along with the Congress.
Get the best of News18 delivered to your inbox - subscribe to News18 Daybreak. Follow News18.com on Twitter, Instagram, Facebook, Telegram, TikTok and on YouTube, and stay in the know with what's happening in the world around you – in real time.
| Edited by: Ashish Yechury
Read full article