Nitish to be Bihar CM Again With BJP Support, PM Modi Likely to Attend Swearing-in
Nitish Kumar sealed the deal with his former rivals shortly after his resignation on Wednesday evening, with Prime Minister Narendra Modi welcoming him to "join the fight against corruption" and BJP MLAs faxing their letter of support, to Governor Kesari Nath Tripathi.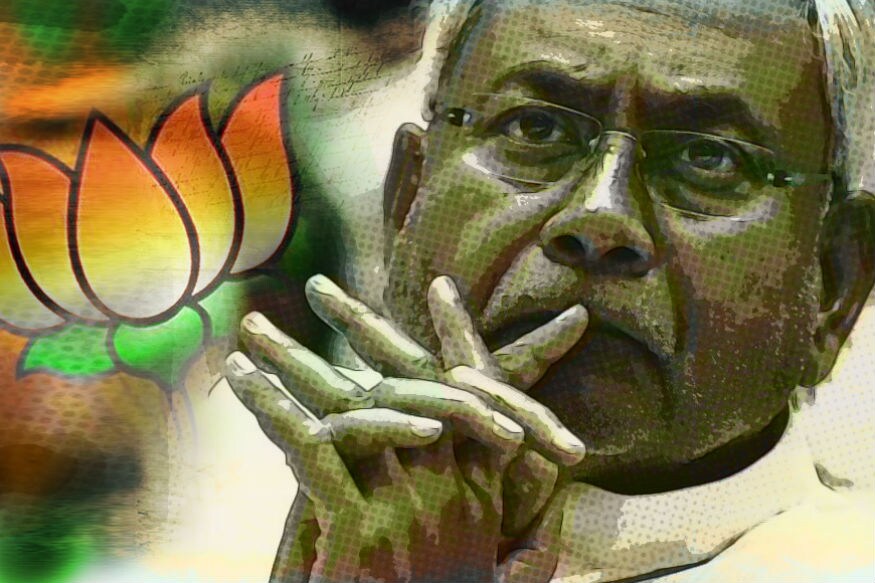 Nitish Kumar joined hands with the BJP and took oath as Bihar Chief Minister on Thursday. (News18 Creatives)
Patna: Nitish Kumar is set to be sworn in Thursday for a second time as Bihar chief minister - this time with BJP help - after he resigned and dumped his Mahagatbandhan allies Rashtriya Janata Dal and Congress.
Kumar sealed the deal with his former rivals shortly after his resignation on Wednesday evening, with Prime Minister Narendra Modi welcoming him to "join the fight against corruption" and BJP MLAs faxing their letter to support to Governor Kesari Nath Tripathi.
The JD(U) leader, who for the best part of the last two years looked the most likely Opposition face against PM Narendra Modi in 2019, will take oath as head of an NDA government, along with at least 14 ministers from the BJP.
Kumar met the governor in the evening shortly after ally Lalu Prasad Yadav ruled out the resignation of his son Tejashwi Yadav over a corruption scam and dared the CM to leave the alliance. "I have quit in the best interests of Bihar," Kumar told reporters, adding that it was getting difficult to work with the RJD.
Lalu hit back saying what he did was a "slap in the face of the people of Bihar" as he had come to power in 2015 as part of a grand anti-BJP alliance.
Shortly after Kumar submitted his resignation, PM Modi tweeted, "For the bright future of India, and particularly Bihar, it is imperative that one goes beyond political differences and fights corruption." Within minutes BJP MLAs of BJP rushed to meet the CM, prompting Lalu to call the whole resignation a well-orchestrated drama.
देश के, विशेष रूप से बिहार के उज्जवल भविष्य के लिए राजनीतिक मतभेदों से ऊपर उठकर भ्रष्टाचार के ख़िलाफ़ एक होकर लड़ना,आज देश और समय की माँग है

— Narendra Modi (@narendramodi) July 26, 2017
Reacting strongly to Nitish Kumar's resignation, Lalu Prasad said that if Nitish is citing corruption allegations as the reason for his resignation, then he must remember that when we entered the alliance in 2015, corruption charges against me were already there.
Nitish had always maintained that he will die but won't join hands with the BJP, RJD supremo said, we spoke last night for forty minutes. "He never asked for Tejashwi's resignation. I don't feel the need for any explanation to Janata Dal (United) leaders," he said.
"Nitish Kumar is hand in gloves with BJP and RSS. What is this drama? Prime Minister Modi tweeted immediately after Nitish's resignation. He even congratulated him," Lalu Yadav said.
"There was no need for Tejashwi's resignation as CBI action was politically motivated and orchestrated by BJP central leadership," he said. Lalu even showed some papers, alleging Nitish Kumar was facing a murder case dated August 31, 2009.
Lalu also alluded to a case in which corruption charges were levelled against Nitish Kumar. He asked: "How come Nitish is sitting in Chief Minister's chair now." Lalu said that Nitish is facing charges under "arms act".
Late night, Lalu Prasad once again tweeted, alleging that all the MLA had been "caged in CM house". "Why so much insecurity? Just because MLAs realise that they are elected against BJP's divisive politics," Lalu Wrote on Twitter.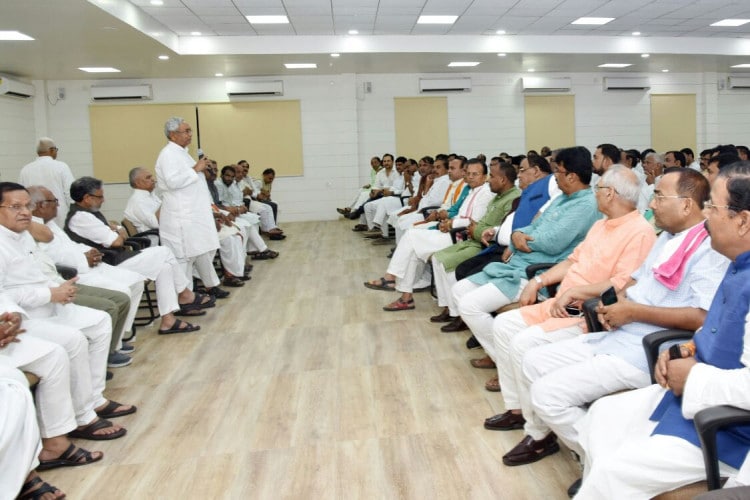 After tendering his resignation as Bihar Chief Minister, Nitish Kumar addressed a meeting, attended by JD(U) and BJP MLAs.
All JDU MLAs caged in CM house since evening. Why so mch insecurity?Just cuz MLAs realise tht they are elected against BJP's divisive agenda

— Lalu Prasad Yadav (@laluprasadrjd) July 26, 2017
Dark clouds had been looming large over the Mahagathbandhan in Bihar for quite some time. The two leaders, Nitish Kumar and Lalu Prasad Yadav, were arch rivals in Bihar before they put their differences aside in a battle fixated on curtailing BJP's remarkable run, riding on Modi wave, in national politics. Congress had repeatedly tried to defuse the fire, but even the 125-year-old party couldn't help as the Mahagathbandhan come down crashing.
Nitish Kumar and Bihar BJP chief Sushil Modi talk to each other after BJP said it will support a Nitish-led government in Bihar.
Bihar BJP Chief Sushil Modi said that he communicated to Nitish Kumar via telephone that he will support him. "We have decided to support the Nitish-led government and we will convey our message to the Governor of Bihar as soon as possible."
"We have told him that we accept him as our leader and he is ready for it," Sushil said, adding, "we will support the government formed under him."
After resigning from the post of chief minister, Nitish Kumar has a big challenge at his hands; to keep his own party united as a few leaders have been critical of his intention to join hands with BJP.
Bijendra Yadav, MLA and commerce minister in the Nitish cabinet, warned Nitish against going with the BJP, saying, "Nitish ji, people of Bihar have elected you and Lalu both. Any attempt to scuttle the alliance would have serious repercussions."
Even on Wednesday, just before Nitish was to meet his legislators, one of the MLA Poonam Devi, who is from Yadav community, openly said that she would defend Tejashwi in the meeting.
Like Bijendra and Poonam, 18 out of 71 JD(U)'s MLAs are Muslims or Yadavs, a constituency that has always supported Lalu Prasad.
Get the best of News18 delivered to your inbox - subscribe to News18 Daybreak. Follow News18.com on Twitter, Instagram, Facebook, Telegram, TikTok and on YouTube, and stay in the know with what's happening in the world around you – in real time.
| Edited by: Mirza Arif Beg
Read full article