'No Coalition Talks With Madhya Pradesh Congress So Far, Rest Upto Mayawati'
Mayawati's BSP is planning to contest all 230 assembly seats in the upcoming Madhya Pradesh assembly elections.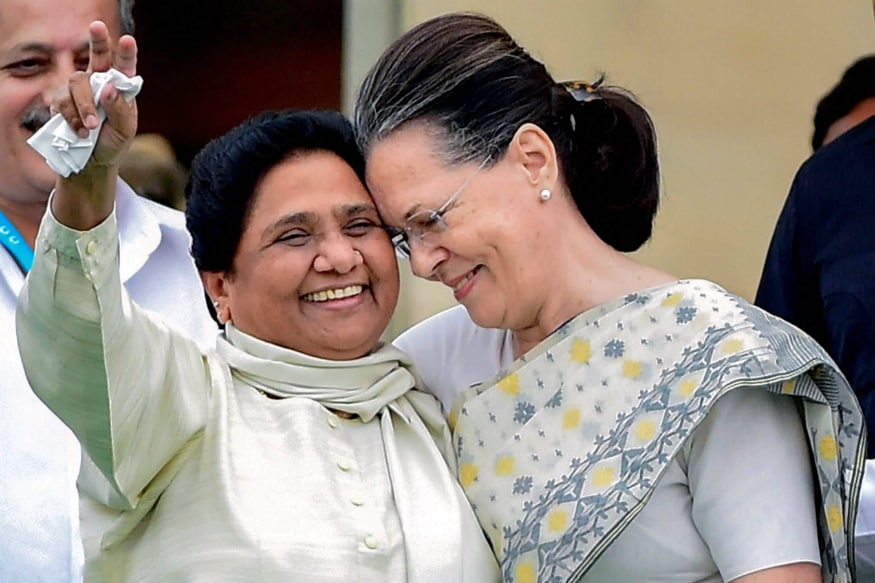 Congress leader Sonia Gandhi hugs BSP leader Mayawati during the swearing-in ceremony of Karnataka CM HD Kumaraswamy in May. (Image: PTI)
Bhopal:
After coming under attack from potential coalition partners for opposing Arvind Kejriwal's dharna against the Delhi L-G, Congress' dilemma is wide open in Madhya Pradesh as the Bahujan Samaj Party state unit has made it clear that they had no talks whatsoever with Congress over a coalition ahead of the assembly elections. BSP is planning to contest all 230 assembly seats in Madhya Pradesh.
This stands in direct contrast to the feelers by Congress that a coalition was almost certain with Mayawati's party in Madhya Pradesh.
However, a final word from the BSP supremo could still alter the equations.
Narmada Prasad Ahirwar, the BSP Madhya Pradesh president told that Congress leaders — including Digvijay Singh — have been persistently rooting for an alliance with the BSP, he said, "They can say anything they want but the fact of the matter remains that we haven't had any kind of discussion with them on coalition."
"We are preparing to contest all the 230 assembly constituencies in Madhya Pradesh," said the BSP MP President who is busy addressing district-level party meets to prepare for the elections.
Asked what if party chief Mayawati agrees to an alliance with Congress, Ahirwar quickly added that she was the supreme leader of the party and her decision at the end would be respected by all in MP.
On being asked whether any list of prospective candidates for the assembly polls have been prepared, the senior leader responded in the negative.
Meanwhile, asked to comment on the violent Dalit agitation in April and subsequent police excesses against the Dalits in Gwalior, Bhind and Morena as alleged by the BSP in the past, Ahirwar said it was quite obvious that people were anguished so they took to streets voluntarily and this anti-BJP anger would benefit BSP in the elections.
"We would visit the households of seven men killed during Dalit protests," said Ahirwar.
"We are fighting for an equitable society where there would be no discrimination and this could only be done if we fight it alone," said Ahirwar, on his views whether BSP should go with the Congress or not.
Interestingly, Congress sources have been saying for months that a coalition with the BSP was almost certain and it was only a matter of time that the understanding is made public.
Party chief Kamal Nath in May had publicly said that an alliance with parties like SP and BSP was likely in MP ahead of the assembly elections. But he had also made it clear that the party is yet to initiate alliance talks with anyone.
Coordination committee head Digvijay Singh, while referring to BSP's sway in areas including Gwalior-Chambal, Vindhya and Bundelkhand, had recently claimed that a pre-poll alliance with BSP would definitely help Congress in MP.
For Congress, the BSP shock comes after Samajwadi Party leader Akhilesh Yadav had in May announced that his party would contest on all the 230 seats in MP.
BSP had secured 6.29% vote share and won four seats in the 2013 elections and the party dented Congress' victory chances in 53 seats and ended up as a close second or third in many seats.
| Edited by: Sanchari Chatterjee
Read full article
Countdown To
Elections Results
To Assembly Elections 2018 Results