No Rafale, No Mandir. Only Bad Jokes: What Elections Look Like in India's Poorest District
Faring last on every quantifiable social parameter in the country, MP's Alirajpur sees a different style of campaigning.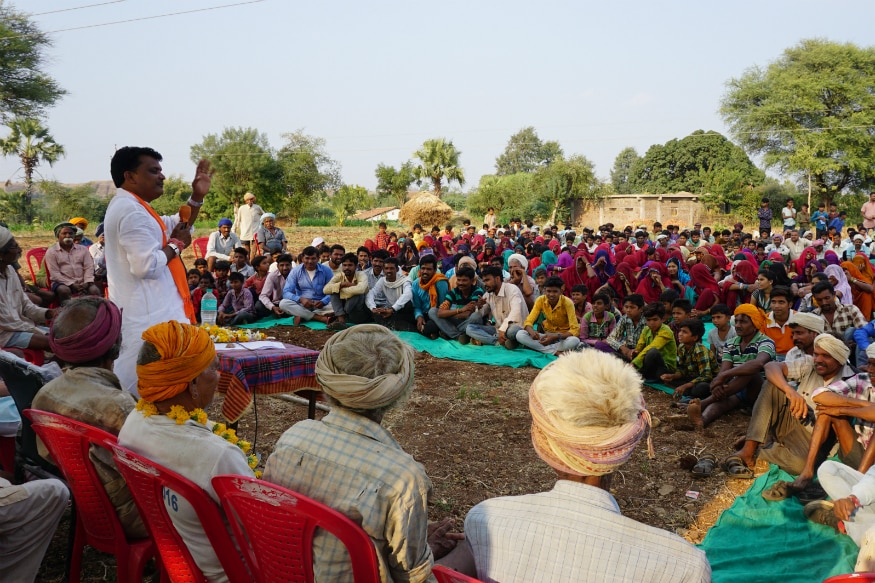 MLA and BJP candidate Nagar Singh Chouhan addresses an election meeting. (Suhas Munshi/News18.com)
Alirajpur (MP): It is hard to figure as one moves through the lanes of Alirajpur, located in the far west corner of Madhya Pradesh, that it will vote with the rest of the state on Wednesday.
There are no political billboards to be seen in the town, no vehicles move around with party flags and megaphones. In fact, it is one of those very few districts in the state where not one big political campaign, not one big public meeting has been held in this election season so far.
The fact that Alirajpur is a small town with 139 villages spread out over a large sparsely populated hilly area may have something to do with it. Another reason could be the fact that it is the poorest district in India.
Two months ago, a report put together by United Nations development Programme (UNDP) and the Oxford Poverty and Human Development Initiative (OPHI), found Alirajpur to be the poorest district in the country, with 76.5 per cent of the district below poverty line.
Alirajpur fares last on every quantifiable social parameter in the country, including rate of literacy which is a mere 36.7%.
So naturally, when it comes to political campaigning, there is a departure from the practices followed in the rest of the state.
"They don't want to waste their time and resources on gathering people from far-flung villages for a political event that will be conducted in a language they wouldn't anyway understand," says a journalist who has been reporting from here for the last 15 years.
"Considering the literacy and immediate concerns of the people, you cannot introduce subjects like Rafale or Vyapam. Ram Mandir, reservation, the SC/ST Atrocities Act are also non-issues. One tries to sell them the idea of self-reliance through extra hand-pumps and promises to reduce their paperwork-related burdens," says a candidate who did not wish to be identified.
Congress's Kalavati Bhuria holds a public meeting in Vikram Chowk. The area is surrounded by villages from all sides, farmers are busy spraying insecticides in the fields around.
"What did the Shivraj government give you? They made processes more complicated through this digitisation drive. When people in homes ask the man who has been out all day whether he's brought back groceries, he finds only paper in his bundle."
She goes on to talk to a group of 40 or so villagers about the development works in their area. "Has any new road been constructed in your area, do teachers visit your schools? This government has not just not given anything to you, it has also withdrawn the facilities that we used to offer to you," she adds.
Alirajpur has one of the highest ratios of malnutritioned children in the country. According to a survey conducted by National Institute of Nutrition, Hyderabad, 54.6 % of children in the district were found to be malnourished — the highest in the state.
However, malnutrition is not an election issue in the district. Neither is the issue of rampant child-trafficking in which a BJP worker was alleged to be involved. Nor the seasonal migration of men from Alirajpur to neighbouring Gujarat in search of jobs.
"The village is sort of empty. Half the men have gone to Gujarat for work. There the daily wage is much higher. They pay up to Rs 800 per day for skilled workers like carpenters, up to Rs 350 for labourers, while here they offer only Rs 150 per day," says Rajan Singh Ganesh in Ojhar village.
With the festive season here having ended, migration of locals from Alirajpur going to work, often with their newly married spouses, to Gujarat looking for work is a routine sight.
"Elections here are being conducted at the worst possible time. By the time voting day is upon us, there will be very few people left to vote. On the flip side, it means that political parties have an advantage. It becomes easier for them to target their campaigning," the local journalist said. He adds that the Election Commission has made some public appeals to the voters to return for voting, but unless the locals are compensated for their travel and daily wages, nobody will be interested in returning only to cast their ballots.
In Dharmpuri, Anita Singh Chouhan, wife of BJP candidate and local MLA Nagar Singh Chouhan, is holding a small assembly with a group of women inside a house. Anita herself is an office-bearer of her party, in-charge of the district.
Holding meetings with small audiences , called Katla Baithak ('Katla' means charpoy in local dialect) is the preferred way of political campaigning.
"Are you getting enough water, enough electricity?" she asks a group of some 30 women. Nobody answers. Anita takes their silence to mean 'yes'. "We will give you more hand-pumps when we come to power again, don't worry," she says. Her audience meekly hums.
Talking to News18 about her door-to-door campaign for her husband, she says, "The idea is take feedback from as many people as possible so that we can prioritise the public works after we come to power. Here the people are not very educated so they have some issues in understanding our public schemes."
But isn't the low level of literacy itself a big issue?
"Yes of course. Lack of teachers is a problem and we are trying our best to address it. When we come to power, we will appoint more ad-hoc teachers to meet the shortfall," she says.
In the nearby area called Jorhat, schools have not even opened this year after the summer break, because of the lack of teachers.
The BJP is getting ample support from the RSS which can often reach villages deep inside forests spread over hills. In Sangawi, where a public meeting with Nagar Singh Chouhan is cancelled at the last minute, a local villager says, "The RSS comes here, although over recent years their visits have reduced, during Navratras. The last time they came, a few weeks ago, they asked us to safeguard our religion, be on guard against Christian missionaries and vote for the BJP."
Back in Ojhar, stage is being set for the BJP candidate. Around a hundred people have been sitting here for last three hours. The village elders have been seated on plastic chairs, others stand around them or sit on the ground.
While the villagers wait, the local BSP candidate, Bhadiya Dabar, poaches the event set up by BJP volunteers.
Using the opportunity, Dabar launches into a humourous attack on the organisers themselves, who look on with amusement. No one takes offense.
"Phuul murjha gaya hai, ab haathi khilega idhar (The Lotus, BJP's party symbol, has wilted. The Elephant, BSP symbol, will win now)," he says, with a delivery that leaves everyone, including BJP workers in splits.
After a few minutes, as he senses the BJP candidate approaching, Dabar gets in his car to resume his election campaigning elsewhere.
Chouhan arrives in his SUV with a megaphone installed on top which blares out slogans in his praise. Chouhan gets out of the vehicle and one by one garlands every seated senior citizen. To one of them, he says, "Don't take off the garland. Who knows, they may have to put a garland on you soon."
The crowd, which was getting tense waiting in hot sun for the last three hours, breaks into laughter.
He begins his speech with a 'bhaiyon aur beheno' that's come to be identified with the public speeches of Prime Minister Narendra Modi. It is no accident, Chouhan consciously tries to imitate Modi's style of speech delivery — repeating questions, suddenly shifting to higher registers, and pausing to collect applause.
In the next 15 minutes, he promises to finish the works that he had only begun recently, does a bit of stand-up comedy in the local dialect to entertain his audience, and moves on to next village. It is almost dusk. The adivasis, some of them covered in only rags, break away in all directions to return to their mud huts.
| Edited by: Nitya Thirumalai
Read full article