Nonagenarians, Differently-Abled, Gypsies Use Ballot Power
Election authorities had made elaborate arrangements including ramps, wheel-chairs for the differently-abled, drinking water, shades (pandals), and chairs.d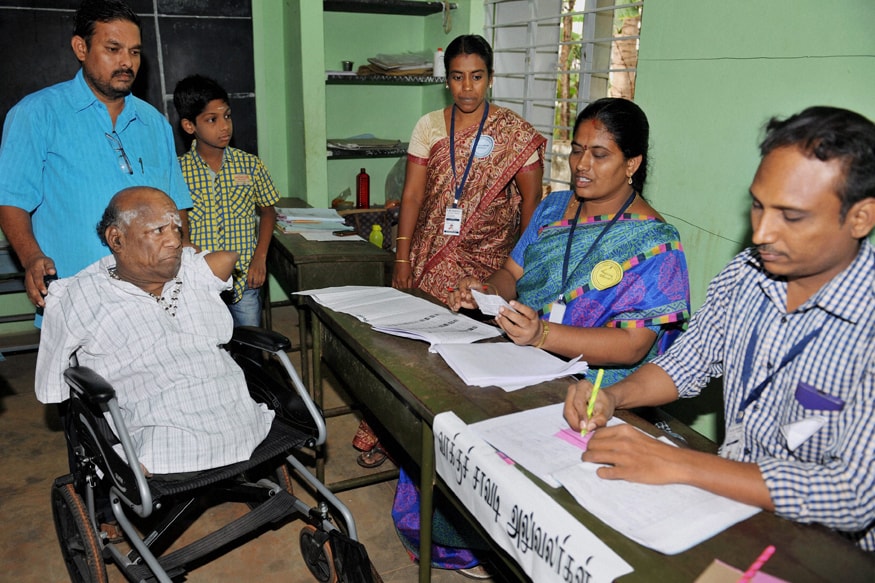 A physically challenged voter arrives in a wheelchair to cast his vote at a polling station during Assembly elections, in Coimbatore. (PTI)
Chennai: Several nonagenarians, differently-abled, transgenders and gypsies besides a number of first-time voters on Monday turned up at poll booths to exercise their franchise and elect members to the Tami Nadu Assembly.
99-year-old Rukmani Ammal, a resident of Triplicane voted at Hindu Senior Secondary School in Chennai. Her son, Alagiri Rao thanked election authorities for the "good arrangements" for the elderly people to vote quickly.
"My mother has voted in general elections since 1952 and is happy to vote this time too," he said.
Similarly, 98-year-old Seethalakshmi was wheeled into the polling station by her family members as she cast her ballot at a school.
Serpentine queues of first time voters -- young men and women -- marked several polling stations across Tamil Nadu.
Similarly, women waited in good numbers in both urban and rural constituencies with patience.
Gypsy community "Narikorava" men and women and transgenders voted in good numbers in areas including Pallavaram Cantonment.
Election authorities had made elaborate arrangements including ramps, wheel-chairs for the differently-abled, drinking water, shades (pandals), and chairs. Model polling stations had decorative arches besides other amenities like play equipment for children.
Get the best of News18 delivered to your inbox - subscribe to News18 Daybreak. Follow News18.com on Twitter, Instagram, Facebook, Telegram, TikTok and on YouTube, and stay in the know with what's happening in the world around you – in real time.
Read full article