Not Afraid of Being Seen With Bizmen Unlike Oppn Who Hide Behind Curtains: PM Modi Hits Back
Attacking the opposition, Modi said that they are never see with industrialists in any photograph but all of them have bowed down to these opposition leaders at their residences.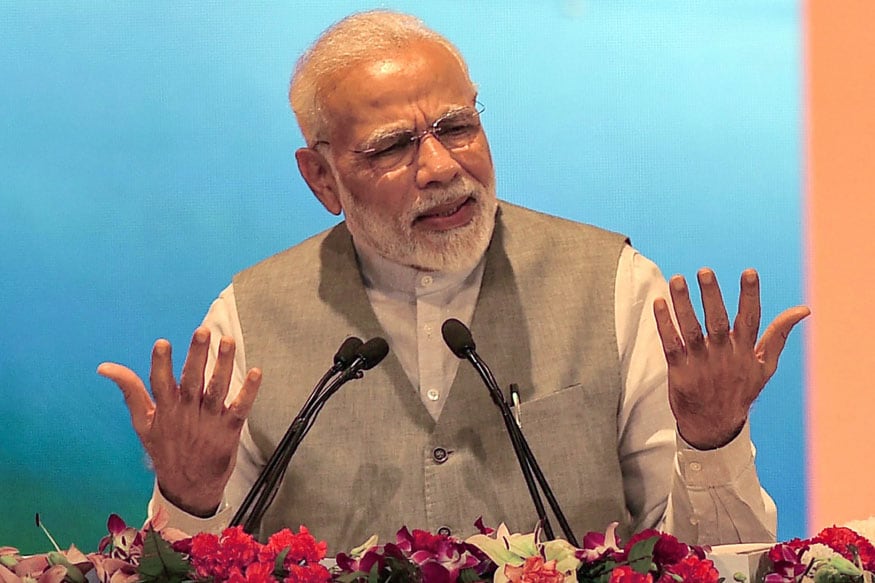 File photo of PM Narendra Modi. (PTI)
New Delhi: Prime Minister Narendra Modi launched a frontal attack on the opposition for criticizing him over his proximity with industrialists while ignoring the poor farmers of the country. The Prime Minister on Sunday said that there is nothing wrong in associating with industrialists, even Mahatma Gandhi had done the same with the Birla family.
PM Modi was speaking at the launch of 81 investment projects in Lucknow along with several industrialists.
Attacking the opposition for calling industrialists "chor and luterey", Modi said that he did not hesitate in standing with them as his "intentions" are clear.
"Contributions of industrialists in nation-building are same as that of a farmer or a professional or an officer. There is nothing wrong in associating with industrialists. I am not scared of doing so," Modi said in his address.
He said, "My conscience is clear", adding that even Mahatma Gandhi was known to have been in a long-term association with the Birlas as he stayed with the industrialist family on several occasions.
Launching a veiled attack on the opposition, Modi added, "You will never see them in a photograph with industrialists but all of these industrialists have bowed down to them at their residences. They only meet behind closed curtains."
In its recent attacks on the Prime Minister, Congress has time and again attacked PM Modi over his links with industrialists, with the most repeated one being the government's secrecy over the Rafale deal.
Congress chief Rahul Gandhi has accused PM Modi and Defence Minister Nirmala Sitharaman of "lying" to the nation about the Rafale deal. He has accused the government of buying the fighter jets from France at a cost 3 times higher than what the UPA government had paid in its tenure.
Modi also lauded efforts of UP Chief Minister Yogi Adityanath in making an investment-friendly environment in the state while speaking at the groundbreaking ceremony of projects worth Rs 60,000 crore at Indira Gandhi Pratishthan in Lucknow.
Addressing the gathering, PM Modi said, "I have been the chief minister of a state for a long time. I have come from a state that is known for its industrial activity. The investment of Rs 60,000 crore is not a small thing. The government of UP has done an unimaginable job. I know the problems related to investments, yet, all this was done in just five months, this is huge success."
Get the best of News18 delivered to your inbox - subscribe to News18 Daybreak. Follow News18.com on Twitter, Instagram, Facebook, TikTok and on YouTube, and stay in the know with what's happening in the world around you – in real time.
| Edited by: Sanchari Chatterjee
Read full article