Not Left or Right, Kamal Haasan Takes 'Centre' Stage With Makkal Needhi Maiam
Marking his political debut, Kamal Haasan said that he had worked in films for money for so many years, but now wants to work for people for the rest of his life.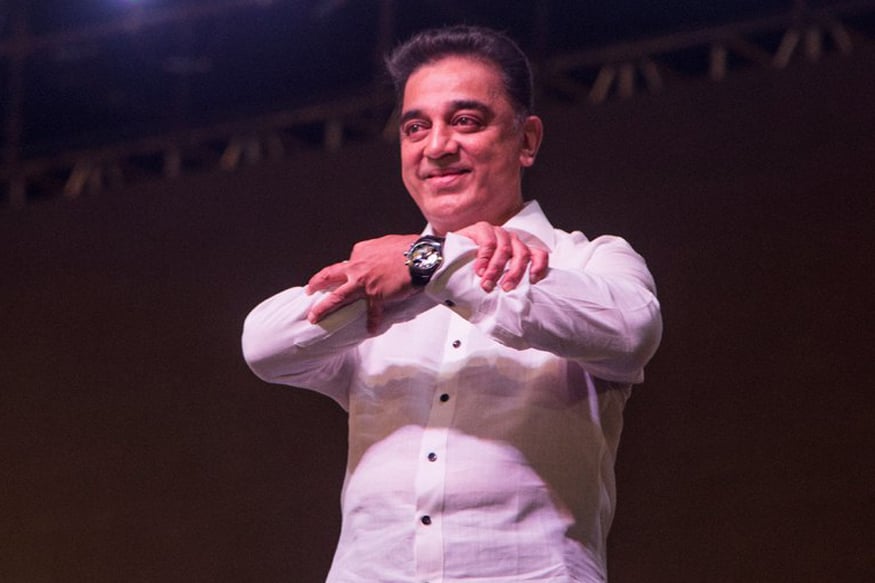 Image courtesy: MAIAM Twitter
Madurai: Veteran actor Kamal Haasan launched his political party 'Makkal Needhi Maiam', which translates to People's Justice Centre, amid much fanfare in Tamil Nadu's political capital Madurai on Wednesday. He also unfurled the party's flag – six interlinked hands with a star at the centre – which he said denotes the unity of the six southern states.
Marking his political debut, Haasan said that he had worked in films for money for so many years, but now wants to work for people for the rest of his life. "I am not your leader, I am your tool... this gathering is full of leaders. This is a party made for you, for the people. I am just a worker," he said to thunderous applause.
Delhi chief minister Arvind Kejriwal was on stage with him, along with AAP leader Somnath Bharti and farmers' leader P R Pandian. He also name-dropped Andhra Pradesh chief minister Chandrababu Naidu and Kerala chief minister Pinarayi Vijayan along with Kejriwal when asked about his inspirations, hinting that he may try to form a political front for the general elections next year.
Elaborating on his political ideology, he said that he does not want to be classified as left or right wing. "I'm Centre," he said, adding that this is why his party's name also has the word centre in it.
The newly founded MAKKAL NEEDHI MAIAM is your party. It's here to stay, and to make the change we all aspire for. Guide us to serve you. #maiam #makkalneedhimaiamofficial website: https://t.co/cql8kgqGkkfb: https://t.co/2Gz1xRg5vftwitter: https://t.co/J9ywXrunOb pic.twitter.com/Xza62w4DcC

— Kamal Haasan (@ikamalhaasan) February 21, 2018
The party's flag is also a pointer to this ideology as the interlocked arms are in shades of red and white, while the star at the centre is in black. Colours black and white have a political significance in Tamil Nadu as they form a part of the flags of the two big parties of the state - AIADMK and DMK - and the shades are also seen as a pointer to the Dravidian ideology.
Citing the Tamil proverb 'Oru Soru,' which means a small example of a whole lot, he said the launch was just the first step. Clad in a white shirt and a black trousers, he told his supporters that they have a duty, reminding them that this was not a "one day event"
"This is going to become a way of life for us, let us remember that." He asked his followers to realise that they have a big responsibility and they had to be pioneers. "I am not a leader to give advice. I am a worker to listen to your advice," Haasan said.
Congratulating Haasan for his political innings, Kejriwal, who had specially flown to Madurai for the launch event, said that the people of Tamil Nadu would now have an honest alternative to two "corrupt parties" DMK and AIADMK.
He urged the people to vote for the 63-year-old the next time, and expressed hope that his party would break AAP's record of securing 67 out of 70 seats in Delhi Assembly.
Haasan did not talk about electoral targets and his words were measured, intended to establish himself as different from the two entrenched parties. His initial political aim, he said, was to work to end corruption in the state. "Tamil Nadu's soul is burning today. The fingers that are drenched in corruption will be burnt," he said.
When asked by someone where he was all these years, he said, "All these years, I was in your heart. Now, I will be at your residence as a lamp in your house to ensure I don't flicker in the winds of corruption."
On the freebie culture in state politics, the 63-year-old said he would rather teach a man how to fish than give him a fish.
"I promise you that I will make sure you are in a position to buy things on your own and not depend on me to distribute freebies. Let us march towards that future. I am here to sow the seeds for future generations," Haasan said.
He also differed with DMK and AIADMK on the Cauvery issue, and pitched for dialogue between Tamil Nadu and Karnataka. "If there is a proper dialogue between both states there can be solution on all issues. However, what is happening now is politics being played," he said.
Earlier in the day, the actor-turned politician visited former President late APJ Abdul Kalam's residence. He met the former President's elder brother and other family members at their residence. "Greatness can come from simple beginnings," he said.
"Actually it will come only from simplicity. Glad to start my journey from a great man's simple abode," the actor wrote in a tweet. Several flags in white with Tamil Nadu map in black, sporting the tag line "Naalai Namadhe" meaning "Tomorrow is Ours" were seen flying in Rameswaram.
Get the best of News18 delivered to your inbox - subscribe to News18 Daybreak. Follow News18.com on Twitter, Instagram, Facebook, Telegram, TikTok and on YouTube, and stay in the know with what's happening in the world around you – in real time.
| Edited by: Aakarshuk Sarna
Read full article