O Panneerselvam Lacks the Numbers, So Why is he Smiling?
If you have been confused by that benign smile that O Panneerselvam has sported almost through this political turmoil in Tamil Nadu, let us tell you why.
Chennai: If you have been confused by that benign smile that O Panneerselvam has sported almost through this political turmoil in Tamil Nadu, let us tell you why. It's because in this saga, Panneerselvam – or OPS as he is known - is the one man sitting in the prettiest place possible: A man with nothing to lose.
He is also the person who could take Tamil Nadu to the brink of President's rule, a spectre that worries ruling AIADMK no end.
Since his historic "meditation" at late chief minister J Jayalalithaa's burial site at Marina beach on February 7, OPS has always exuded confidence in getting the numbers - be that as it may that his six MLAs are completely outnumbered by the 127 on Sasikala's side.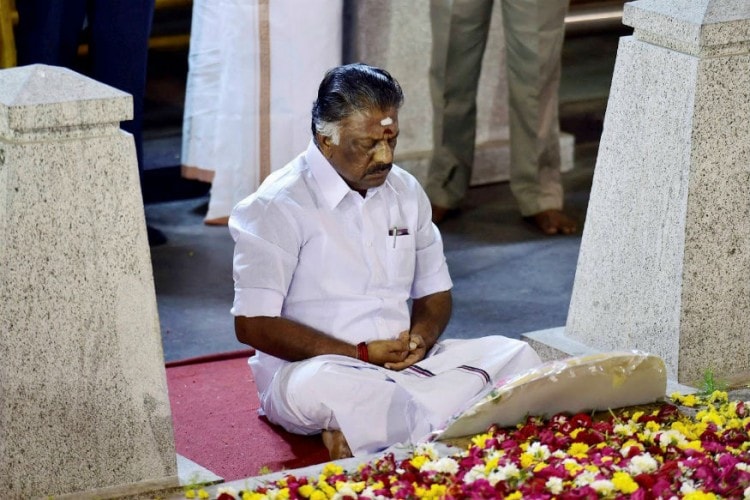 He has a trump card, though. His strength is not that his side has seven MLAs; his strength is that all he needs is ten more MLAs to defect to his side, to defeat Sasikala, if it all comes to a floor test in the Assembly.
Again, he has nothing to lose. He has already lost the position of chief-ministership, although he has "withdrawn" his resignation. If he breaks the party, the assembly would be put in suspended animation, forcing another election in six months - something that none of the MLAs from the ruling party would want.
Remember, these MLAs have faced an election just in May 2016. They have an almost-full term left. Most of them won on the 'Amma' card - if they had to face an election today with suspect loyalties, they are highly unsure of winning again.
Is OPS worried that he has no chance of becoming CM again? If Sasikala takes over as CM, he won't have that chance ever again, anyway.
Is he worried that the government would come down? Not at all, in fact, he would have engineered it - his 'Surgical OPS' that he can be proud of.
Is he worried about facing another election? Personally (as far as his constituency is concerned), he will win over the sympathy factor. At least he would no longer be taunted as the 'OPS' who takes things lying down.
No wonder then, that he has taken on this gamble.
Even if Sasikala wins majority, he would at best be disqualified for voting against the whip - that in itself is a long-drawn-out process that will have to be processed by the Speaker and could later be challenged in courts.
He doesn't even have to worry too much about the numbers - if he is able to get majority when it comes time for a floor-test, well and good. He would continue as CM, emboldened and happier, plus without having to work under any puppeteer.
The person who is really battling sleepless nights over the numbers is VK Sasikala, the self-proclaimed 'Chinnamma.'
ALSO READ | Very Difficult for a Woman to be in Politics, Says Sasikala
"This 127 number - is it actually 127? We are only clear of the seven MLAs on OPS' side. Some are sitting on the fence - as evidenced by Mylapore MLA R Nataraj who has only said he will 'go with the truth,'" says political analyst Sumanth Raman.
Is she sure of her flock of 127? If she was so sure of that, why does she need to cloister them in a resort?
That raises the question, who is running the show in the Sasikala camp? Take a look at those telling pictures when Sasikala met the Governor on Thursday. Sasikala is seen talking to Governor Vidyasagar Rao, her nephew TTV Dinakaran by her side. The other MLAs, including cabinet ministers, seemed sitting at a distance, not privy to what was happening (their expressions seem to tell a different story).
Sasikala's family - fairly or unfairly labelled the 'Mannargudi Mafia' - is doubtless calling the shots, and MLAs are bound to be wary of that. Do the MLAs trust her? Probably not, they are just accepting this for now. No one wants a vertical split and a sudden election.
Does she trust the MLAs? Certainly not, and that distrust is well-founded: one Minister, Mafoi Pandiarajan who accompanied her to the Raj Bhavan, went to OPS' home the next day and pledged his support!
"The Governor doesn't necessarily need to swear in anyone - he just has to say, convene the Assembly and prove your majority. How else do you ascertain the numbers?" asks Raman.
This delay by the Governor, by far, is the most intriguing thing in this saga. Veteran journalist and political observer RK Radhakrishnan wonders who is behind this.
"It's common knowledge that the AIADMK general secretary Sasikala was elected around 2.45 pm on February 5 as Legislature party leader. Till 9.40 pm on February 7, there was no instability in the state or the AIADMK. The crucial factor here is that the Governor, who was in Coimbatore and later in Ooty, a day before Sasikala was elected, hurried out of Tamil Nadu. There was no urgency in Mumbai, or any emergency in his personal life," Radhakrishnan says.
According to him, this raises a serious doubt that the entire crisis, which would have been averted if there was a swearing-in on February 5 or 6, was manufactured.
Incidentally, on Sunday (February 12), the Governor gave another hearing to the OPS camp when V Maitreyan – the first AIADMK leader to throw in his lot with Panneerselvam – drove into the Raj Bhawan for a quick chat with Rao.
ALSO READ | Panneerselvam's Rebellion Gains Ground With Support of 10 Party MPs
All those suspicions go up a few more notches higher when you realise that OPS' "surprise meditation" didn't come as such a surprise after all. At least a few Union Ministers in New Delhi seems to have been in the know, and news leaked out in the national capital before even OPS left his residence to Marina. Lutyen's Delhi knew about the coming quake before Chennai felt it.
"OPS doesn't have the numbers. Sasikala's repeated visits to the resort is to assure her MLAs that she has the numbers. OPS sees this as a long-term game, while it is make-or-break for Sasikala," RK points out.
BJP's former Parliamentary Affairs Minister in Karnataka Suresh Kumar says the Governor could be dithering because he cannot ask Sasikala to prove her majority on the floor of the House until he allows her to take oath.
"Even if she parades MLAs before the Governor, a CM would have to prove majority in the Assembly. Without taking oath of office, she cannot enter the Assembly because she is not an MLA. Assuming OPS can woo away even 20 MLAs, he may not win, but she will lose," Kumar says.
Legal luminary Soli Sorabjee, who has advised Governor Rao on this, says a short-term delay is understandable.
"The Governor can defer it, but he can't defer it indefinitely. If the SC judgment doesn't come for a long time, then I suppose he has to have a session of floor test in the House and find out who has majority, and swear Sasikala in, in opinion with the Cabinet," Sorabjee told News18 on Sunday.
Since she is an accused in this case that charges her under the Prevention of Corruption Act, she would be disqualified to hold office if she is convicted. "We should avoid this peculiar and bizarre situation, the governor should use this right to defer it for a short time, not decline or deny it," he said.
The coming week, then, will decide whether a mid-term election will be forced on the people of Tamil Nadu.
Of course, all AIADMK MLAs may decide to vote en masse for one of the two camps because they are scared of a mid-term poll. And whoever wins, Sasikala or OPS, they are headed for a period of instability, each unsure how many of the flock will stay with them all through the rest of the term.
But if mid-term polls happen, that could well mean handing the state to the DMK on a platter - their best case scenario that 'Thalapathy' MK Stalin is waiting for.
Get the best of News18 delivered to your inbox - subscribe to News18 Daybreak. Follow News18.com on Twitter, Instagram, Facebook, Telegram, TikTok and on YouTube, and stay in the know with what's happening in the world around you – in real time.
| Edited by: Ashutosh Tripathi
Read full article