On Digvijaya Singh's Rs 100 Crore Charge Against it, BJP Likens it to Pointless Bollywood Item Song
The Congress leader claims that the offer was made with the intention to bring down the new Congress government in Madhya Pradesh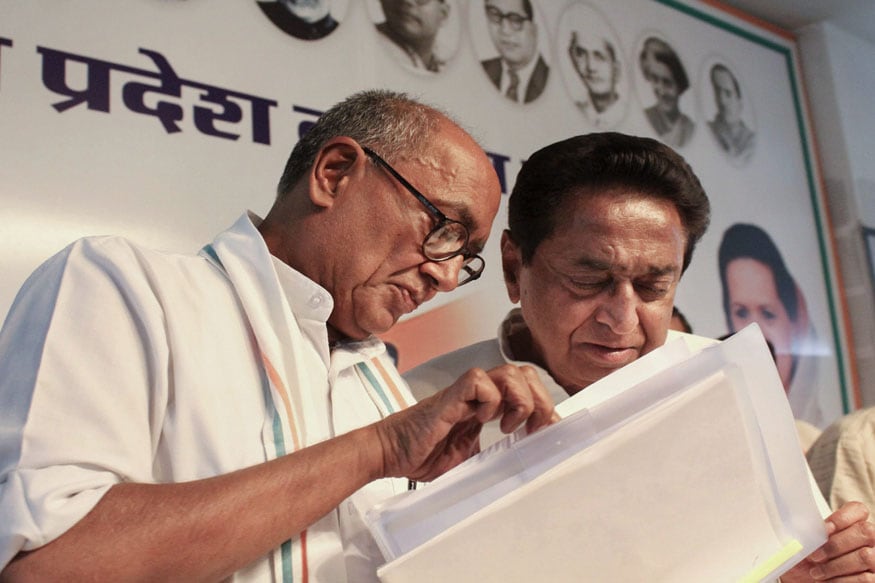 Digvijaya Singh and Kamal Nath in Bhopal. (File photo: PTI)
Bhopal: Two-time Chief Minister Digvijaya Singh Tuesday had accused BJP of trying to allure Congress MLA Baijnath Kushwaha with a Rs 100 crore offer.
In response, former BJP minister Vishwas Sarang equated Singh's politics to a pointless item song in a Bollywood script. Sarang calls the horse trading accusation baseless.
Speaking to News18, the senior politician claimed Congress MLA Baijnath Kushwaha was contacted by BJP MLA Narayan Tripathi. BJP leaders Narottam Mishra and Vishwas Sarang were said to have made the offer.
The BJP's offer for Kushwaha was intended to bring down the Kamal Nath government. He was promised a ministerial appointment in BJP government, claims Singh.
Taking stock of the case, Sarang has called this entire episode an attempt by Singh "to rake up sensation".
"If he has any evidence, let him prove and we would shun politics. If he can't let him retire from politics," he added.
Meanwhile, there have been reports of another Congress MLA Babu Jandel accusing the BJP of the same charge.
Get the best of News18 delivered to your inbox - subscribe to News18 Daybreak. Follow News18.com on Twitter, Instagram, Facebook, Telegram, TikTok and on YouTube, and stay in the know with what's happening in the world around you – in real time.
Read full article