On His Birthday, People's Captain Gifts Punjab to Congress
Torn between friendship and heritage Capt Amarinder Singh quit from the Congress in 1984 in the aftermath of Operation Blue Star carried out by the Indian Army at the Golden Temple in Amritsar.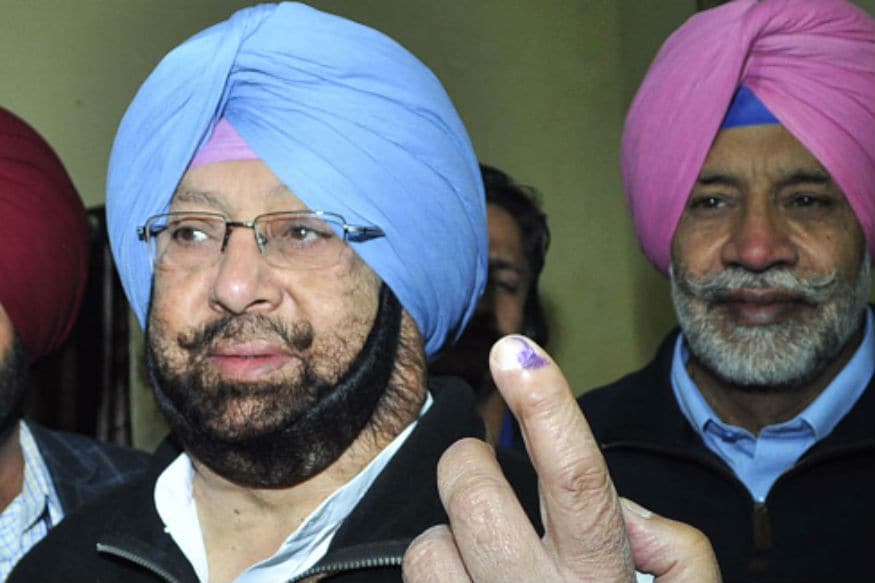 File photo of Capt Amarinder Singh.
Chandigarh: Torn between friendship and heritage Capt Amarinder Singh quit from the Congress in 1984 in the aftermath of Operation Blue Star carried out by the Indian Army at the Golden Temple in Amritsar.
A staunch follower of the Sikh Gurus and especially Guru Gobind Singh, Amarinder was hurt at the military action to flush out militants at the holiest of Sikh shrines.
However, once again torn between friendship and heritage, he chose friendship in 1998 and rejoined the Congress. In the years between Amarinder Singh had been disgruntled with Operation Black Thunder which took place during the reign of the Akalis in 1986 and once again sent in soldiers to the Golden Temple.
Amarinder had distanced himself from the Akalis and tried to float his own political outfit which did not really take off. Denied a ticket by theh Akalis, fourteen years after leaving the Congress, Captain Amarinder Singh was back in its fold in 1998. Four years later, in 2002, he was Chief Minister of Punjab.
Here is a man who was supposed to be the slowest learner among his siblings in his early years of education for the simple reason that he was more interested in the goings on outside the classroom than within. And he went the farthest.
A new biography of Capt Amarinder Singh released days before the Punjab election results calls him the 'People's Maharaja'. He very well might be. He managed to keep his royal bearings intact even as he came to be known as a pleasant and conversational politician. However, he would have to continuously battle accusations of being aloof and inaccessible to the masses.
The day of his massive victory also happens to be Amarinder's birthday: 75 years earlier on March 11, 1942 Amarinder was born in the Patiala Royal dynasty. A salute of 101 guns heralded his arrival. The British were quickly informed of the arrival of a heir to the Patiala throne.
The young Amarinder was educated in India's elite schools from Welhams Boys School in Dehradun to Sanawar in the Himalayan foothills to the Doon School. His school records indicate trouble with maths though his housemaster made sure to record that young Amarinder is a "very pleasant boy and has fine leadership qualities".
Amarinder joined the Army and served during the India-Pakistan war of 1965. The hero of the 65 war, Lt Gen Harbaksh Singh recalled Amarinder had a "strong patriotic zeal."
Those qualities coupled with his friendship with Rajiv Gandhi, also a Doon School alumnus eventually got Amarinder closer to the Congress, a party with which he formed an enduring bond. Once Chief Minister of Punjab in 2002, he again got into trouble with Sonia Gandhi when he decided to terminate Punjab's sharing of river waters agreement. Sonia Gandhi reportedly did not talk to Amarinder Singh for six months.
During his tenure as Chief Minister Amarinder Singh presided over a prosperous era for Punjab. Land prices boomed and there was a feel good factor all around, perhaps a reflection of the general positivity in the global economy.
None of that could, however, help him retain power in the 2007 assembly elections and like clockwork the Akalis were back. Ever since Punjab had turned a separate state in 1966 no Government had repeated itself. Amarinder Singh in the opposition continued to be projected as the Congress leader who could keep the flock together.
Year 2012 dawned and Amarinder Singh banked a bit too strongly on the alternating government theory. For the first time in Punjab's electoral history as an independent state, the Akalis were back for a second term.
Amarinder Singh now had to justify the debacle and also struggle to maintain his position within the party. The Gandhis tried to juggle with state leadership and propped up Partap Singh Bajwa as the state Congress chief. For Amarinder Singh, a man used to running the show and not one to like being suppressed or dominated, this was unacceptable.
He once again had his differences with the Gandhis and mulled forming a new party. Partap Bajwa in the meantime could not manage to consolidate his position and use the opportunity he was given to good measure. Lacking mass appeal and the charisma of Capt Amarinder Singh he could not project himself as a leader who could drive Congress to victory in Punjab. Reluctantly, the Congress High Command had to bring back Amarinder as the state congress chief.
2017 should have been an easy assembly election. Strong anti-incumbency against the Akali-BJP regime coupled with numerous allegations of corruption, nepotism, conflict of interest and turning a blind eye to Punjab's mushrooming drug abuse problem, the Akalis were pushed to a corner.
However, Punjab had now started looking for change. A culture of the elite propagated by both the Akalis and the Congress had turned into an irritant for a state that had once been among the most prosperous.
With an agricultural crisis looming, state debt mounting, industrial base shrinking, aspirations surging and jobs disappearing, the Congress did not look like the party that could solve these problems. It could not offer the radical change Punjab was seeking.
The fledgling Aam Aadmi Party in 2014 barely two years after its formation got its only four Parliamentary seats from Punjab. Emboldened, the party made rapid inroads into Punjab's disgruntled masses and decided to contest all 117 seats in the 2017 polls.
For Amarinder Singh, the game turned immeasurably tough. Getting Congress back to power required a much wider skill set than he perhaps could muster. Just charisma and being Amarinder Singh would no longer cut it. Already on notice, Amarinder had to prove that he could led Congress to victory.
Despite resistance from within a party that was already ridden with factionalism, Amarinder let the political data crunching Prashant Kishor of IPAC who had delivered Modi and Nitish Kumar wins to dictate the Congress strategy for Punjab.
For the first time, Amarinder was pushed into making an effort to connect with diverse audiences, bridge the political differences within and also look to carefully align with the Akalis to make sure the AAP does not manage an electoral win.
Other than promising stability and experienced governance, Amarinder Singh has not been able to promise the drastic change Punjab is looking for. Being a status quoist might now be the people's Maharaja's achilles heel.
Amarinder is a man who can make people feel instantly comfortable around him. Loaded with charisma, class and intellect he commands respect and admiration. Accused of being aloof and distant he has tried hard to bridge the gap. At 75 years of age and not in the fittest of health he has outlived many who preceded him in his royal lineage.
An eminent military historian, food lover and an occasional singer of old Hindi songs, Amarinder Singh likes to live a life beyond politics. This has been his self-declared last political battle and somewhere for a man who has seen it all, it might even come as a relief that he will not have to muddle through a political morass again.
Get the best of News18 delivered to your inbox - subscribe to News18 Daybreak. Follow News18.com on Twitter, Instagram, Facebook, Telegram, TikTok and on YouTube, and stay in the know with what's happening in the world around you – in real time.
| Edited by: Sujit Nath
Read full article