OPINION | Dinakaran's RK Nagar Victory Puts Writing on the Wall for EPS-OPS Camp
This victory endorses Sasikala faction's claims that she is the real inheritor of Jayalalithaa's legacy and her faction is the 'real' AIADMK.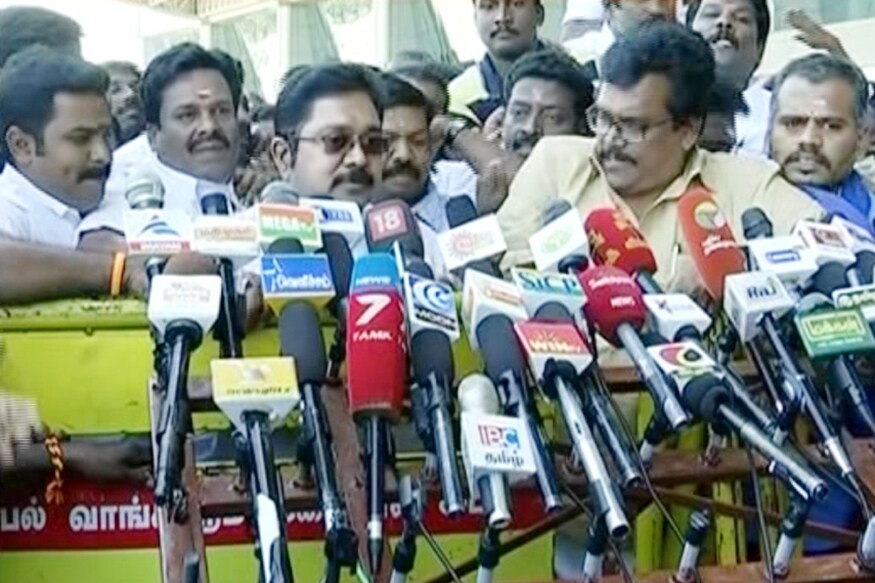 TTV Dhinakaran (centre), along with his supporters, is addressing a press conference on Sunday. (CNN-News18 TV grab)
Chennai: The big win for the TTV Dinakaran faction in the prestigious RK Nagar bypoll was not unexpected. Many grass root level political workers had predicted it. BJP MP and former Union Minister, Dr Subramanian Swamy, had also foretold a big win for TTV camp in an exclusive interview to News18 a few days before the voting.
It was not an ordinary by election. It was a one of a kind election, one that can change the dynamics of Tamil Nadu politics overnight. This victory endorses Sasikala faction's claims that she is the real inheritor of Jayalalithaa's legacy and her faction is the 'real' AIADMK.
After Sasikala's jailing and expulsion from the party, her nephew TTV Dinakaran has kept the party alive despite facing extreme hostility from the ruling EPS-OPS faction and the BJP government at the Centre.
Even though most of the MLAs are Sunday's verdict they might change their mind. After seeing the writing on the wall, most of them may not want to risk their political future by staying with charmless and rudderless EPS and OPS camp.
It is a well-known fact that during Jayalalithaa's regime, the all-powerful Sasikala and her nephew Dinakaran were running the party. Most of the local level leaders and office bearers have been appointed by them and they still have a soft corner for them. As Dinakaran himself puts it, he has many sleeper cells in the ruling faction of AIADMK and they can "bomb" it anytime.
After the RK Nagar bypoll, these district level leaders might openly come out in support of the Dinakaran faction, threatening the existence of EPS and OPS-led shaky government at Fort St. George. If that happens, the BJP at the Centre will have to face a lot of flak for its handling of TN affairs.
Just to keep the belligerent Sasikala and Dinakaran away from the power, the BJP gave tacit support to EPS and OPS camps. Sasikala's own appointee EPS ditched her to go with the BJP after her jailing. OPS came back and joined him a few months later. Together they ousted Chinnamma from the party calling her the queen of Mannargudi Mafia.
A strong Sasikala would be a nightmare for the BJP, which is trying to make inroads into the state politics keeping 2019 polls in mind. Striking a bargain with the DMK would also become difficult in this scenario.
What may have led to this turn of events is Tamil pride and lack of understanding of Tamil politics by the BJP. Tamil politicians and voters always maintained their self-pride and never surrendered themselves to Delhi parties.
After Jayalalithaa's death, the BJP started poking nose into TN politics through some Delhi leaders. Though anti-Sasikala leaders in the party played along, it was resented by majority of the voters and local leaders. This bypoll gave them an opportunity to reassert their pride sending out a strong message to the Centre not to mess with the Tamils.
Echoing these sentiments an auto driver in Chennai, Velayudhan, said, "Both EPS and OPS are behaving like the vassals of Delhi rulers. They have ruined the image of Tamil people. Only TTV Dinakaran and DMK can restore our pride".
If it leads to the collapse of EPS and OPS government, Dinakaran may emerge as the real challenger to DMK in TN.
Soon after it became clear that Dinakaran was set for a huge victory, Swamy said, "I knew this was going to happen. I will try to EPS and TTV factions of the AIADMK together to take on the DMK. DMK is an anti national party. It should not come to power in TN again."
MK Stalin-led DMK also has a lot to worry about. A clear division in the AIADMK and even the acquittal in 2G scam have not helped him to wrest the seat from Amma's men and women. He needs to rework his strategy.
Tamil Nadu politics has always been too complex and it has sunk many outsiders even without a trace in the past.
Get the best of News18 delivered to your inbox - subscribe to News18 Daybreak. Follow News18.com on Twitter, Instagram, Facebook, Telegram, TikTok and on YouTube, and stay in the know with what's happening in the world around you – in real time.
| Edited by: Bijaya Das
Read full article