GET Stock

Quotes


OPINION | For Narendra Modi, The Signal Is Clear: Proceed, But With Caution
Gujarat Election Result Is Less A Victory for Narendra Modi than Rahul Gandhi's Failure To Present Himself As A Credible Alternative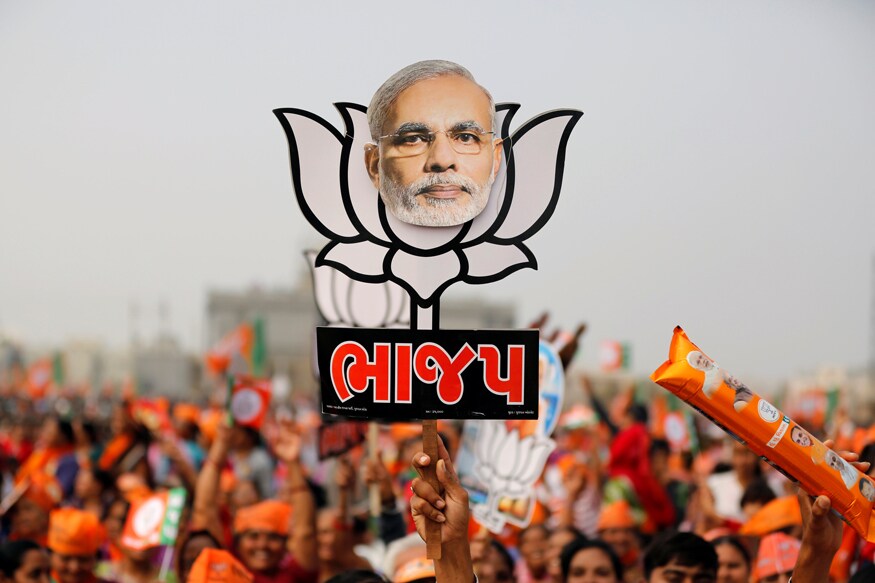 In this December 8, 2017, file photo, a supporter holds up a cut-out of a lotus, the election symbol of ruling Bharatiya Janata party (BJP), with an image of Prime Minister Narendra Modi during a campaign meeting addressed by Modi ahead of Gujarat state assembly election in Kalol on the outskirts of Ahmedabad. (Photo: Reuters/Amit Dave)
Gusty sighs of relief and I-told-you-sos sounded across BJP offices as the party scraped ahead in Gujarat, significantly short of its 2012 tally. Voters set aside their angst to give 'aapna Narendrabhai' another five years. Broken promises and dashed expectations, the economic downturn and farmers' woes, were forgiven if not forgotten as the state kept faith with its prodigy-turned-somewhat prodigal son.
The small margin of victory was a big wake-up call for Narendrabhai-Amitbhai, in that it was so very hard won. The party did as well as expected in South (except Tapi and Dangs) and Central Gujarat and lost significant ground to the Congress in Saurashtra (except Bhavnagar, more than made up for with a complete washout in Amreli and Gir Somnath) and Kutch. The ST seats went largely to the Congress and its ally, the Bharatiya Tribal Party, while the SCs went half and half. The cities kept faith with the BJP: Ahmedabad, Surat, Rajkot, Vadodra.
Backed by Amit Shah's electoral juggernaut, the BJP's stock-in-trade of caste consolidation, religious polarisation and parochialism – Gujarati pride – did the trick, in the face of deep disgruntlement over demonetisation, GST and free-falling prices of agricultural produce. Or perhaps, it was the devil you know versus the outlander you don't.
The 'Modi magic' – the game-changing impact of high-voltage electioneering - cannot be denied. His strike rate, in terms of public meetings addressed and seats won, was near-perfect. Voters, however annoyed, credit him with purity of purpose. They had sent a prime minister to Delhi; they weren't about to take him down. A defeat in Gujarat would have been irreparable – a personal, moral and electoral loss – which may have sent Modi into free fall, as a lame duck PM.
So the voters took a broad view, but a long view as well, weighing the chances of a long-term economic uptick with and without a strong reformer like Narendrabhai at the helm, and decided in favour of the former. Thus, the somewhat reluctant urge towards continuity rather than change.
From that perspective, it was less a victory for Modi than the fact that Rahul Gandhi is still a work in progress. His strategy was sound: to turn the tables on Modi by hammering away at development, avoid personal attacks and present himself as a good Hindu. Rahul did very well indeed - all that was humanly possible - but his best, at this stage and in this state, simply wasn't good enough. There were five reasons for this.
First, he did not present a plan to reverse dhando mein mando. How would he fix GST? How would he create employment for Gujarat's youth? How would he insulate farmers from the markets, when prices of agricultural commodities fell and input costs spiralled? How would he address the Patidar issue? He underlined the problems, but did not offer a solution.
Second, the Congress had relied heavily on Hardik Patel, but he wasn't their candidate for chief minister and the promise of a new deal for the Patidars was clearly just that – an empty promise. However gung ho they were about Hardik, he wasn't going to transform their lives. Reservation for the community was not within Rahul's gift, because the Congress would certainly not break faith with the OBCs by eating into their quota (a point articulated by Congress leader Mohansinh Rathwa). The Patels, some of whom are too wealthy to care about quotas anyway, were divided.
Third, Rahul's Hindu credentials were doubtful. His newfound Shivbhakti and predeliction for visiting temples was unconvincing, given that a few months ago, he was prating of 'Hindu terror' and the threat it posed to the country. The voter was canny enough to realise that Rahul's janeu-dhari Hindu avatar would be short-lived. The Patels, who played a prominent role in the 2002 riots, probably did not buy the I-love-Shiv narrative.
Fourth, OBC leader Alpesh Thakor did not quite prove the game-changer in terms of OBC votes. Or perhaps the OBCs feared being eclipsed by Hardik.
Fifth, he didn't have an Amit Shah to manage the election for him. From parking a Cabinet minister in Ahmedabad for three months, coating the state knee-deep in pracharaks and vistaraks and expending resources like there was no tomorrow, Shah got every last of his voters into the booth. (Morari Bapu's Ramkatha in Surat, just before the elections, could not have hurt.)
The expectation of negative voting, fueled by reports of palpable unrest, were not realised. The voices of doom had come from within the BJP's own ranks, eight months into Anandibehn Patel's government and gathered force with the arrogant bludgeoning of the Patels and later, with the loss of jobs and businesses. Rajya Sabha BJP MP Sunil Kakade was not the only one to have predicted a defeat, or at least to acknowledge the palpable discontent among voters. For once, the reports of discontent on the ground were not wishful thinking on the part of the liberal media, but a clear assessment of public opinion.
The newly-anointed Congress president inaugurates his term with a double defeat, in Gujarat and Himachal Pradesh, but the news is not uniformly bad. He has shown himself capable of putting up a fight. He has proved to be a non-nonsense leader, not balking at sacking Mani Shankar Aiyer for breaching the party line and has also been remarkably flexible in his approach to campaign strategy. It was he who led the party in Gujarat, in the absence of a state-level leader of stature, to a significant improvement in both seatshare and voteshare.
For the very first time, the Congress has shown signs of revival and party workers have reason to regard Rahul Gandhi as a credible leader rather than an abject failure, which bodes well for the future. Over to Karnataka.
For Modi, the signal is even clearer. Proceed, but with extreme caution.
— (
The writer is a senior journalist. Views are personal
)
Also Watch
| Edited by: Bijaya Das
Read full article