OPINION | Oommen Chandy and How Solar Darkness Has Hit Congress in Kerala
Leaders like Antony, Chandy, Sudheeran, KPCC president MM Hassan and others have so far led public lives without allowing the stain of corruption to besmirch their lily-white reputation.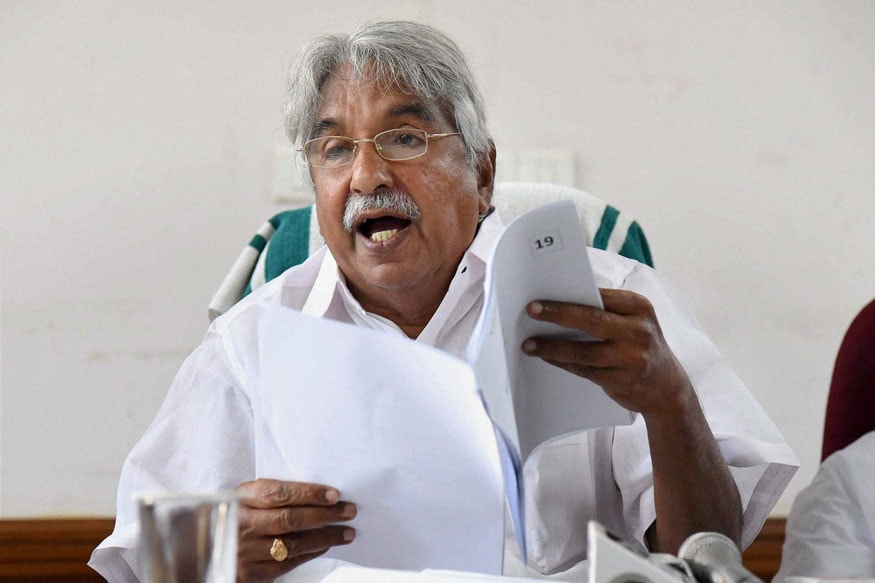 File photo of former Kerala chief minister Oommen Chandy. (PTI Photo)
Trivandrum: Kerala's former chief minister Oomen Chandy and other Congress leaders of his generation exist in the intersection of high morality and low cunning. It is a strategy they adopted from their idolised leader AK Antony whose camp followers they still are, though Antony himself is in semi-retirement mode after his long stint as defence minister.
Leaders like Antony, Chandy, Sudheeran, KPCC president MM Hassan and others have so far led public lives without allowing the stain of corruption to besmirch their lily-white reputation. They were all artful dodgers, wore humility on their starched white khadi sleeves, spoke of high ideals, but off and on crossed the line of high morality which they set for themselves.
It is this flaw that is part of any politicians make-up that has now come to haunt the entire Congress leadership in Kerala which has been named as suspects in the Justice Sivarajan Commission report on what has come to be known as the Solar scam. Going by the high standards of political scams in this country, the Solar scam is just a little baby with no government money involved, no fake tendering allegations, and the overall amount involved being just in the region of a Rs 5 or 6 crore. But there is enough proof of sex in the entire deal.
It involved a lady called Saritha Nair who tried to set up a solar panel company and sought the help of the ruling party to propagate the scheme and, thus, force companies to buy her panels. The problem started when there were glitches in delivery, but by this time, many Congress leaders had allegedly sought either sexual or other favours from her.
This is the type of scandal that Chandy can smell from miles away, but did not do anything to prevent his personal staff from getting involved. The stink has spread and it will take Chandy a big effort to get out this. But his chances of trying to be chief ministerial candidate next time around is as good as buried in the deep sands of Kerala beaches.
No one believes that Chandy either took money nor was in any direct way involved in the scam. But leaders belonging to his camp have helped Saritha in many ways and one MLA and senior leader Thiruvanchoor Radhakrishnan has been found to have influenced the police to get Chandy out of the mess. The police top brass has also been indicted.
Overall, it is a moral dilemma and a stink that the Congress will find hard to shirk off that easily. All the more because of the high moral ground that they occupied and also the completely Christian sense of purity and religiosity that Chandy especially tried to project. All political leaders, including the Marxists, move closely with Kerala's many religious leaders not just for photo-ops but for timely divine interventions. But Chandy was higher than all that and was considered one among them, residing close to one of the famous Syrian Jacobite churches in Puthupally in Kottayam district. The church saw him as their man, their shepherd. As long as Chandy was there, even Christ was not essential always. In fact, it was this sort of Christian way of life and debate that resulted in the Hindu backlash that threw them out of power.
Now, Chandy is planning to file an RTI to get out some details but those are all ploys that will not take them far. Then entire moral platform from which Chandy and his ilk preached and ruled, is now tottering. Rahul Gandhi has summoned all of them to Delhi but there is more dirt in this than a meeting in Delhi can clean up.
This is also a big challenge for Antony who finds himself in a dilemma. If he openly backs Chandy, he will also lose some of his lily-white lustre. But at the same time, he cannot ditch all of them simultaneously. But Antony, who is obsessed with his self-image, has never in his career done anything out of the way to support any of his own camp followers, some of who ditched him. He is likely to stick to calculated aloofness and studied silence which has been his dual strategy all throughout.
It is a tough task for the Congress and Rahul Gandhi. Kerala is a strong state for the party and it now looks that the party is stuck in deep mud from which it will take a long time to get out.
(The author is a senior journalist. Views expressed are personal)
Get the best of News18 delivered to your inbox - subscribe to News18 Daybreak. Follow News18.com on Twitter, Instagram, Facebook, Telegram, TikTok and on YouTube, and stay in the know with what's happening in the world around you – in real time.
| Edited by: Ananya Chakraborty
Read full article