Opposition Resurrects The Spirit of Madhu Limye For Grand Alliance
Socialist leader Madhu Limaye was anti-RSSism personified. He was baptized into politics on his sixteenth birthday, on May Day.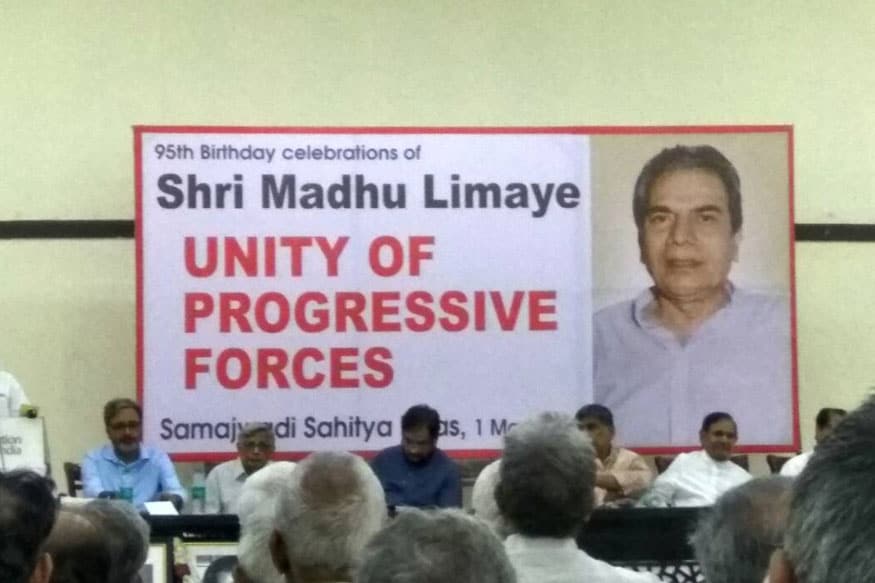 The event was organised at the Constitution Club of India to mark Madhu Limaye's 95th birth anniversary. Photo: Sumit Pande
New Delhi: Socialist leader Madhu Limaye was anti-RSSism personified. He was baptized into politics on his sixteenth birthday, on May Day.
It happened when he, as a student of Pune's prestigious Ferguson College, was participating in a Labour Day march in the city and clashes broke out with RSS volunteers.
Many years later, Limaye, along with Raj Narain and Krishna Kant would rake up the 'dual-membership' of Jan Sangh leaders in the Janata Party regime. This finally brought down the curtains on the first non-Congress government at the Centre.
More than three decades later, as the BJP and its ideological fount- the RSS- has galloped ahead to dominate the political space- both ideological and electoral.
This May Day, Limaye has been brought back by the opposition to test waters seeking 'unity of progressive forces' on Monday.
At the Constitution Club of India, on Limaye's 95th birth anniversary, they all gathered to pay homage to the veteran Samajwadi. Remnants of the Janata Parivar which are currently on this side of the political divide, with the others part of BJP and partners in power. The Left leadership represented by JD(U)'s Sharad Yadav, RLD President Ajit Singh and DP Tripathi of the NCP shared the dais. BSP leader Sudheendra Bhadoria was also present somewhere in the audience.
Veteran Historian and Aligarh Muslim University alumnus Professor Irfan Habib said Hindu Mahasabha, RSS and Muslim League were never part of the freedom movement.
Putting the current political situation in perspective, he urged the participants to work towards a larger opposition unity.
"Socialists and their inveterate opposition to Congress led to a situation where right-wingers framed our Constitution, for the Socialists refused to be part of the Constituent Assembly," he added. Very subtly, he told those on the dais that there is little choice before them.
In the last two months-especially after UP polls, efforts are on to cobble together a larger opposition alliance to take on the BJP. Congress President Sonia Gandhi has already held a round talks with Bihar CM Nitish Kumar and NCP chief Sharad Pawar. She has also met CPM General Secretary Sitaram Yechury.
Grand alliance is a grand idea. But it takes a lot more to bring together a motley group of disparate political outfits. Especially when parties compete for the same constituency. For instance, how will Left and Trinamool Congress reconcile to each other's position in West Bengal where they are fierce adversaries.
In the adjoining Orissa, can Congress and BJD join hands to leave the entire opposition space to the BJP?
The upcoming Presidential Polls, Yechury felt, would be the first ginger step, an acid test of the opposition unity.
As the proceedings came to a close, Congress leader Digvijaya Singh sounded a note of caution as he sought participants to first define the terms of mobilisation against the present regime. Fight, he said, should be based on ideology and not personality, not an Us versus Modi battle.
This was the issue Bihar CM Nitish Kumar broached with Congress President Sonia Gandhi when the two leaders met last month as well. Opposition need not react to everything that BJP and PM say and do. We must have our own agenda, he said.
Almost six decades ago, Limaye along with many others fought in the Goa independence movement. He was sentenced to twelve years in prison for a public cause. Even at the peak of Nehru's popularity, socialist brigade built its own agenda, its own narrative.
These are different times. But fundamentals of power politics do not change. It's about credulity and hope.
| Edited by: Ashish Yechury
Read full article
Countdown To
Elections Results
To Assembly Elections 2018 Results