Punjab Elections 2017: Our War Room is WhatsApp, Say Architects of AAP's Social Media Campaign
AAP's social media managers in Punjab say WhatsApp is their war room.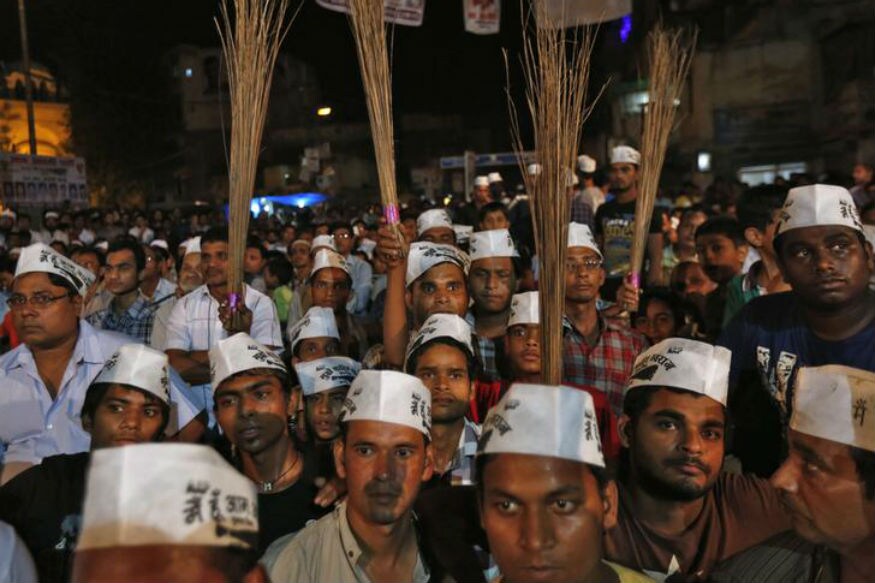 Photo for representation only. (Reuters)
Chandigarh: Deep inside Chandigarh's posh Sector 16 is a bungalow that doubles up as the official headquarters of Aam Aadmi Party's (AAP) Punjab unit. On the first floor, a businessman from Hoshiarpur and a former cop, both 28-years-old, sit huddled around a smartphone. They haven't showered in days or slept a wink in the last 30 hours. They are busy posting pictures and videos from Arvind Kejriwal's roadshow in Amritsar. Ask them if this office is their "social media war room" and pat comes the reply: "We have no war room. Our war room is WhatsApp."
This is perhaps true of AAP's social media team, with 450 members in Punjab alone. The average age of the team, claim volunteers, is 25. According to party sources, the AAP was so strapped for funds that it could not even purchase laptops for its social media team. Instead, all members have to manage with smartphones.
FULL COVERAGE: Assembly elections 2017
What is the biggest difference between their social media campaign and that of the Congress? Akashnoor Gadri, who heads the AAP's Punjab social media team, believes he has the answer. "Theirs is a well-oiled machine. It is much more formal and there are people working on laptops in the office. On the other hand, people join us out of passion and don't earn a penny. Our team is scattered all over Punjab, India and the world. For example, we have housewives who give us two hours a day or NRIs who are managing to work out of Australia. But instead of being a disadvantage, this has given us an edge since we have a wider reach."
The work of the AAP social media team is wide-ranged. It includes broadcasting rallies and roadshows live on Facebook, uploading pictures and videos on social media, creating a strong social media network via WhatsApp, curating content that comes in from supporters all over the state and creating content from scratch.
"Our content is based in reality. Our volunteers on the ground get supporters to record videos of why they want change. People record their personal experiences. In Punjabi, it is called 'aap beeti'. We then post these responses online and people like to see common experiences being shared. When we create content from scratch, we follow the line our leader lays out. For example, if Arvind (Kejriwal) sir talks about the good work being done by Delhi government at a rally, we take it forward and share content on how Mohalla Clinics are garnering international acclaim," Gadri says.
Their content, they claim, comes from real-life instances. In November, 40 unemployed Punjabis had scaled a water tank in Jalalabad to protest the lack of jobs in the state. "We started a campaign called 'button dabban taun pehlan' (before pressing the button). So one of the posts was 'Button dabban taun pehlan, tanki te chade berozgaran nu yaad rakheyo' (Before pressing the button, remember the unemployed youth who scaled the tank)."
The lynchpin of the social media campaign is WhatsApp. Gadri claims that if he sends out a message on a WhatsApp group, it will reach over 7 lakh people within an hour. "We started a display picture campaign called 'Jhadu wale'. People can log onto jhaduwale.com and put a filter on their display pics. Over 2 lakh people changed their profile pictures and a large number of them did so on WhatsApp. Today, everyone in Punjab will have one person in their chat history with a jhadu wale picture. If they see the broom symbol repeatedly, they are bound to get influenced. In the age of social media, changing your DP is the equivalent of putting a party flag on top of your house. "
What has changed the nature of election rallies, however, is Facebook Live. In April 2016, Facebook founder Mark Zuckerberg announced that they had launched a live video streaming feature for all users. No political party in India has, perhaps, used this feature as exhaustively as the AAP has in Punjab. According to the party, over 12.5 million unique users have viewed AAP's rallies on Facebook and unlike those physically present at the rallies, Facebook viewers have a ringside view of the main speakers. Rallies and roadshows by party chief Arvind Kejriwal and Sangrur MP Bhagwant Mann have attracted the most views. The AAP Punjab Facebook page, which posts exclusively in Punjabi, claims to have a weekly reach of 19 million. Of these, AAP claims that 16 million engage with their posts.
"While one live stream is done through the official party camera, there are hundreds of people in the rally with hundreds of phones. They all stream these rallies live. That is why, lakhs of people end up watching our rallies," says Gurinder Singh Mann, Gadri's second-in-command.
Mann then shares his own life's story. "I used to be a constable in Punjab police and I was posted in Jalandhar. During my five-year stint, I saw corruption and political pressure up close. I quit the force in 2011 and became associated with the Anna Hazare movement. Since then, I've been with Arvind Kejriwal."
Gadri, on the other hand, left the prospect of a cushy job in the United States to come and work for the party. "I am originally from Hoshiarpur but I had been in the US for about eight years. I was a student of biology there but I came here to set up my business and work for AAP. For the last month, I have been camped out in Chandigarh. We have a room in Sector 35 being shared between 25 people. Sometimes I stay at a friend's house, sometimes I don't sleep at all. This has been a hectic one month but the passion is getting us through."
Are they intimidated as they take on master-strategist Prashant Kishor, who has been roped in by the Congress to manage its campaign? "They have spent crores on ads and we haven't spent a penny. Our movement is driven by the people. We don't sleep at night. Humara leader nahi sota, isiliye hum bhi nahi sote (Our leader doesn't sleep, so we don't either)."
@media only screen and (max-width:740px) {
.quote-box{font-size:18px; line-height:30px; color:#505050; margin-top:30px; padding:22px 20px 20px 70px; position:relative; font-style:italic; font-weight:bold}
.special-text{font-size:24px; line-height:32px; color:#505050; margin:20px 40px 20px 20px; border-left:8px solid #ee1b24; padding:10px 10px 10px 15px; font-style:italic; font-weight:bold}
.quote-box img{width:60px; left:6px}
.quote-box .quote-nam{font-size:16px; color:#5f5f5f; padding-top:30px; text-align:right; font-weight:normal}
.quote-box .quote-nam span{font-weight:bold; color:#ee1b24}
}
| Edited by: Nitya Thirumalai
Read full article