Palaniswami takes Oath as TN's Third CM in 2 Months, Trust Vote on Feb 18
Round 1 of the Tamil Nadu tug-of-war went to VK Sasikala on Thursday when her loyalist Edappadi Palaniswami was sworn in as the Chief Minister of Tamil Nadu, dashing his challenger Panneerselvam's hopes of a floor test.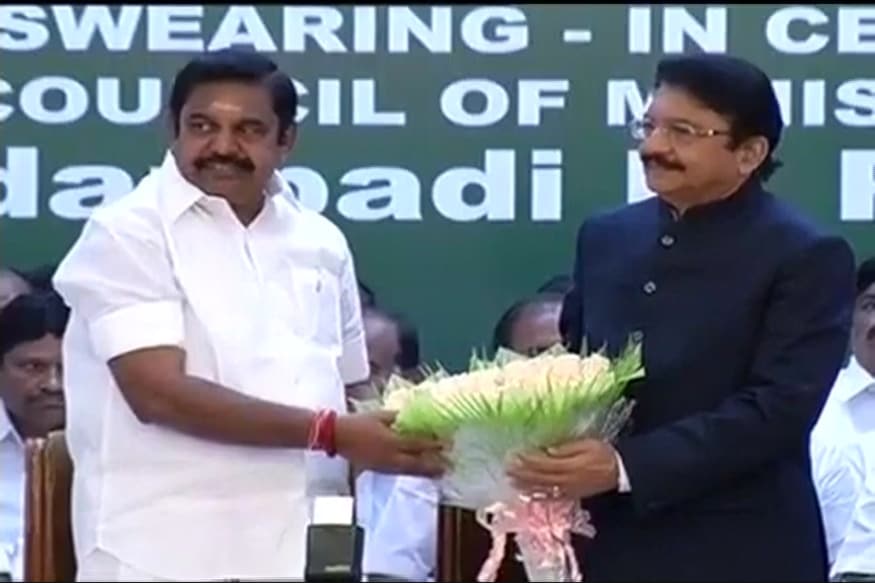 Edappadi Palaniswami with Governor Vidyasagar Rao at Raj Bhavan in Chennai on Thursday.
Chennai: Round 1 of the Tamil Nadu tug-of-war went to VK Sasikala on Thursday when her loyalist Edappadi Palaniswami was sworn in as the Chief Minister of Tamil Nadu, dashing his challenger Panneerselvam's hopes of a floor test.
Round 2 of the political battle will unfold on February 18 when Palaniswami — who will visit Sasikala in a Bengaluru jail on Friday — proves his majority on the floor of the Assembly.
Vote of Confidence to be taken on 18th.#TNAssembly

— AIADMK (@AIADMKOfficial) February 16, 2017
Governor C Vidyasagar Rao administered the oath of office and secrecy to 63-year-old Palaniswami, a party veteran from western Tamil Nadu, at the head of a 31-member Cabinet at a ceremony in Raj Bhavan. The ministers were sworn-in in batches.
ALSO READ | Edappadi Palaniswami — Man who Got Prize Money in TN's Political Jallikattu
Palaniswami will hold the important Home and Finance portfolios, which were earlier held by his predecessor Panneerselvam. Besides, the new Chief Minister will also take care of other key portfolios of Public Works, Highways and Minor Ports, which he had managed as a minister in the Jayalalithaa and Panneerselvam cabinets.
The Chief Minister allotted the following portfolios to his Cabinet Ministers: C Srinivasan (Forests), K A Sengottaiyan (School Education), K Raju (Cooperation), P Thangamani (Electricity), S P Velumani (Municipal Administration), D Jayakumar (Fisheries) and C Ve Shanmugam (Law).
ALSO READ | Governor Should Ensure no 'Horse Trading' by AIADMK: MK Stalin
Hours after Palaniswami's swearing-in, Panneerselvam headed to Jayalalithaa's memorial at Marina Beach, from where he had launched his rebellion against Sasikala last week.
"In 2011, Amma (Jayalalithaa) expelled many people from her house. Later, she only allowed Sasikala back and expressly stated that till she's alive, she won't allow any of the others back. These people were kept away from the party till Amma died. But now the government that's been formed is not a government of Amma loyalists. It's a government of Sasikala's family. We will ensure that Amma's government is restored. From tomorrow, we will go to every constituency to get the people's voice," he said.
Palaniswami is the third AIADMK leader to be sworn-in as Chief Minister in the last nine months. AIDMK supremo and Chief Minister J Jayalalithaa had powered the party to a rare successive term in office in the state in the May, 2016 Assembly Polls. She continued in the post through her grim 74-day battle for life.
Within hours of her death on December 5, Panneerselvam, who had filled in for Jayalalithaa twice in the past when she had to go to jail in corruption cases, was sworn-in as Chief Minister.
Panneerselvam later stepped down, paving the way for Sasikala, who was already chosen AIADMK general secretary, to be elected its legislature party leader on February five. However, the usually reticent Man Friday of Jayalalithaa rose in rebellion against Sasikala two days later, claiming he was coerced into resigning. He even expressed willingness to become Chief Minister again if the people of Tamil Nadu and AIADMK workers so desired. His belligerence plunged the state into a political crisis.
ALSO READ | Sasikala, Qaidi No 9235, Will Make Candles in Bangalore Jail
Amid the face off with Panneerselvam, Sasikala met Governor Rao on February 9 and staked claim to form the government.
Notwithstanding criticism from several quarters, Rao preferred to wait and watch as the political tug-of-war played out between the rival AIADMK factions.
He stood vindicated when Sasikala and two members of her family were convicted and their sentences restored by the Supreme Court in a disproportionate assets case on February 14, rendering her ineligible for contesting elections for 10 years and dashing her hopes of becoming the Chief Minister.
Sasikala — who is currently lodged in Bangalore Central Jail — then handpicked her loyalist Palaniswami, who was elected AIADMK legislature party leader and staked claim to form the government on Tuesday.
Palaniswami was invited by the Governor on Thursday to form the government after he submitted a list of 124 MLAs supporting him on Wednesday night. He has 15 days to prove his majority in the 234-member Tamil Nadu Assembly.
| Edited by: Nitya Thirumalai
Read full article
Countdown To
Elections Results
To Assembly Elections 2018 Results