GET Stock

Quotes


Panicked PM Modi Knows Moment CBI Starts Rafale Probe, He is Finished: Rahul Gandhi on Alok Verma's Exile
The government's main motive in sending Verma on leave was not to quell the infighting in CBI, Gandhi said, but to cover up evidence in the Rafale deal.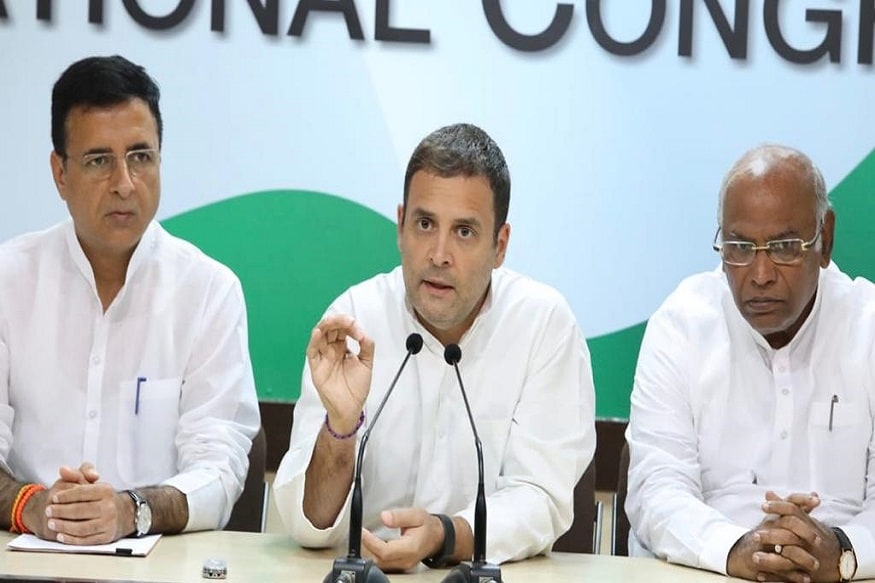 Congress President Rahul Gandhi addressing a press conference at AICC headquarters in New Delhi on Thursday, October 25, 2018
New Delhi:
In his strongest attack yet on Prime Minister Narendra Modi, Congress president Rahul Gandhi on Thursday alleged that he had sent CBI director Alok Verma on a forced leave to pre-empt an investigation into the controversial Rafale deal.
Gandhi said the timing of the move, after midnight on Tuesday, showed that the Prime Minister had panicked over the possibility of Verma opening an investigation into the deal with France for 36 fighter jets.
The government's main motive in sending Verma on leave was not to quell the infighting in CBI, he said, but to cover up evidence in the Rafale deal.
Citing a newspaper report that Verma had ordered a preliminary enquiry into the Rs 58,000 crore Rafale deal, he added that when the CBI director was locked out of his office, incriminating documents were destroyed.
"They (the government) are not removing the CBI director but trying to hide the evidence in Rafale deal. PM's reaction was in a panic. The moment CBI inquiry begins in Rafale deal, the PM knows he is finished. He is scared that he indulged in corruption and he could get caught," he said at a press conference in Delhi.
The Prime Minister, the Congress chief added, has not said a word in all this. "PM Modi will be caught, the nation won't let him escape."
The Congress chief also claimed that Verma's removal was an "insult" to the Constitution, the chief justice of India and the leader of the opposition. "The move was 'illegal'," he said.
The interim charge of the agency has been given to a person who has cases against him so that the Prime Minister can control him, Gandhi alleged, referring to joint director Nageswara Rao. The Congress plans to up the ante on Friday and will stage a protest outside the CBI headquarters to take up the issue of the credibility of the agency.
On Wednesday, the government had stripped CBI Director Alok Verma and Special Director Rakesh Asthana of all responsibilities, ostensibly to end the war between the two top officers of the CBI.
Finance Minister Arun Jaitley had said Verma and Asthana were asked to go on leave as per the recommendation of the Central Vigilance Commission and it was "absolutely essential" to maintain the institutional integrity of CBI.
The CBI has denied reports that Verma had ordered a preliminary inquiry into the Rafale deal, which has been used by the opposition to target the Narendra Modi government. An agency spokesperson said "false media reports are being manufactured for some vested purposes". Every document and file in CBI is accounted for at each level, the spokesperson added.
| Edited by: Aakarshuk Sarna
Read full article