GET Stock

Quotes


Event Highlights
LIVE HIGHLIGHTS: Parliament has been adjourned
sine die
with the triple talaq bill's passage in the Rajya Sabha being pushed off to the Budget Session.
Stay tuned as
Aditya Nair
brings you live updates:
Read More
Jan 5, 2018 9:39 am (IST)
RECAP | However, the opposition remained adamant on its demand for setting up of a select committee, with Congress Deputy Leader Anand Sharma moving a resolution to this effect. Sharma gave a list of opposition members to be part of the proposed select committee and asked the ruling party to suggest its names to the panel, which should give its report in the first week of the Budget Session. Besides Congress, SP and TMC, the names proposed by Sharma for the panel included leaders of AIADMK, BSP, DMK, NCP, CPI, CPI(M), TDP, RJD, BJD, JMM, IUML and nominated member KTS Tulsi. The Congress leader, along with Derek O'Brien (TMC), also insisted that the resolution on sending the bill to a select panel be put to vote in the House and a division was sought.
Jan 5, 2018 9:38 am (IST)
RECAP | Terming it "a historic bill", Prasad said the Supreme Court on August 22 "called triple talaq as unconstitutional... The judges appealed to Parliament to come out with a law. Until then, it stopped the practice for six months. Even after Lok Sabha passing it, triple talaq is being given." Appealing for its expeditious passage, the Minister also said that the Congress had supported the bill in the Lower House and asked it to clear its position here.
Jan 5, 2018 9:34 am (IST)
RECAP | On Wednesday, a united opposition had a face-off with the government over the triple talaq bill in the Rajya Sabha and stalled a debate on it insisting that it should be sent to a select panel, as the ruling BJP strongly sought its expeditious passage to stop the unlawful practice. Amid noisy scenes, Law Minister Ravi Shankar Prasad introduced the Muslim Women (Protection of Rights on Marriage) Bill 2017 for discussion and passage, but pandemonium broke out in the Upper House with the opposition creating an uproar and the BJP countering it vociferously.
Jan 5, 2018 9:32 am (IST)
The Winter Session of Parliament may end today without the passage of the triple talaq bill with sources saying that the government is not planning to aggressively push for the legislation in the Rajya Sabha. Sources told CNN-News18 that the government may instead use the deadlock in the upper house to electoral advantage in Karnataka and Rajasthan. The bill, which criminalises instant triple talaq, was tabled in the Rajya Sabha on Wednesday. The Congress wants the proposed legislation to be sent to the Select Committee. Sources added that the focus may shift to BJP chief Amit Shah's maiden speech in Parliament in which he is likely to shoot down opposition criticism on issues such as GST.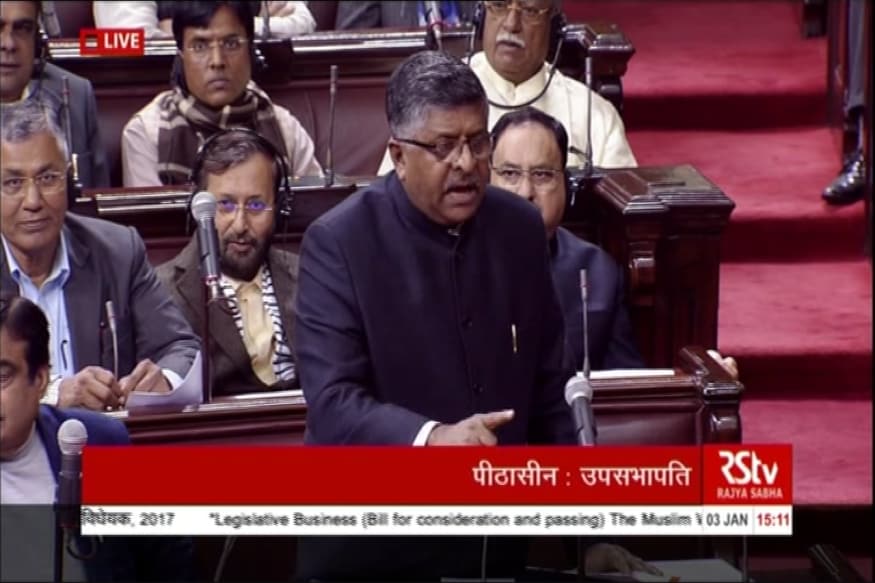 Law Minister Ravi Shankar Prasad in the Rajya Sabha on Wednesday. (TV grab: Rajya Sabha TV)


17 Nov, 2018 |

South Africa in Australia

SA
vs
AUS
108/6

10.0 overs

87/7

10.0 overs

South Africa beat Australia by 21 runs

11 Nov, 2018 |

West Indies in India

WI
vs
IND
181/3

20.0 overs

182/4

20.0 overs

India beat West Indies by 6 wickets

11 Nov, 2018 |

Pakistan and New Zealand in UAE

PAK
vs
NZ
279/8

50.0 overs

35/1

6.5 overs

Match Abandoned

11 - 15 Nov, 2018 |

Zimbabwe in Bangladesh

BAN
vs
ZIM
522/7

160.0 overs

304/9

105.3 overs

Bangladesh beat Zimbabwe by 218 runs

11 Nov, 2018 |

South Africa in Australia

SA
vs
AUS
320/5

50.0 overs

280/9

50.0 overs

South Africa beat Australia by 40 runs