Parrikar Swindled People of Goa, Party Silent as he Provides Funds: Velingkar
Rebel RSS Goa Pranth Pramukh Subhash Velingkar, once Manohar Parrikar's political and ideological guru, has formed his own political party, Goa Suraksha Manch.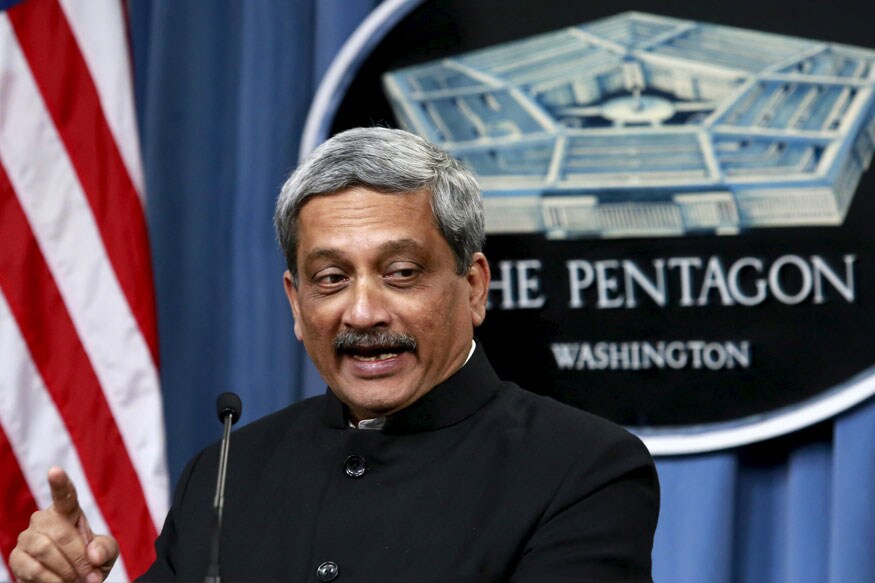 File photo of Defence Minister Manohar Parrikar. (Reuters)
Panjim: Rebel RSS Goa Pranth Pramukh Subhash Velingkar, once Manohar Parrikar's political and ideological guru, has formed his own political party, Goa Suraksha Manch. The formation of Goa Suraksha Manch was followed by a public fall-out between the two on the issue of medium of instruction in primary schools. Prior to the 2012 election, the BJP, including Manohar Parrikar, had vociferously backed Velingkar's demand that government grants to English medium schools be withdrawn.
In an interview to CNN News18's Smitha Nair, Velingkar said, "Even UNESCO supports mother tongue as a medium of instruction." Here are the excerpts from the interview.
Q: The question being asked of language protagonists like you is, why not leave the choice of medium of instruction to parents and students? Are you not depriving children of parents who come from lower income groups? These are people who cannot afford expensive private education in English and depend on schools which run on government grants?
A: Not true. There are certain national policies framed and every citizen has to comply with it. National policies won't be kept aside based on people's wishes. Even UNESCO supports mother tongue as medium of instruction.
Q: Your detractors say those now seeking Konkani as a medium of instruction are hypocrites because your own children, grandchildren study in English medium schools…
A: They are trying to defame the movement.
Q: You have accused the church of denationalising Catholics all over again. What do you mean?
A: We have a catholic priest who appeals to all. That by keeping catholic children away from Konkani you are keeping them away from the national mainstream because cultural concepts are given to children at a very tender age and that is in primary education. It is language that unfolds cultural concepts to them.
Q: Mr Parikkar was seen as your protégée...
A: That is true. Around 1982, we thought we must spare some of our sanghchalaks for political work. Manohar Parikkar was the sanghchalak of Mapusa. He was relieved from his responsibility. We are as friendly as before. Matters of principle shouldn't come in way of friendship. But you have to fight for principles.
Q: Why did you feel the need to break away from the RSS and enter the electoral fray?
A: Parrikar was responsible for this. We brought the congress government down on this issue (MOI). The Parikar government and Parrikar personally, gave promised the people that once he is in power he will stop the grants to English medium schools. That he didn't do, he swindled the people of Goa, he deceived, cheated, betrayed the people of Goa and he is solely responsible. The party is with him. The party doesn't speak anything because he finances the party and he is the distributor of tickets. If anybody wants to become the chief minister, it is decided by Parrikar. Parrikar is dragging the party along.
Q: Is this political pragmatism? It is widely believed that Mr Parrikar got unprecedented backing from the catholic community in 2012 election.
A: No the Catholics didn't vote for him and that is the reality. There is a report prepared by Ashok Chowgule -- an industrialist in Goa. He got scholars to analyse the data. The analysis showed that Christians voted only up to 2% in constituencies where Christian candidates were contesting. Otherwise, it was the upsurge of Hindus that voted for him.
In fact, in the 2014 Loka Sabha Polls where BJP won both north and South Goa, the church called one Cedric Prakash, a priest from Ahmedabad and he held 80 meetings all over Goa. He propagated that Modi should not become PM. He advised the Christian community not to vote for Modi. It resulted in a consolidation of Hindu votes. The point is it is not the Christian votes that brought BJP to power.
And on the issue of MOI, Parrikar in 2011, had given a 100-minute speech. The gist was if the government grants for English medium were continued, the whole culture of Goa will go to the dogs. It is going to get destroyed. He behaved exactly opposite to that when he came to power.
Q: Did you ask him why?
A: He was working with us then. Manohar Parrikar was with us on the streets, he blocked streets in protest. There are photos. There are CDs with us which we will show now - a u-turn of Manohar Parrikar (sic)!!
Q: Why do you think he made that u-turn?
A: The reasons are unknown. We infer it is minority appeasement, but the minority has never voted for him in huge numbers.
But Parrikar tries to show that he managed the minority vote. It is the minorities that managed him, in fact.
Q: Would the Mahayuti (Goa Suraksha Manch+MGP+Shiv Sena) not be splitting the Hindu vote? What's your intention in contesting these elections?
A: A stage has come in Goa's political scenario where Manohar Parrikar is facing strong anti-incumbency. People are angry, they don't show because there is a lot of suppression particularly utilising government powers, political force. So people don't come out in the open. But we are sure the vote of the BJP will be with us, the Mahayuti. Even college kids going on the roads say - look at the U-turn man.
Q: Some reports suggested your rebellion had the backing of the RSS in Nagpur?
A: It is Nagpur in its Akhil Bharatiya Prathindhi Sabha that had passed a resolution in 2015, sponsoring Mathru Bhasha. We were doing it in accordance with that. Initially, they supported the movement. They said all swayamsevaks should participate. When elections were coming closer they started pressurising me. We thought that BJP was committing the same sin that Congress did.
Q: What about the rank and file of RSS Goa? Are they with you?
A: 99 % are and they will work against the BJP
Q: And you believe this will damage the BJP?
A: Yes, it will. It should, they are sinners. The committed karyakartas who were on the side of the BJP then are not with BJP they are on the other side.
Q: Whats your intention? Is it to bring the BJP government down?
A: Yes, that is one thing because they dared to play with the sentiments of the public as far as Goan culture is concerned. Secondly, we want our own government empowered to terminate the grants to English medium schools.
Get the best of News18 delivered to your inbox - subscribe to News18 Daybreak. Follow News18.com on Twitter, Instagram, Facebook, TikTok and on YouTube, and stay in the know with what's happening in the world around you – in real time.
Subscribe to Moneycontrol Pro and gain access to curated markets data, trading recommendations, equity analysis, investment ideas, insights from market gurus and much more. Get Moneycontrol PRO for 1 year at price of 3 months. Use code FREEDOM.
| Edited by: Mirza Arif Beg
Read full article