News18
»
News
»
Politics
»
Party Election Procedure Unclear in Representation of People Act: Former EC Advisor on Rahul's Elevation
2-MIN READ
Party Election Procedure Unclear in Representation of People Act: Former EC Advisor on Rahul's Elevation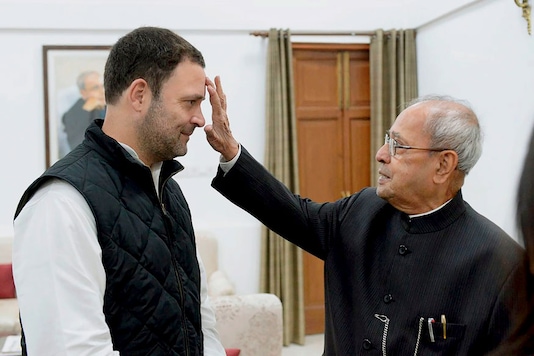 Congress Vice President Rahul being greeted by former president Pranab Mukherjee before he filed his nomination papers for party president's post, in New Delhi. (Image: PTI)
The controversy sparked off after Rahul Gandhi was unanimously elected as party president with no other contenders.
New Delhi: Amid an ongoing debate over Rahul Gandhi's unopposed election to the party chief's post and lack of internal democracy in the party, a former advisor to Election Commission has said that the problem lies in the Representation of the People Act and that it needs to be amended.
"The Act does not clearly mention as to how these party elections should be conducted. An amendment can solve the problem but do you think anybody will follow it? If the Congress party is not following the rules, it is something substantial. Any party for that matter who does not follow the rules is substantially wrong," said K J Rao, former advisor to the Election Commission.
The controversy sparked off after Rahul Gandhi was unanimously elected as party president with no other contenders. Taking a jibe at Congress' internal party democracy, Union minister Dharmendra Pradhan on Monday alleged that the one (Rahul Gandhi) who claimed to be the flag-bearer of internal democracy within the party, was appointing himself as the president.
Pradhan added that Rahul had been working as the party 'president' for the past three-four years under his mother's reign and now it has been made official.
Rao added, "Parties have to mention in their memorandum of association as to how they make the selections to form the party and how they are going to elect their president. They must spell out the details and if they are going for a democracy, the party itself should have democracy within itself."
Senior Congress leader Shashi Tharoor on Monday lashed back at the Bhartiya Janta Party for its dynasty taunt at Rahul Gandhi. He said the BJP should "first look at their internal party democracy".
Tharoor also added that it was a "classic case of people living in glass houses".
Commenting on whether Congress is at fault or if it's simply a case of political criticism, Rao said, "It is not just the Congress. You can look at any party and you will see that they are unable to say how many members they have. Look at the BJP or even CPIM, they have the same leaders for ages and some are even hereditary. There are no elections in these parties too."
"My suggestion is the political parties that should undergo reforms, instead of electoral reforms. At present, the political parties only send names of selected leaders but details of the committee and elections are not furnished."
While parties blame each others' internal party democracy, Rao's comment does not paint a rosy picture.
Next Story