GET Stock

Quotes


Oppn Unites to Slam BJP; Kumaraswamy Invites Sonia, Akhilesh, Mamata, KCR to Swearing-in on May 23
Several opposition leaders took the opportunity to attack the BJP, with NCP chief Sharad Pawar calling for the resignation of Governor Vala. He also called BJP President Amit Shah and PM Narendra Modi "power hungry."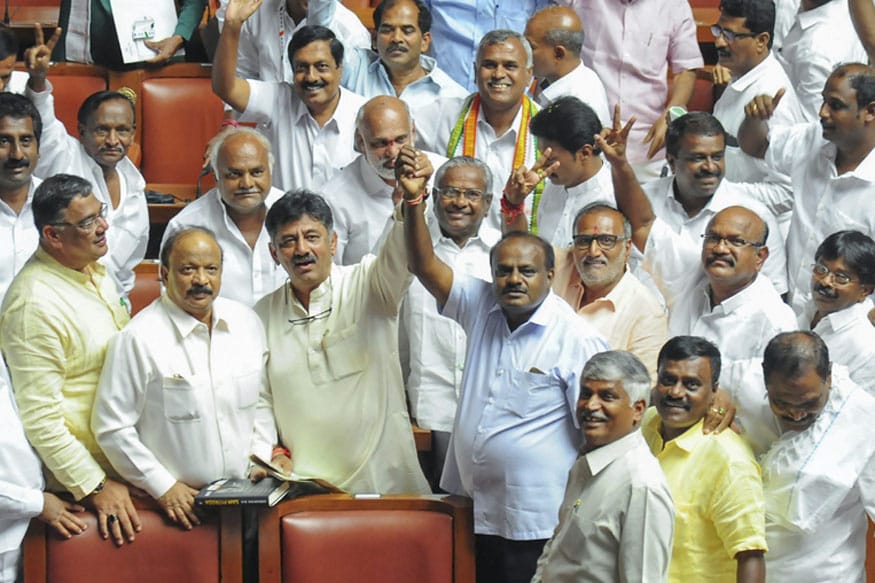 JD(S) leader HD Kumaraswamy and Congress' DK Shivakumar after BS Yeddyurappa announced his resignation on Saturday. (PTI Photo)
New Delhi:
Several political leaders, including Sharad Pawar and Sitaram Yechury, came together on Saturday to demand Governor Vajubhai Vala's resignation after BS Yeddyurappa announced his decision to quit as the Karnataka chief minister. Soon, JDS state chief reached out by inviting regional party heavyweights from across political lines to his swearing-in on May 23.
JDS state chief HD Kumaraswamy not only invited regional party heads, but also Sonia and Rahul Gandhi for the ceremony.
"I invite all regional parties to the oath-taking ceremony on Monday. This is a democratic win for both parties. There are no problems among any of the MLAs and we will give Karnataka its due," said Kumaraswamy while addressing the media after meeting Governor Vajubhai Vala on Saturday. Kumaraswamy staked claim to form the government soon after BS Yeddyurappa resigned as the chief minister after his two-day stint.
The rise of Janata Dal (Secular) in Karnataka may act as a platform to unite opposition parties, especially the regional parties to play a bigger role in the national arena during parliamentary elections in 2019. Indicative of this is the invitation extended to leaders of regional parties to attend the swearing-in of the JDS-Congress coalition government in Karnataka next week.
Several opposition leaders on Saturday took the opportunity to attack the BJP, with NCP chief Sharad Pawar calling for the resignation of Governor Vajubhai Vala. He also called BJP President Amit Shah and PM Narendra Modi "power hungry."
"I wasn't expecting the top leaders of BJP to go to any extent for power, but I was wrong," Pawar told News18.
Vala had sworn-in Yeddyurappa as the Karnataka chief minister on Thursday despite BJP not having a clear majority in the Karnataka Assembly. Demanding Vala's resignation, Pawar said, "If the Governor has any sense, he must resign."
Pawar found support in his demand, from the CPI(M) who also asked Vala to quit. The governor's decision to invite BJP to form the government was "malafide" and "against his constitutional mandate," CPI(M) general secretary Sitaram Yechury said in a tweet.
"If the governor of Karnataka has any shame left, he should submit his resignation as well. The Union ministers sitting in Bangalore, facilitating and enabling corrupt deals, are equally culpable," he said.
Congress and JD(S) coming together to form government in Karnataka could be the first step towards opposition unity against the ruling Bhartiya Janata Party.
"We demand resignation of the governor. What he did was completely unconstitutional. Today's fiasco is an utter embarrassment for the BJP. Maybe they could not do successful horse-trading. BJP needs to introspect," said Shiv Sena spokesperson Manisha Kayande.
He said that he has invited several prominent leaders of regional parties along with Congress president Rahul Gandhi and Sonia Gandhi. Mayawati, Akhilesh Yadav, Chandrababu Naidu and Mamata Banerjee have also been invited.
Banerjee confirmed the invitation in a tweet congratulating Kumaraswamy.
Andhra Pradesh CM Chandrababu Naidu said, "As a Chief Minister and as someone who believes in democracy, I am welcoming this. Everyone in the country will be happy about this development. Prime Minister and BJP National president have tried to deride the democracy. What is the message they are giving to the youth? Prime Minister told he will be honest, will bring back black money from Swiss banks and abroad. Instead, BJP bribed people with up to Rs 10,000 for each vote in the Karnataka elections."
"Whatever happened, happened only because of Amit Shah and PM's conspiracy. They want to grab every institution in the country by misusing the central and government machinery," said Bahujan Samaj Party (BSP) supremo Mayawati.
"We are thankful to the SC, the people who indulged in buying MLA's should be arrested, we have congratulated Rahul Gandhi," said Tejaswi Yadav senior RJD leader.
He added in a tweet, ""Truth can never be defeated! Truth will always defeat a lie or liar! #KarnatakaFloorTest."
Punjab Chief Minister Amarinder Singh also hailed the collapse of the three-day-old BS Yeddyurappa government in Karnataka as a vindication of the Congress party's moral stand and a "total loss of face" for the BJP.
Singh alleged the BJP had "stooped to new lows" in its desperation to grab power in Karnataka by "hook or by crook".
In the 222-seat Assembly being convened on Saturday, the BJP had 104 elected representatives, while the Congress and the JD(S) together had 116 MLAs. BS Yeddyurappa, who took oath as the Chief Minister of Karnataka on Friday, needed eight more votes to form the government.
Alternatively, the BJP would also sail through if 14 MLAs from the Congress-JD(S) camp abstained from voting. However, failing to gather the required strength, Yeddyurappa conceded defeat and resigned on Saturday.
| Edited by: Sanchari Chatterjee
Read full article
Countdown To
Elections Results
To Assembly Elections 2018 Results