Periyar Issue Not the First, BJP's H Raja is Controversy's Favourite Child
The Periyar statue was vandalised hours after Raja posted a message on Facebook calling Periyar a "casteist". "Who is Lenin? What is the relevance he holds in India? What is the link between communalism and India? Lenin's statues were destroyed in Tripura, tomorrow, in Tamil Nadu, casteist Periyar's statues will be destroyed," he wrote.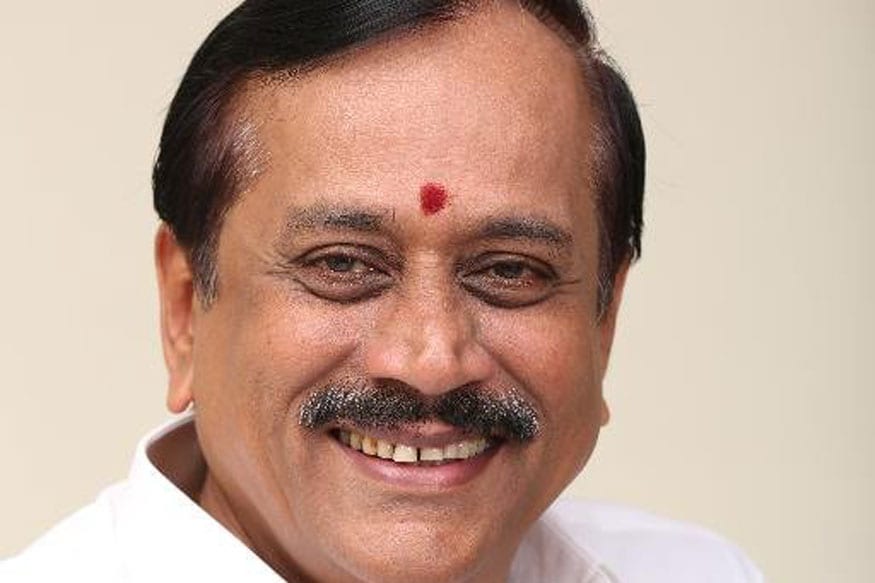 H Raja, BJP leader from Tamil Nadu. (Twitter.com/ @HRajaBJP)
Chennai
: Just hours after BJP leader H Raja threatened to vandalise a state of the father of Dravidian politics, Periyar, two men have razed Periyar's statue outside a municipal corporation office in Tamil Nadu's Vellore.
Raja had posted the message on social networking site Facebook after alleged BJP supporters used a earth-mover to bring down a statue of communist revolutionary Lenin in Tripura, two days after the party won the assembly elections in the state. "Who is Lenin? What is the relevance he holds in India? What is the link between communism and India? Lenin's statues were destroyed in Tripura, tomorrow, in Tamil Nadu, casteist Periyar's statues will be destroyed," he wrote.
While Raja's post was heavily criticised online, it's not the first time that he has made headlines for his polarising statements.
The senior BJP had earlier "outed" the full Christian name of actor Vijay - C Vijay Joseph - to "explain" why his latest film Mersal contains dialogues against the national tax GST. "Vijay is a practicing Christian. He should have said build hospitals before churches, instead he says build hospitals before temples. It is like provoking Hindus," he tweeted, along with a copy of Vijay's voter id card.
If he thought this would leave Tamil Nadu mersal (zapped), it didn't. Most of the people from the state who responded on social media merely shook with mirth as it was no breaking news to them.
Raja had also mocked Kamal Haasan on Twitter for the actor's decision to enter politics, saying: "The person who should rule this state needs to be brave and fearless. Kamal Haasan is a spineless coward who has, in the past, said that he will run out of the country." Haasan took it as a joke and referred to him as a "bone specialist".
Another of his polarising statement came in connection with an incident in Ambur district where seven police officers were beaten up during a riot, allegedly incited by a Manithaneya Makkal Katchi (MMK) MLA. Raja alleged that no action was taken because police were siding with the Muslim community.
On another occasion, he reportedly threatened that MDMK leader will never reach home safe if he continued to criticise Prime Minister Narendra Modi.
But the most confounding of all his verbal attacks was on Periyar EV Ramasamy - reverentially called Thanthai Periyar - the social activist who started the self-respect movement in 1925. He said at an RSS event he would have beaten Periyar with slippers and later added that the man who led some of the famous fights against untouchability was "anti-Dalit". An FIR was filed against him.
Raja, a native of Thanjavur, was a lawyer and a practising chartered accountant before he entered politics. Schooled in RSS ideologies since childhoood, he joined the BJP in the 1980's and went on to assume several roles - district convenor in 1991, followed by state secretary, state general secretary and then three years ago, national secretary.
In a state dominated by Dravidian parties, he has not had any notable electoral success. He became an MLA from Karaikudi in 2001, when the BJP piggybacked on an alliance with the DMK. He lost every election since then, including in the last Lok Sabha and Assembly elections.
Raja's friends in the BJP vouch for his political sobriety. "He is very simple, down to earth person. When he was an MLA, he took care of the constituency very well. He is an intellect especially in economic matters and religion. He is not corrupt and there have been no charges against him" says BJP spokesperson Narayanan Tirupathi who has been his friend for more than 30 years.
Whether there were any political calculations behind the former chartered accountant verbal attacks on the state's icons is not clear, but analysts are unanimous it is not giving the BJP any gains in Tamil Nadu. "The BJP is losing ground in Tamil Nadu because of the utterances of its ranking leaders, including H Raja. They are picking on the wrong issues or non issues, and are not seen as raising people's issues," says RK Radhakrishnan, Associate Editor, Frontline.
Political analyst Gnani Sankaran says, "H Raja is an immature politician. His statements won't have an impact on electoral politics."
Many believe he is also making it difficult for the state BJP leadership by trying to pull in a different direction. At a time when the BJP is looking for inroads in southern states, Raja's social media activism may fetch the party more clicks than votes.
| Edited by: Sumedha Kirti
Read full article
Next Story
Next Story
Also Watch

India Will 'Stop' Flow of Our Share of Water to Pakistan, Says Nitin Gadkari
Countdown To
Elections Results
To Assembly Elections 2018 Results