PM Modi Plays Traditional Drums at Iconic Muktinath Temple in Nepal
Prior to Karnataka Assembly Elections 2018, Narendra Modi visits Muktinath Temple which is regarded as a sacred place for both Hindus and Buddhists located in Muktinath Valley, Nepal.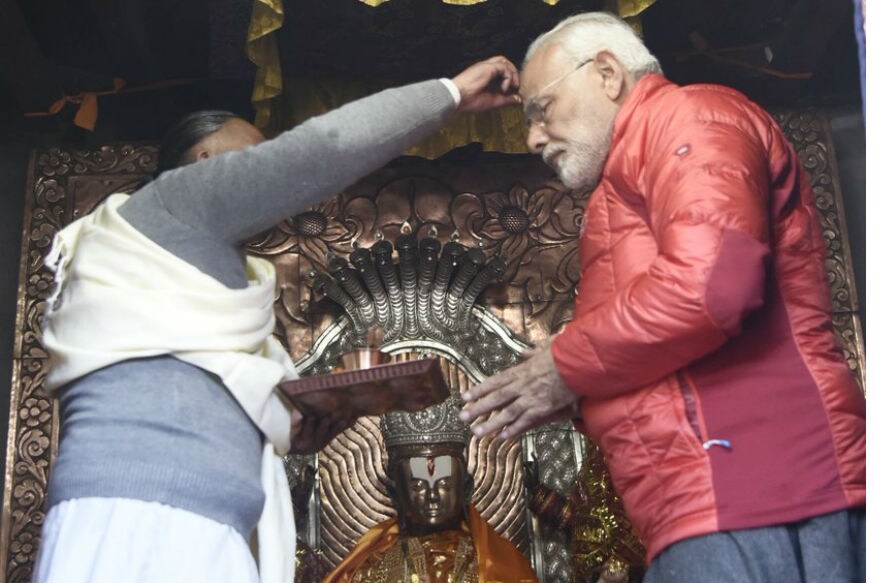 PM Narendra Modi prayed at Muktinath, one of the most iconic places of worship in Nepal, on May 12, 2018. (Photo: Twitter)
Kathmandu: Prime Minister Narendra Modi today prayed at Nepal's iconic Muktinath temple that is regarded sacred by both Hindus and Buddhists.
Modi wore Buddhist traditional red dress and carried out rituals both according to the Hindu and Buddhist tradition.
Modi will also offer prayers at Pashupatinath temple after his return from Muktinath today. This will be followed by meeting with leaders of political parties of Nepal.
He is scheduled to attend a civic reception hosted by Kathmandu Metropolitan City at Rastriya Sabha Griha before returning to New Delhi.
#WATCH Prime Minister Narendra Modi plays a traditional drum in #Nepal's Muktinath. pic.twitter.com/UlKgIh6aTl

— ANI (@ANI) May 12, 2018
High security alert has been maintained in Mustang in view of Modi's visit. The local administration had put in place a special security plan to make Modi's visit safe and systematic.
Muktinath Temple is regarded as sacred place for both Hindus and Buddhists located in Muktinath Valley. The temple at an altitude of 3,710 metres at the foot of the Thorong La pass in mountainous Mustang district.
Get the best of News18 delivered to your inbox - subscribe to News18 Daybreak. Follow News18.com on Twitter, Instagram, Facebook, Telegram, TikTok and on YouTube, and stay in the know with what's happening in the world around you – in real time.
Read full article