Politics of a Slap: Arvind Kejriwal Puts On His Fighting Gloves, Again
This came shortly after a Delhi Police team swept the Chief Minister's residence on Flagstaff Road to search for evidence and question his staff over the alleged assault on Chief Secretary Anshu Prakash.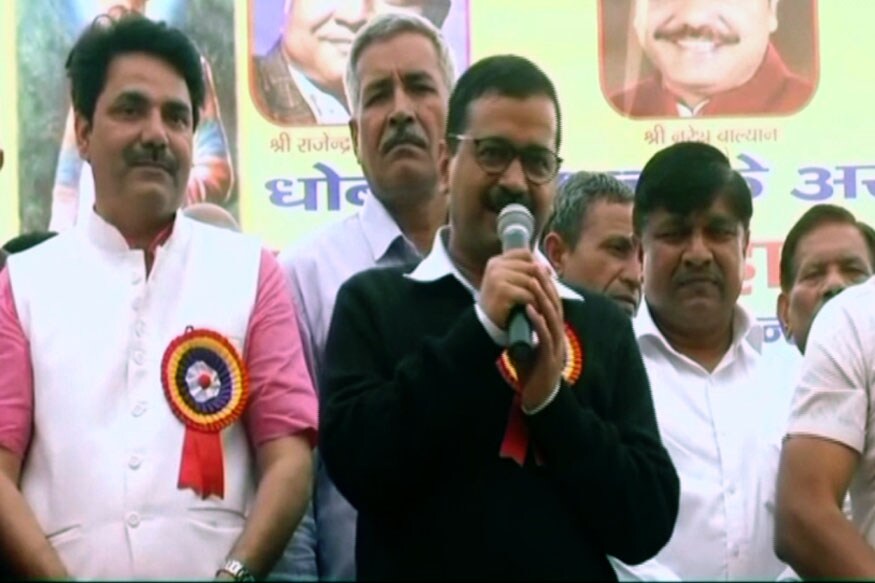 Delhi Chief Minister Arvind Kejriwal (centre) addresses a rally in Bindapur on Friday.
New Delhi: Arvind Kejriwal, the National Convener of the Aam Aadmi Party (AAP) and Chief Minister of Delhi, was seen, after almost a year, on the offensive. In a blistering speech in Bindapur, Kejriwal took on the Centre, the Lieutenant Governor and the bureaucrats – all of whom, he claimed, were hindering his government's "good work".
This came shortly after a Delhi Police team swept the Chief Minister's residence on Flagstaff Road to search for evidence and question his staff over the alleged assault on Chief Secretary Anshu Prakash.
But the political messaging of an angry Kejriwal saying, "I fight for you, the people", was not lost on political observers. "If we say anything to officers, they get offended. I will fight the Centre and their officers for you. Sometimes the Lieutenant Governor, sometimes officers, sometimes the Centre stops our files. I fight a lot but only for all of you and your children. I have never done anything for my own children. Rich didn't vote for me, the poor did," Kejriwal said.
Political analyst Yashwant Deshmukh of C-Voter said this was a return of the angry Kejriwal, who has been muted since the Punjab Assembly election dealt a massive blow to his party in 2017. "We have seen a very muted Kejriwal over the last year. Sometime after losing Punjab and MCD elections, he took a conscious decision to not attack Narendra Modi directly. Earlier, there was hardly a day when Kejriwal wouldn't attack Modi. But for the last 11 months, he has not even mentioned Modi once in his tweets," said Deshmukh.
This Kejriwal 2.0, which yielded some political gains with a bypoll win in outer Delhi's Bawana, was out of character with the older Kejriwal, who had once called the Prime Minister a "coward" and a "psychopath" after a raid at the CM's office. The raid on the CMO was back in December 2015. Over two years later, on Friday, there was another raid. This time on the CM's residence. Once again, the old Kejriwal seems to have stirred.
Deshmukh said, "For the first time in months, we saw a very angry Kejriwal. He blasted the Centre like he hasn't done for very long time. But what's interesting to note here is that he has still stayed off Modi. He chose, instead, to target Amit Shah. This, I think, is by design."
"Khoob Police mere ghar bheji hai. Mere ghar ki chaanbeen chal rahi hai. Bahut Achchi baat hai. Par Judge Loya ke katl ke maamle mein Amit Shah se poochtaach kab hogi? (A large Police force has been sent to my house. My house is being searched. That is all well and good. But when will Amit Shah be questioned in the murder case of Judge Loya?)," Kejriwal tweeted.
In another tweet, he said, "Do thappad ke aarop ki jaanch ke liye CM ke poroe ghar ki talashi. Judge Loya ke katl par poochtach toh banti hai. Nahi? (The CM's house is being searched over two slaps. Judge Loya's murder calls at least for an interrogation. No?)."
One AAP MLA, on condition of anonymity, said, "Arvind knows that he is not unpopular by himself. But his attacks on Modi were backfiring. The middle class was getting alienated. But we still need to attack the BJP and make sure they don't get away with murder. So the best way is to target Shah, rather than Modi."
Deshmukh said, "Kejriwal knows that Amit Shah is not Modi. Shah does not have that kind of pan-India popularity. So in the future, we will see Kejriwal attack Shah and Rahul Gandhi, but not Modi."
During his Bandipura speech, Kejriwal also reached out to his core constituency – the urban poor. "The rich didn't vote for me, the poor did," he said, adding, "Our party is also poor, we don't even have money in our bank account. We did not take any money from contractors. AAP is not Kejriwal's party, this is your party."
This, too, Deshmukh believes, is loaded with political messaging. "The people who propelled AAP to power were the urban poor. Think about how Amanatullah Khan looked when he surrendered. He was wearing so called traditional "Muslim" attire. And then Kejriwal talks about the poor in Delhi. This is because Kejriwal knows that the Delhi Congress is catching up. Ajay Maken is becoming the de-facto opposition leader. Our C-Voter poll shows that even though AAP is still the strongest party in Delhi with a strong chance of returning to power, the BJP is stagnant and the Congress is gaining. This means the Congress is gaining at AAP's expense. Kejriwal wants to stop the Congress by keeping that constituency firmly in the AAP's corner."
Get the best of News18 delivered to your inbox - subscribe to News18 Daybreak. Follow News18.com on Twitter, Instagram, Facebook, Telegram, TikTok and on YouTube, and stay in the know with what's happening in the world around you – in real time.
| Edited by: Bijaya Das
Read full article