Will 'Madam President' match the charisma of Kalam?
Comparisons between Pratibha Patil and Kalam, are inevitable.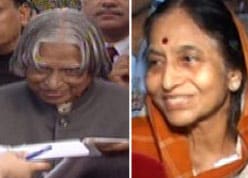 Comparisons between Pratibha Patil and Kalam, are inevitable.
New Delhi: Pratibha Patil has become the 13th president of India and the first woman to hold the highest office in the country—defying all those who leveled various defamatory charges and accusations against. Given the strong backing of UPA and Left, her victory seemed a foregone conclusion.
"This is a victory of principles. I thank the people of India," said Patil moments arfter her win. President Kalam's reaction to Pratibha's win was complacent. "Any person who comes in to the President's house brings in core competence," he said.
Comparisons between the newly-elected 'Madam President' and the Kalam, the 'people's president' are inevitable. A woman whose journey in politics spans more than four decades—Prathibha Patil has come a long way from the sleepy town of Jalgaon where she was born in 1934.
In her college days, Patil was a multi talented student and a table tennis champion. She was also voted "College Queen" of Mooljee Jaitha (MJ) College in Jalgaon.
After becoming a qualified lawyer, she was brought into politics by YB Chavan, and grew from strength to strength. She fought her first election when she was just 28, from the Edlabad assembly seat in 1962, and won. There was no looking back.
Patil went on to serve as minister from 1967 to 1978. In July 1979, she was even leader of the opposition when Sharad Pawar became Chief Minister of Maharashtra.
Patil's stint in Parliament began in 1986 when she was elected to the Rajya Sabha and then sworn in as its Deputy Chairperson..she held the post for two years. Her loyalty to Indira Gandhi & closeness to Rajiv guaranteed her the Presidentship of the Maharashtra Pradesh Congress Committee in 1988. Three-years later, she was elected to the Lok Sabha from Amravati, which also elected her husband Devisingh Shekhawat as mayor.
Nearly eight years after her tenure as Lok Sabha member ended in 1996, Patil had gone into a virtual self-imposed exile before she was brought in as Rajasthan Governor in November 2004. As governor, she confronted the Vasundhara Raje government over the Conversion Bill refusing to sign it.
Pratibha Patil may have started her campaign as an apparently clean candidate, but she ended it as the most controversial one. Will she be merely a rubber stamp or can she match the charisma of Kalam?
Read full article