Rabri, her sons to run RJD after Lalu Prasad's conviction in fodder scam
Rabri said that she will run the party along with her sons just like the Congress is run by UPA chief Sonia Gandhi and her son Rahul Gandhi.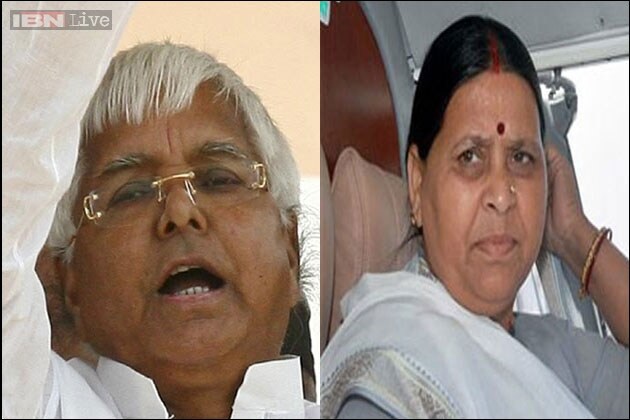 Rabri said that she will run the party along with her sons just like the Congress is run by UPA chief Sonia Gandhi and her son Rahul Gandhi.
Ranchi: Former Bihar chief minister and Rashtriya Janata Dal (RJD) supremo Lalu Prasad's wife Rabri Devi has made it clear that she will run the party in the absence of her husband who has been convicted in one the 17-year-old fodder scam cases by a special Central Bureau of Investigation (CBI) court in Ranchi and faces a jail term of at least three years.
Rabri said that she will run the party along with her son just like the Congress is run by UPA chairperson Sonia Gandhi and her son Rahul Gandhi. "I will run the party with the help of my son, the way the Congress party is run by Sonia-Rahul," she said.
Rabri and Lalu's sons Tejaswi Yadav and Tej Pratap Yadav are RJD members and the former had accompanied his father to Ranchi for the verdict.
Rabri in the past too had taken charge of the party when the animal husbandry scam popularly known as the fodder scam had surfaced in 1996. Lalu had to resign as the chief minister of Bihar on July 25, 1997 when his name figured in the CBI investigations. After stepping down, he rather surprising pulled his wife Rabri Devi out of the "chowka" (kitchen) and made her the chief minister and continued to rule through proxy.
The RJD leaders also admitted that their party's future was at stake after Lalu's conviction in the fodder scam which will also mean that he will lose his Lok Sabha seat. RJD activists and leaders who sounded upset and uncertain about the party's future expressed their desire that Rabri Devi should to lead them.
A senior RJD leader, Veena Shahi, urged Rabri Devi to lead the party. "We know there is no alternate to Lalu but his popularity will increase now among his traditional supporters," she said.
In a landmark verdict on Monday, the CBI court convicted Lalu Prasad in the 17-year-old multi-crore fodder scam case. Lalu who faces a minimum three years in jail and will be the first Member of Parliament to be disqualified after a Supreme Court order was taken into custody after the verdict. He has been lodged in Birsa Munda Central Jail in Ranchi.
Convicted along with another former Bihar chief minister and Congress leader Jagannath Mishra and 43 others, Lalu will know the quantum of punishment on October 3 through a video conference. Since he has been found guilty in a case where the jail term is more than two years, he also faces disqualification as an MP following the landmark Supreme Court judgement on disqualifying legislators convicted for over two years from the day of the verdict. The disqualification from Parliament will keep Lalu out of electoral arena for at least six years.
While seven of those convicted have got less than three years in jail and have been granted bail, Lalu along with Jagannath Mishra and 36 others will get more than three years in jail and so are not even eligible to apply for bail. Mishra was shifted to Ranchi Medical College Hospital on health grounds.
CBI lawyers say Lalu faces a minimum of four years in prison. "The quantum of punishment will be pronounced on October 3. Lalu Prasad and Jagannath Mishra will be given four or more then four years of punishment," said CBI lawyer Arvind Kumar Singh after special CBI judge Pravas Kumar Singh pronounced the verdict in the RC 20 A/96 case for fraudulent withdrawal of Rs 37.7 crore from Chaibasa treasury.
The other politicians who have been convicted are Janata Dal United MP from Jahanabad Jagdish Sharma. Sharma becomes the third MP to be disqualified following the Supreme Court judgement striking down a provision in the electoral law that deferred immediate disqualification of lawmakers on conviction.
Less than a fortnight ago, former Union Health Minister and sitting Rajya Sabha member Rasheed Masood was convicted in a corruption case and faces disqualification.
The other convicts include five politicians and four Indian Administrative Service (IAS) officers. Apart from Lalu, Jagannath and Sharma, the political other leaders are former legislators RK Rana, Dhruv Bhagat and Vidya Sagar Nishad.
The RJD admitted the verdict was a massive blow but also alleged that the case was a political conspiracy. "The conviction of Lalu Prasad is a big blow to the party. But we are not weakened by it. We will appeal in the higher courts. The people are the ultimate judges of this matter. In many cases the higher court overrules the decision of the lower courts. We will fight till the end," Rashtriya Janata Dal MP Raghuvansh Prasad Singh said.
Lalu's son Tejaswi Yadav, too, claimed that the case was a political vendetta. RJD leaders said the order will be challenge in the higher court and they will also discuss a strategy to steer the party in the absence of Prasad.
Accompanied by his son Tejaswi to the court, 65-year-old Prasad declined to react to the judgement. He appeared calm while his car sped away to the Birsa Munda Central Jail located on the outskirts of Ranchi straight from the court.
The others who were convicted and sentenced include IAS officer K Arumugam, former Bihar AHD and Labour Minister Vidya Sagar Nishad and former MLA Dhruv Bhagat and five fodder suppliers for up to three years.
The July judgement of the Supreme Court struck down a provision in the electoral law that provided protection to sitting MPs and MLAs by allowing them to continue in their posts if they appeal against a lower court conviction and secure a stay of the order.
Lalu would have got protection from disqualification if the ordinance promulgated by the Centre was cleared by President Pranab Mukherjee but he is said to have some reservations and raised questions over it.
RJD Spokesperson Manoj Jha said they would challenge the order in a higher court after the sentence is known.
All the 45 convicted persons were found guilty under sections 120B (criminal conspiracy), 420 (cheating), 467 (forgery of a valuable security/will or authority to make or transfer any valuable security/receive any money), 468 (forgery for the purpose of cheating), 477A (fraudulently destroying or defacing, or attempting to destroy or deface, or secreting a will). They were also found guilty under the Prevention of Corruption Act, 1988.
Prasad had begun arguments on September 9 and ended it on September 17 after the Supreme Court turned down his request to change the current special court to another court after he apprehended political conspiracy.
Prasad had resigned as chief minister of Bihar on July 25, 1997 and he had later surrendered before a court in Patna on July 31, 1997. Thereafter, he came to Ranchi following a court order that Ranchi had the jurisdiction of the case. The Becon Guest House was converted to a camp jail in Ranchi before he was shifted to the old Birsa Munda Jail at Circular road in Ranchi.
After Jharkhand's bifurcation on November 15, 2000, the litigations were brought before the Supreme Court whether the Patna High Court had the jurisdiction on the cases in this part of the undivided Bihar and trial was stayed till December 2000 to December 2001.
The Supreme Court had said in November, 2001 that trial would be conducted by special courts in Ranchi.
Trial in Ranchi began in March, 2002 by seven special courts. The case was posted for defence of Prasad from May 15 and Prasad's counsel examined 29 witnesses in his defence. But when the defence continued to skip dates, the court fixed July 15 to deliver the judgement and asked the accused to complete arguments by July 1.
Subsequently, Prasad moved the Supreme Court pleading shifting of his case from the court of Pravas Kumar Singh on the ground of political conspiracy, which the apex court struck down, paving the way for the first judgement against Prasad.
Get the best of News18 delivered to your inbox - subscribe to News18 Daybreak. Follow News18.com on Twitter, Instagram, Facebook, Telegram, TikTok and on YouTube, and stay in the know with what's happening in the world around you – in real time.
Read full article